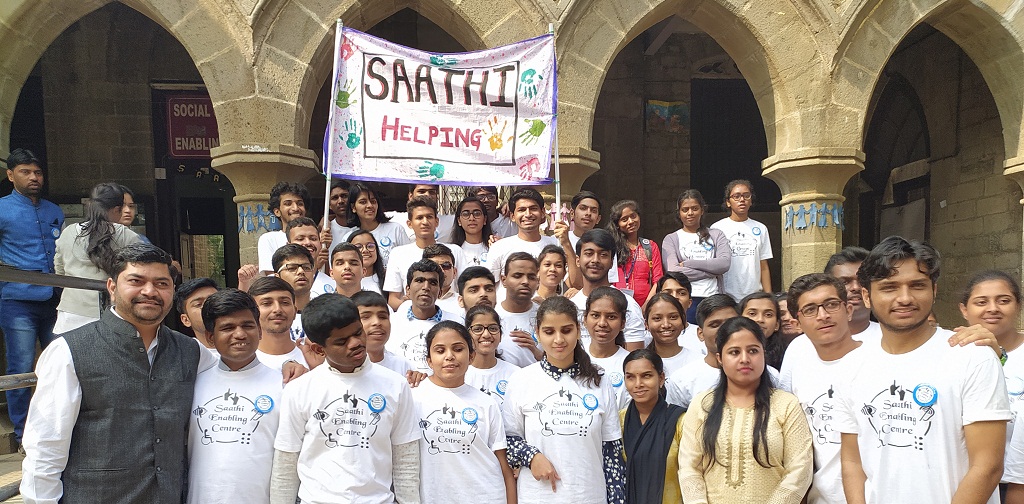 Karishma Jha
Pune, September 14, 2020: Making good use of his free time during the lockdown, 20-year-old Vishal Pandurang Palve, student of Fergusson College has started an initiative 'Let'sRecord' when the nationwide lockdown began in March. Vishal, along with his team of 10 – Bhavesh Zanje, Dhiraj Yadav, Mansi Kukade, Deepali Vaidya, Bhakti Patel, Pravinya Ghule, Rushikesh Palve, Ratnashri Rathod, Ria Chandorkar – started this initiative to make learning material accessible for the visually impaired students wishing to pursue higher education.
Through 'Let'sRecord', anyone can get Audio-Books anytime, and this is completely free and accessible for everyone who wishes to study from them. This initiative is active on http://www.vargshikshak.com
VARGSHIKSHAK is an educational site started by Vishal in May 2018. He made this website to upload study materials and notes. Later on, he created a section 'Let'sRecord' on this website, wherein over 130 books have been recorded across three languages, Hindi, Marathi and English. There is also a separate section of competitive exam material in audio format.
Palve is a third year physics student at Fergusson College as well as a member of SAATHI from June 2019. SAATHI is an NGO under the Social Outreach and Enabling Centre of Fergusson College, which aims at creating an amiable and helping environment for students with special needs by organising various engaging activities all round the year. Earlier, Vishal and his team members had created audio records for a few visually impaired students with the help of SAATHI, but later they started this initiative which would be accessible for everyone and anytime.
Speaking about his initiative, Palve said, "I was a coordinator of SAATHI (2019-2020), and my task was to provide scribes for the visually impaired students and distribute audio notes (recorded by our volunteers) amongst these students. One day, one of the scribes cancelled due to an emergency. So I went to write an exam for a visually impaired student Rushikesh Adhov. That day, I realised that the audio books that we are providing are not really enough, and we need a platform where we can provide more audio books that are accessible for everyone then I decided to make one online audio book web for every visually impaired student. This is how we designed 'Let'sRecord'."
Palve said that once he went to an eight days camp started by Padmashree Dr. Abhay Bang at Gadchiroli, and there, he learned many things and was inspired to start 'Let'sRecord'.
Ria Chandorkar, one of the team members of 'Let'sRecord' said, "We were going to start this initiative in the new academic year, but as lockdown announced, we had a huge time that could be utilised. We want to expand it as much as possible, and we want to make it the first largest audiobooks platform for visually Impaired students.
Manisha Arora from USA who runs a YouTube channel named Katha Kahani Kavya and Dr Varsha Deshmukh who is a medical professional have volunteered and helped 'Let'sRecord' in a big way. The initiative has also received encouraging feedback from the school principal of Jagruti Blind school, Pune.
'Let'sRecord' also got positive feedback from its target group, the visually impaired students, who listened to the audio books and found them useful.
http://vargshikshak.com/feedback-of-lets-record/