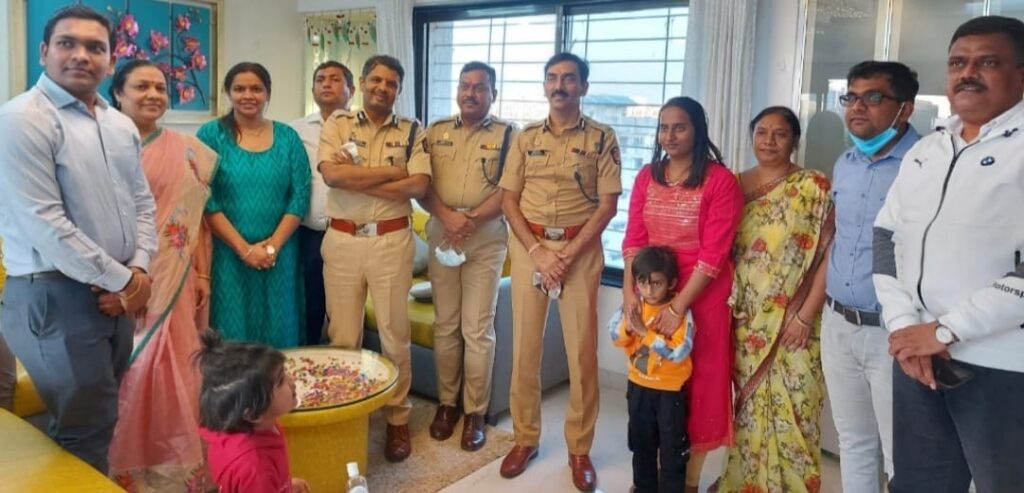 Pune, 19th January 2022: Swarnav Chavan, a four-year-old boy kidnapped from Balewadi in Pune, was found today (January 19) around 2.30 pm after eight days.
Over the past few days, posts on social networking sites have gone viral about Swarnav's kidnapping. But this afternoon, a man abruptly left Swarnav at the watchman of a building near Lotus Business School in Punawale.
Dr Satish Chavan's four-year-old son Swarnav (Duggu) was kidnapped from Balewadi on January 11. Since then, more than 300 police officers have been searching for him everywhere.
There is a building near Lotus Business School. There, Swarnav was dropped off by an unknown person and a note was kept in his bag in which his father's number was mentioned. Meanwhile, after the man left the boy with the watchman Dadarao Jadhav, the workers in the same building made a video call to the number mentioned on the note to make sure the boy was theirs.
Senior Police Inspector Dr Vivek Mugalikar informed that the boy's family came to the spot after the video call.
Watchman Jadhav said "The man walked into the parking lot in front of me. From there he came back to me and asked me if I had my meal. I also told him that I had eaten. I sat the boy on a chair and the man told me to take care of him for ten minutes. Then he left and never came back. I don't remember what his face was like. Only his eyes were visible as he was wearing a different kind of mask on his face. When he did not come for a long time, I told the workers about it as the child was crying."
A worker added, "The man left the child with Baba. The man did not come for a long time. The boy began to cry. Baba came and told us. We came out and waited for a while but the man didn't come. Finally, we checked the boy's bag and found a number in the bag. We called the number and his father answered. When they asked me to make a video call, I made a video call and showed them their son on the video call."
"When they asked where exactly the location was, we told them that there is a building in front of the water tank in Punawale. He then asked for a live location. Soon after, police officers called and asked for the location as well. Then in 10 to 15 minutes, the boy's father and the police came. Half an hour later, his mother also arrived," said one of the workers who helped to hand over the boy to his parents.
Join Punekar News Whatsapp Group, Telegram, Instagram And Twitter  For Regular Update about Pune City And Pimpri-Chinchwad