Pune: When Vaishali FC Road opened after two months today……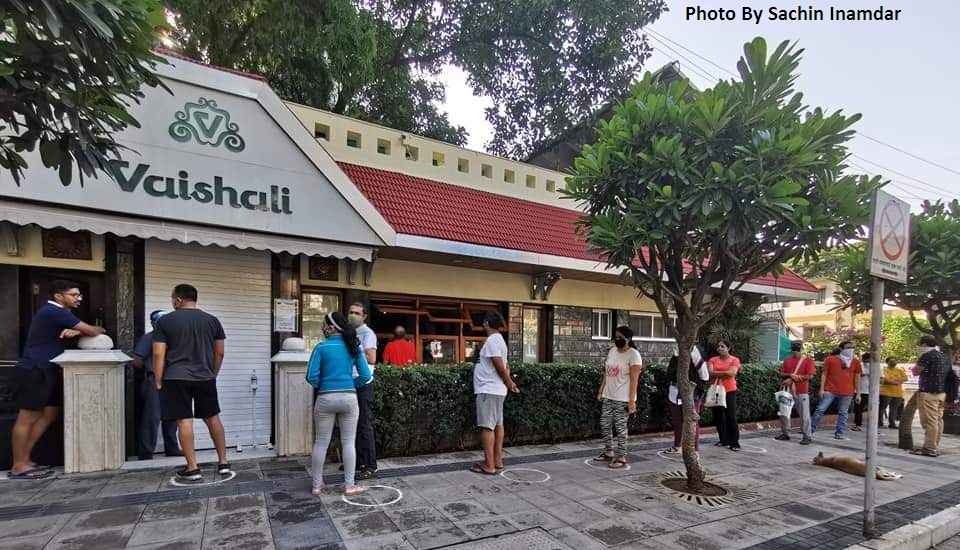 Pune, May 26, 2020: There was a long queue of Punekars outside the famous restaurant Vaishali on Fergusson College (FC) road today morning. However, people cannot sit and eat but they have to take away parcel of Batata Vada, Veg Cutlet, Sabudana Vada, Uthappa etc.
For the last few days, people were getting messages that Vaishali will be opened from 8 am to 6 pm. News spread like wildfire. And the food fans started crowding since morning today. The hotel staffs were handing food parcels from the counter wearing masks and hand gloves. Circles have been made keeping social distance. Also, big umbrellas have been put up to protect customers from the scorching summer heat.
Technology entrepreneur Amit Paranjape retweeted a photo by businessman Sachin Thakkar in the morning which led to massive discussions on the social media. The photo was widely shared by people on WhatsApp also. "#Pune …and in other news, looks like Vaishali has finally started take-out and delivery. The loyal Punekar fans seen lining up this morning on FC Road! Right now, quite possible that the take-out line may have extended all the way to Wadeshwar… or even Goodluck", Paranjape wrote.
Gautam Govitrikar shared a photo of big umbrellas outside Vaishali on Twitter, "I had to go see it for myself! And I am glad I did. People ask me "What's the big deal about Vaishali?" Here you go. They have not been open even one day and here is how they take care of us. See those umbrellas! That's why!"
Shekhar Thakkar wrote, "The fun was in sitting there …like till the late 90's before they began covering up the open area. Used to make it a point to visit…mostly to see and tip the waiters from old times..not any longer."