Punekar News Impact: Pune Traffic Police Clears Bhavani Peth Road From Vehicles Congestion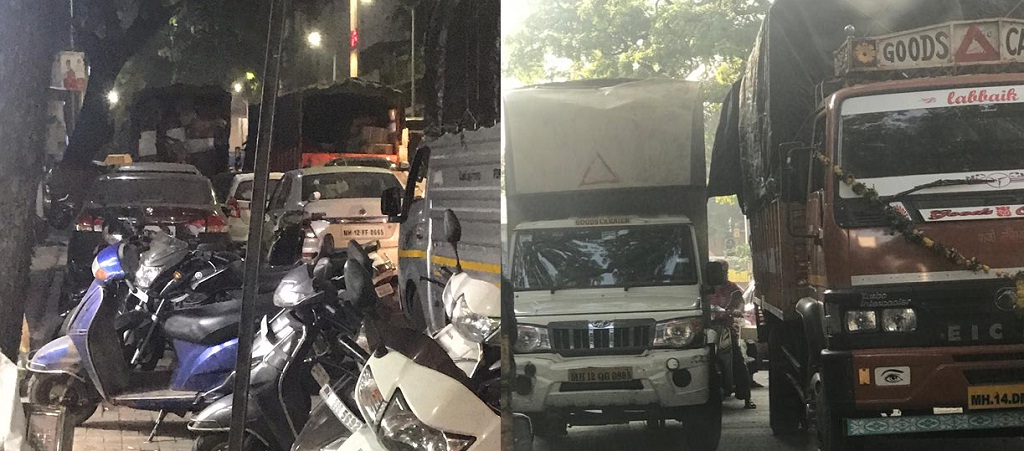 Mehab Qureshi
Pune, October 31, 2020: Residents and shop owners of the Bhavani Peth area are irked by the daily congestion on roads and pollution (air and sound) caused by vehicular traffic. The 200-meter stretch originating from Dare chowk to Palkhi chowk is encroached by vehicles because of improper parking management, residents and local politicians said.
Several shop keepers said that transport vehicles such as tempos and trucks are parked irregularly even though the parking zones have been defined. "The parking stickers (P1 and P2) have been put up, but these cargo vehicles park at their convenience", said a shop owner Retesh Uttamchandani.
Mitun Pardeshi, a resident of the area, said, "The transport vehicle owners harass us if we tell them to park their vehicles elsewhere."
Meanwhile, many shop owners have also alleged that footfall on their business has reduced because of this inappropriate behaviour of the transport owners. "I fought with the transport company owners recently, but they still choose to park their vehicles in front of our shops, completely blocking the view of shops", said Shyam Goel, who runs a cosmetic shop.
The residents and shopkeepers have filed various complaints to the local traffic division of Pune City Police. However, the issue hasn't been solved yet.
Many residents also reached Pune City Commissioner, and an application was given in this regard. The application read, "The truck vehicle owners dispose of their goods in the middle of roads and there is no space for children as well. When we tell them to dispose of their goods elsewhere, they use abusive language against us and obscenely look at our wives and children."
Local Shiv Sena politician and resident, Rajesh Barguje, said, "When I took this issue up with local traffic police inspector he was not ready to register a complaint. When I complained about truck drivers they didn't even bother considering my application rather, the policemen argued with me."
Sharing his thoughts, PMC Corporator Banu Anna Andekar, said, "Traffic Police does not do anything about this ever, despite repeated complaints from my side as well. The road is already narrow, and when the vehicles are wrongly parked the traffic congestion is going to happen".
Punekarnews.in contacted Deputy Commissioner of Police(Traffic) Rahul Shrirame, he said, "I have visited the spot and held a meeting regarding this in the morning as well. We will look into the matter seriously."
After Punekarnews.in raised this issue with the authorities, the action was taken immediately, and the road congestion was cleared within an hour.