Punekars celebrate 288th anniversary of Shaniwarwada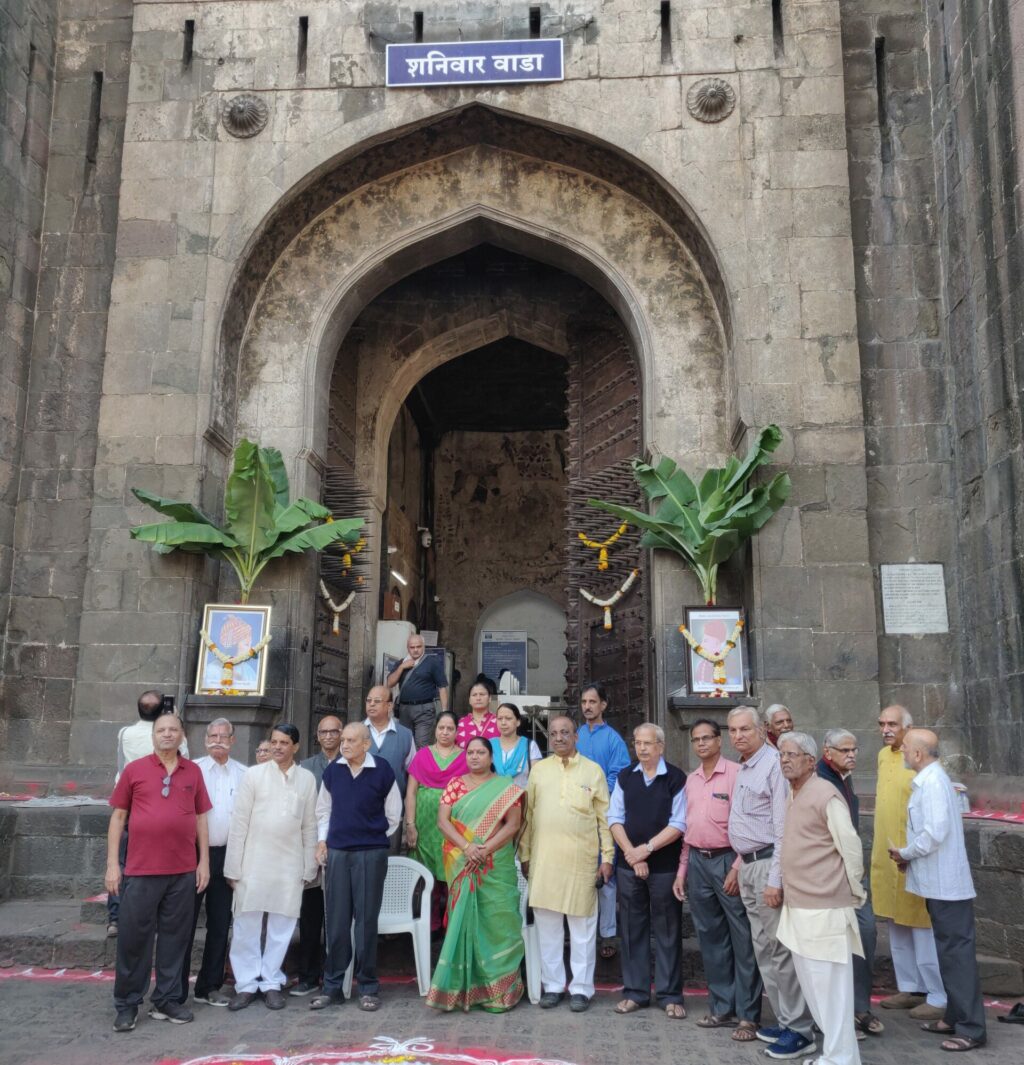 Ruchita Naik
Pune, January 22, 2020: On 22nd January 1732 the historic Shaniwarwada was completely built. Today it completed over 288 years. The ceremony was started by opening the 'Delhi Darwaza' at 9 am.
Uday S Kulkarni, surgeon, Indian navy and author, deputy mayor Saraswati Shengde and Mohan Shete were present for the celebration.
The photos of Shrimant Bajirao Peshwa and Shrimant Nanasaheb Peshwa were placed at two sides of the Delhi Darwaza. Shaniwarwada is a historical fortification, which was the seat of the Peshwas of the Maratha Empire until 1818, when the Peshwas lost control to the British East India Company after the Third Anglo-Maratha War.
A piece of brief information about the historic Shanirwarwad was given by Mohan Shete. He said," 22nd January is considered as the birthday of Shaniwarwada. The importance of this Wada is that on 10th January 1730 the land worship was done and on 22nd January 1732 Vastu puja was done. As it was Saturday on these both events, Bajirao Peshwa named it as Shaniwarwada. It was not only wada but the capital of all the Marathas. The decision of whom to be crowned at the Delhi Mughal Empire was done several times at Shaniwarwada. Bajirao Peshwa, Nanasaheb Peshwa, Madhavrao Peshwa, Savai Madhavrao, and many more peshwas ruled from Shaniwarwada. The historic Wada has witnessed all victories of Peshwas in over 100 years. It wouldn't be wrong to consider Shaniwarwada as a living witness of those historic 100 years."
In 1773, Narayanrao, who was the fifth and ruling Peshwa then, was murdered by guards on orders of his uncle Raghunathrao and aunt Anandibai.
The Shaniwarwada was originally the seven storeyed capital building. It was partly made of stone and partly by bricks. The Wada was attacked by the British Artillery 90 years later, all the top six stories collapsed leaving only the stone base, which was immune to the British artillery.
In June 1818, the Peshwa, Bajirao II, abdicated his Gaadi (throne) to Sir John Malcolm of the British East India Company and went into political exile at Bithoor, near Kanpur in present-day Uttar Pradesh, India.
On 27 February 1828, a great fire started inside the palace complex. The conflagration raged for seven days. Only the heavy granite ramparts, strong teak gateways and deep foundations and ruins of the buildings within the fort survived.