Respect your mother tongue but also learn the language of the state in which you live: Sudha Murty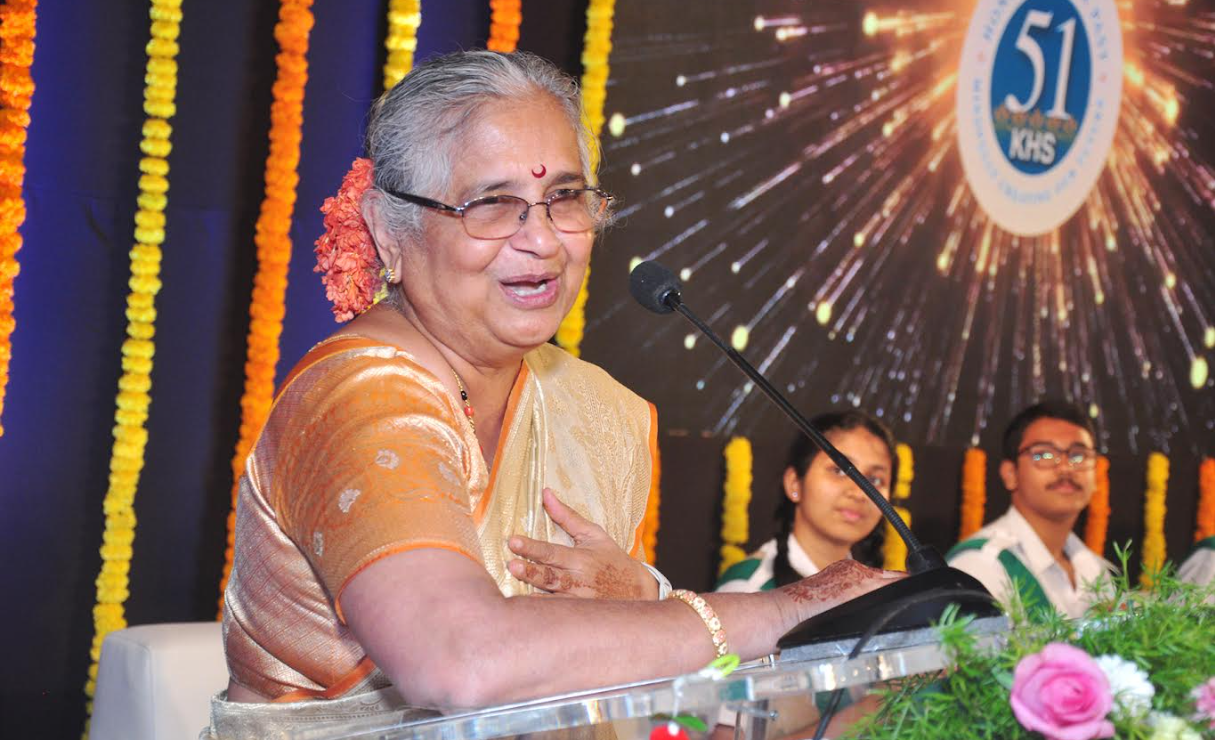 Pune, 01 December 2022 : "One should never forget one's mother tongue as our language is associated with our culture. We should learn the language of the state in which we live and work. If Kannadagis live in Maharashtra, they must learn Marathi and if Maharashtrians live in Karnataka, they should learn Kannada. A language is a tool and it should be celebrated," said Sudha Murty, author, social activist and President of Infosys Foundation.
She was speaking during an interaction with parents and students on the occasion of Golden Jubilee Celebration of Kannada Sangha's Dr Kalmadi Shamarao High School held today at the Shakuntala Jagannath Shetty Auditorium, Erandwane.
Members of the Kannada Sangha including Kushal Hegde, President, Narayan Hegde, VP, Indira Saliyan, VP and Malati Kalmadi, Secretary among others were present during the event.
"Pune is a special place for me and it has taught me unforgettable lessons. What I learned from Pune is progressive thinking. Greats like Lokmanaya Tilak, Mahatma Phule and Maharshi Karve were from Pune and all of them thought ahead of time. Pune has a culture of simple living and accepting and adjusting to reality. Also education in Pune is affordable as compared to other states," Murty added.
According to her, teachers play an important role in the lives of students and they should be respected.
"An institution where the teachers are not paid or respected will never succeed. My teachers made me what I am. The students should excel in whatever they do but they should always come back and give it back to their alma mater. It's the duty of all students to give back to the school whatever they've received," she added.
When asked about what advice she would like to give to the parents, Murty said, "Never compare your children with others, as that is the root cause of all misery. Let them bloom naturally. They are not meant to live your unfinished life. Become friends with your children and help them in every way. They shouldn't worry about failure as it's a part of life. Failure is better than regret."
When asked about her family relations with the UK PM Rishi Sunak, she said she doesn't take pride in it as she's not contributed in anyway toward him becoming the PM.
During the program, Kushal Hegde gave information about the journey of the organization during the last 50 years, while Malati Kalmadi mentioned the various important milestones the organization had achieved including the implementation of Atal Tinkering Lab, Mental Health Counselling, Kaveri Gifted Education and Research Centre, Parent Counselling Centre, Kaveri Nurturing Centre and Rural Connect.
Murty also felicitated the principals of various schools of Kaveri Sangh, including Kamini Saxena, Lakshmi Gandhi, Dr. Ashok Aggarwal, Dr. Chandrakant Harkude, Dr. Madhuri Chittewan, Dr. Kanchan Deshpande and Reshma Deshpande.
At the same time, the two students Sanvi Kulkarni and Kanaka Kelkar, who wrote poems on Murty were specially felicitated by Murthy who gave them the idols of Lord Ganesha.