Reusable pads essential to make menstrual hygiene sustainable for all women and girls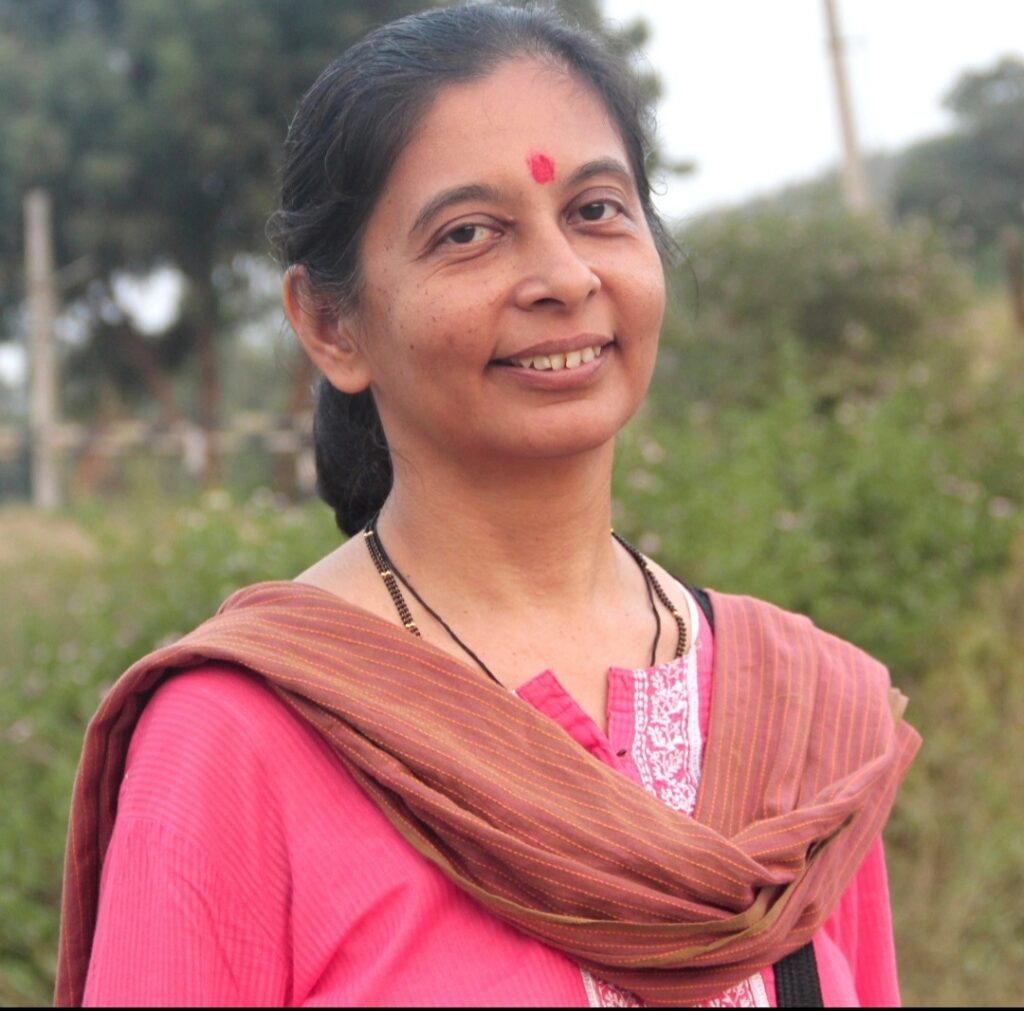 Hyderabad, May 26, 2021: Considering the immense non-biodegradable waste generated by disposable sanitary pads every month, sustainable menstrual hygiene in India can be achieved only with reusable pads made of organic material, said Anju Bist, Co-Director, Amrita SeRVe (Self Reliant Village) Program of Mata Amritanandamayi Math. Known as the "Pad Woman" of India for her zeal in promoting the use and reuse of sanitary pads made of cloth and banana fibre, she is the co-creator of Saukhyam Reusable Pads which have been awarded as the "Most Innovative Product" by the National Institute of Rural Development, Hyderabad. The pads were also lauded at the UN Climate Change Conference held in Poland in 2018.
Said Anju Bist: "There are 355 million menstruating women and girls in India, as per the National Family Health Survey data. Many from low-income communities still do not have access to hygienic products to manage their menstruation. There are efforts by many organizations to make low-cost disposable pads available to such women. But if every woman and girl of menstruating age in India were to use disposable pads, 38,500,000,000 used pads would be discarded every month. How does one get rid of soiled pads? Burning them releases harmful dioxins and furans. Burying them is no good either because the pads are non-biodegradable. Each pad contains plastic, and would take 500 to 800 years to decompose. None of wants to leave this trash as our legacy."
Saukhyam Reusable Pads are the first ones in the world to be made from banana fiber, which is a naturally occurring absorbent material. It absorbs six times its weight in fluid! Disposable pads, on the other hand, use cellulose fiber for absorption. Cellulose fiber is derived from cutting down billions of trees every year worldwide, unlike banana fiber which is obtained from agro-waste. All cellulose fiber used in India to make disposable pads is imported. Banana fiber is locally available. Its supply is limitless and cheap as India is the largest producer of bananas in the world.
Educated and informed young women are switching to reusable products, not only due to environmental concerns but also potential health hazards of using disposable sanitary pads. Dr. Sirisha from the Amrita Institute of Medical Sciences, Kochi, said: "Girls and women experience health-related problems from the chemical additives and toxins in disposable pads. These pads use cellulose fiber as the absorbent material. The bleaching of this fiber to obtain the pure white color leads to the presence of trace amounts of harmful dioxins on the pads. The skin in the vaginal area is highly permeable. Anything that is in constant contact with the skin is likely to end up in the bloodstream too. Dioxins are endocrine disruptors and among the most harmful substances known to mankind."
Said Anju Bist: "Each Saukhyam Reusable Pad lasts up to 3 years, and a pack of five pads costs only ₹ 330. In contrast, an average woman in India spends ₹ 50-100 every month on buying disposable pads, which adds up to a considerable amount every year, and over the course of the entire menstruating lifetime. Even in rural areas these days, women and girls aspire to have a better product for menstrual hygiene. More than 200,000 women and girls have made the shift both in India and internationally to Saukhyam reusable pads. This is helping prevent the emission of 812 tons of carbon dioxide equivalent annually and has eliminated 17,500 tons of non-biodegradable menstrual waste."
India now has ISO standards for reusable sanitary pads (IS 17514:20). Big businesses all over the world are beginning to embrace the principles of circular economy in which there is no waste. What is left over after a product's useful life-cycle is used again as raw material in the next cycle of production. Products meant to be used only once and thrown away are not so popular in this new economy. Added Anju Bist: "Reusable menstrual pads is clearly an idea whose time has come. Not only are such reusable products helping many consumers save money, they are also offering a better choice to scores of women. This is the only sustainable way to make menstrual hygiene accessible and affordable."
The team from Mata Amritanandamayi Math has recently published a scientific study conducted with both urban and rural users of Saukhyam Reusable Pads. It was published in the international journal BMC Women's Health (Part of Springer Nature) in March 2021.
The paper titled "A Novel Banana Fiber Pad for Menstrual Hygiene in India: A Feasibility and Acceptability Study" was authored by Dr. Krishnashree Achuthan, Dean, PG Programs, Amrita University, Anju Bist and three other collaborators. The quantitative study was conducted amongst 155 rural and 216 urban participants in India, who had made the switch to reusable pads. Parameters like CO2 footprint analysis, microbial load, pH and ability of the reusable pad to withstand pressure after absorption were also studied. The study is available here:
Talking about the results of the study, Dr. Krishnashree Achuthan said: "The results of our study indicated high levels of feasibility (rural =82.2%, urban =80.3% and acceptability (rural =80.2%, urban =77.5%) of banana fiber pads across both participant groups. Comparing key characteristics such as leakage and comfort to participants' prior practices revealed general satisfaction on the performance of the pad, leading users to recommend the pads to others. The reasons for their preference of a banana fiber pad highlighted their concern for environment, health and cost as decisive factors. The microbial load on a 3-year reused pad was found to be similar to an unused one. Regression analysis showed cost as an important indicator for feasibility and acceptability, especially amongst rural users."