Rohit Pawar explains the development model for Karjat-Jamkhed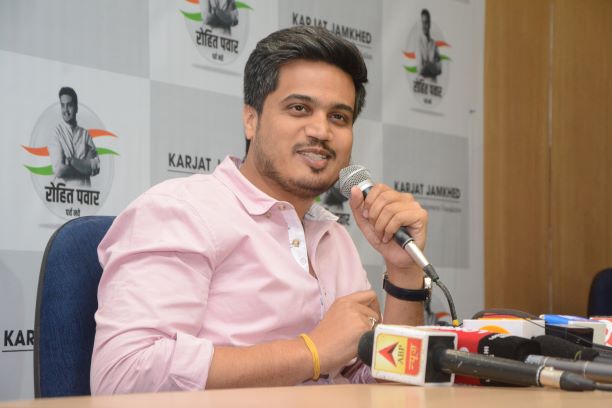 Pune, February 11, 2020: The progress of the state is seeing a positive trend with young and talented legislators taking the initiative towards its development and one such promising leader is MLA Rohit Pawar who is taking efforts to develop and upgrade his Karjat-Jamkhed constituency by setting up an organization, 'Karjat-Jamkhed Integrated Development Foundation'.
Taking data-driven, academically backed and volunteer-driven approach, the foundation aims to creatively solve major problems by focusing on issues such as Education, Health, Water Conservation, Women Empowerment and Tourism. This information was given by MLA Rohit Pawar at a press conference held today in Pune.
Speaking at the conference, Rohit Pawar said, "Through the initiative, primary efforts will be taken towards the economic development of the constituency by bringing public, private and government together. Such initiative will be first of its kind in India. We have also launched a Karjat-Jamkhed taluka logo which will be placed as a brand for investors and tourists. Aditya Thackeray, Cabinet Minister of Tourism and Environment, Government of Maharashtra will formally inaugurate the 'Karjat-Jamkhed Integrated Development Foundation' at Laxmi Lawns in Hadapsar on February 15, 2020 between 4:00 and 6:00 PM in presence of Aditi Tatkare, Minister of State, Industry, Sports, Tourism, Information and Public Relations, Valsa Nair Singh, Principal Secretary, Tourism & Culture, Nagraj Manjule, Film director, Deepshikha Deshmukh, Entrepreneur and Milind Gunaji, Actor."
Accordingly, a website will be set up, which will provide a platform for CSR funding and for all enterprises to come together and work in unison for the development of Karjat Jamkhed.
"We will launch website to address and resolve the issues regarding water conservation, education, health care and women empowerment in the constituency through donation from people and corporate sector. It will include information on the historical importance of the district, its features and other information on film shootings including location, accommodation and dining, etc. Besides that, the website will also have information on all the permissions required for film shootings in the region."
He further added that steps will be taken at various levels to promote tourism in the constituency, which initially will include a web-series that will have 6 episodes on 22 tourist locations of Karjat Jamkhed. Every week one episode will be made available on the YouTube channel of the region. "Development of the region and tourism will provide business opportunities to our youth and women," Pawar said.
According to Pawar, the foundation will work with India's leading NGOs and social activists and will pave a path of development which every other elected representative would want to follow.
He added, "I have seen from the efforts taken by the NGO- 'Agriculture Development Trust' in Baramati, what a social organization can do to bring a change in a society and improve people's lives. The organization set up by Padma Vibhushan, Sharadchandra Pawar Saheb, my grandfather, Padma Shri, Appasaheb Pawar, Father Rajendra Pawar, mother Sunanda Pawar and other trust officials has taken steps to change the lives of the farmers in Baramati. Considering that, I too am taking sincere efforts for the development of my constituency, Karjat Jamkhed."
Devyani Pawar, Co-ordinator of Tourism Project of the Foundation was also present at the conference.