SOUTHERN COMMAND TROOPS BATTLE FLOODS IN CHENNAI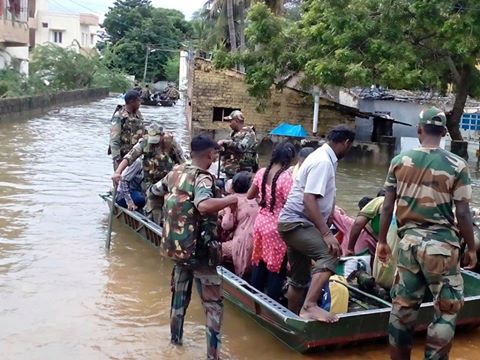 A critical situation has developed in Chennai region on either side of Adyar River in Tamil Nadu due to heavy downpour from 01 Dec onwards. Despite suffering from consequences of flood situation themselves, army mobilized four columns equipped with assault boats and out board motors in response to communication from the civil authorities about the crisis situation.
These columns started move from the afternoon of 01 Dec which has been severely restricted because of heavy traffic congestion on roads as a consequence of flood waters and roads having been inundated. Reaching affected areas in middle of the night, the columns are answering distress calls from the population worst affected. These columns are presently carrying out relief work in Mudichur, Guduvancherry, Tambaram and Manipakkam areas. Attempts are being made to reach hospitals in crisis situation.
Army is in the process of mobilizing additional troops for relief work. Three additional columns are underway from Banglore garrison and expected to be effective by the evening today, ie, 02 Dec. Two more columns are standing by in Hyderabad. However, given the operational status of Chennai airport itself, neighbouring airports are being evaluated to airlift these columns since road and rail connectivity has been badly affected.