We must preserve and promote the calligraphy culture – Minister Dr. Ranjit Patil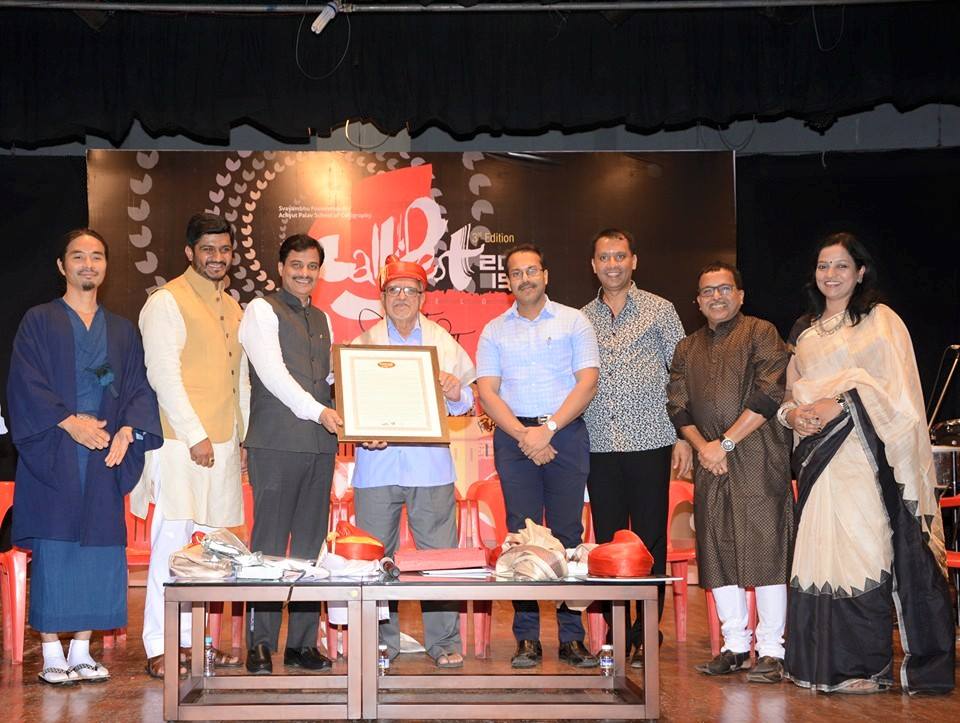 · Callifest 2015 – a celebration of Indian scripts begins from today
· City to witness calligraphy festival from December 1st to 7th
· Calligraphers of national and international repute to participate
Pune, December 1: "Our communication with the world has forgotten the beauty of writing and has mere words. We must preserve and promote the art and our culture of calligraphy", said Dr. Ranjit Patil, Minister of State Home (Urban), Maharashtra State. He was speaking at the inauguration ceremony of Callifest 2015.
A unique initiative by city based Svayambhu Foundation, a festival of calligraphy titled as 'Callifest 2015' started off today. The festival was inaugurated at the hands of Honorable Dr. Ranjit Patil, Minister of State Home (Urban), Maharashtra State. The inauguration was followed by the live stage performance combining three art forms – music, dance and of course calligraphy by Achyut Palav.
Organised between 1st and 7th December at city's Pt. Jawaharlal Nehru Sanskrutik Bhavan at Ghole Road, Shivaji Nagar this festival will feature calligraphy of national as well as international scripts. The festival does not have any entry fee and is open for all between 10.00am and 8.00pm.
Renowned calligrapher Achyut Palav, Siddharth Shirole – Chairman, Svayambhu Foundation, Japanese calligrapher Jyoti Eri, renowned veteran calligrapher and professor Mukund Gokhale, Kunal Kumar, PMC Commissioner, Ganesh Bidkar group leader, BJP, PMC, Chitra Mete member of Svayambhu Foundation were also present on this occasion.
On this occasion, Professor Mukund Gokhale was felicitated at the hands of Dr. Patil for his memorable contribution towards calligraphy, Indian scripts and his detailed work on the printing of Indian scripts through the Institute of typography. The award comprised of a memento, citation and Puneri Pagadi.
Speaking on the occasion Dr. Patil said, "Writing is a natural instinct to human being. However while learning to write, one forgets the art of writing. I am thankful to Achyut Palav and Svayambhu foundations for taking such initiative to preserve our culture. Many job opportunities can also be created out of calligraphy and this art can be taken to a different level with desire, dedication, determination and direction."
Siddharth Shirole requested Dr. Ranjit Patil, Minister of State Home (Urban), Maharashtra State to kindly allocate the position of Art Director, Maharashtra state to a veteran artist which is vacant since past 10 years. He also requested him to institute Lalit Kala Academy in the state which will guide the artists and provide them a required platform to pursue their passion.
Guest of honor Jyoti said that it is a great honor to be a part of Callifest. I feel India is my country and I owe to it. While calligraphy is both art and science, it brings profound meaning to your life, it is a bridge between physical and spiritual world. You can use it to change yourself and the world.
To celebrate the beauty, legacy & culture of our scripts, Pune based Svayambhu Foundation in association with Achyut Palav School of Calligraphy are organising the 3rd edition of 'Callifest ' for Punekars. This year the festival will showcase the calligraphic works of Indian languages such as Devnagari, Gujarathi, Gurumukhi, Bengali, Malayalam, Tamil, Telugu, Kannada, Oriya, Assamese. It will also exhibit Russian, German, Urdu / Persian, Japanese and Tibetan calligraphy through this festival.
The festival will also include Lectures & Workshops by noted calligraphers, artists & professionals of international acclaim. Programs like musical calligraphy, calligraphy demos by eminent artists, presentations by students will also be a part of this festival. The master exhibition will feature the works by noted calligraphers from India and abroad. The festival will also exhibit canvas and paper paintings, 2D and 3D installations, textiles, Indian manuscripts like Pothi, Tadpatra, Bhurjpatra, Metal Plates and many more.