To Provide Employment, Zilla Parishad Starts Building Godowns In Each Village Of Pune District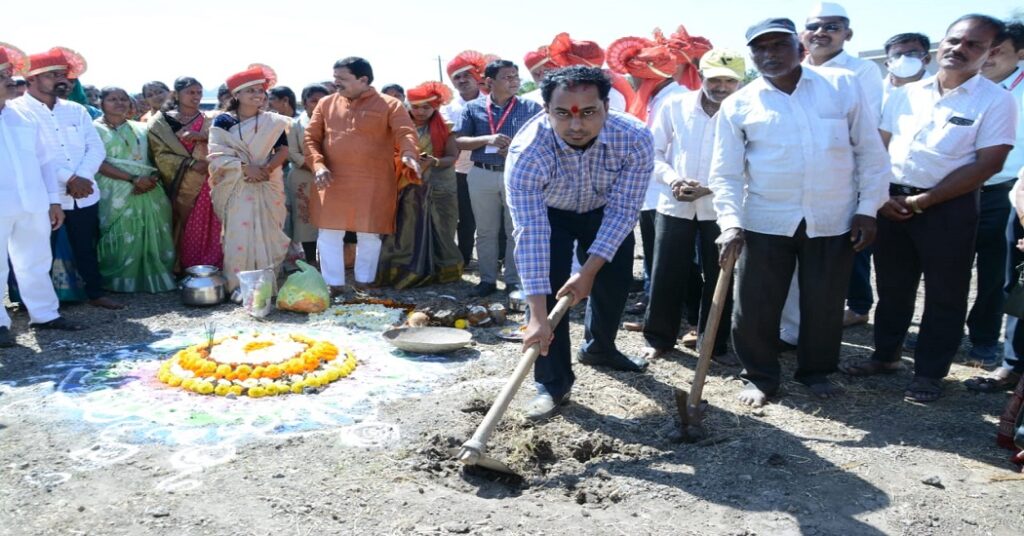 Sumit Singh
Pune, 18th February 2022: Ayush Prasad, Chief Executive Officer of Pune Zila Parishad (ZP), today performed the ground breaking ceremony (Bhoomi Pujan) for the first village godown under Mahatma Gandhi National Rural Employment Guarantee Act (MGNREGA) at Ade Village in Maval taluka of Pune District.
The village godown will provide employment for 1500 person days under MGNREGA and would cost Rs 14 Lakh. Pune ZP had previously declared to build godowns in each village under MGNREGA.
"Such godowns would help the Gram Panchayat earn an income. Farmers could store agricultural implements, inputs such as seeds and fertilizers, and their harvested crops in these godowns. It would help in reducing post-harvest losses. Once constructed and recognized, farmers can get loans from banks under loans against warehouse receipts to help prevent distressed sales of crops. The godowns could be given cold storages and rice mills from various schemes to help horticulture and paddy farmers respectively. Shopkeepers who participate in weekly rural markets can store their inventories in such godowns thereby saving transportation costs and ensuring safety. Self Help Groups (SHG) and Farmer Producer Companies (FPC) can also avail the benefit of the godowns under MGNREGA and use them for storage and value-added activities", Prasad said.
Pune Zila Parishad is facing the challenge of finding land to construct these godowns. "We have requested people in the village to donate land for such godowns. Also, there are insufficient unskilled works in several villages to maintain the ratio of 60:40 between labor and material costs where godowns are proposed. With the implementation of schemes for soak pits in collaboration with the NAAM Foundation and land grants for the construction of homes under housing schemes, we would be able to overcome the second challenge", he added.
पुणे: मनरेगा योजनेच्या अंतर्गत गावांमध्ये बांधली जाणार गोदाम; शेतकर्यांना होणार फायदा, रोजगार ही उपलब्ध होणार
Join Punekar News Whatsapp Group, Telegram, Instagram And Twitter  For Regular Update about Pune City And Pimpri-Chinchwad