True Religion is close to humanity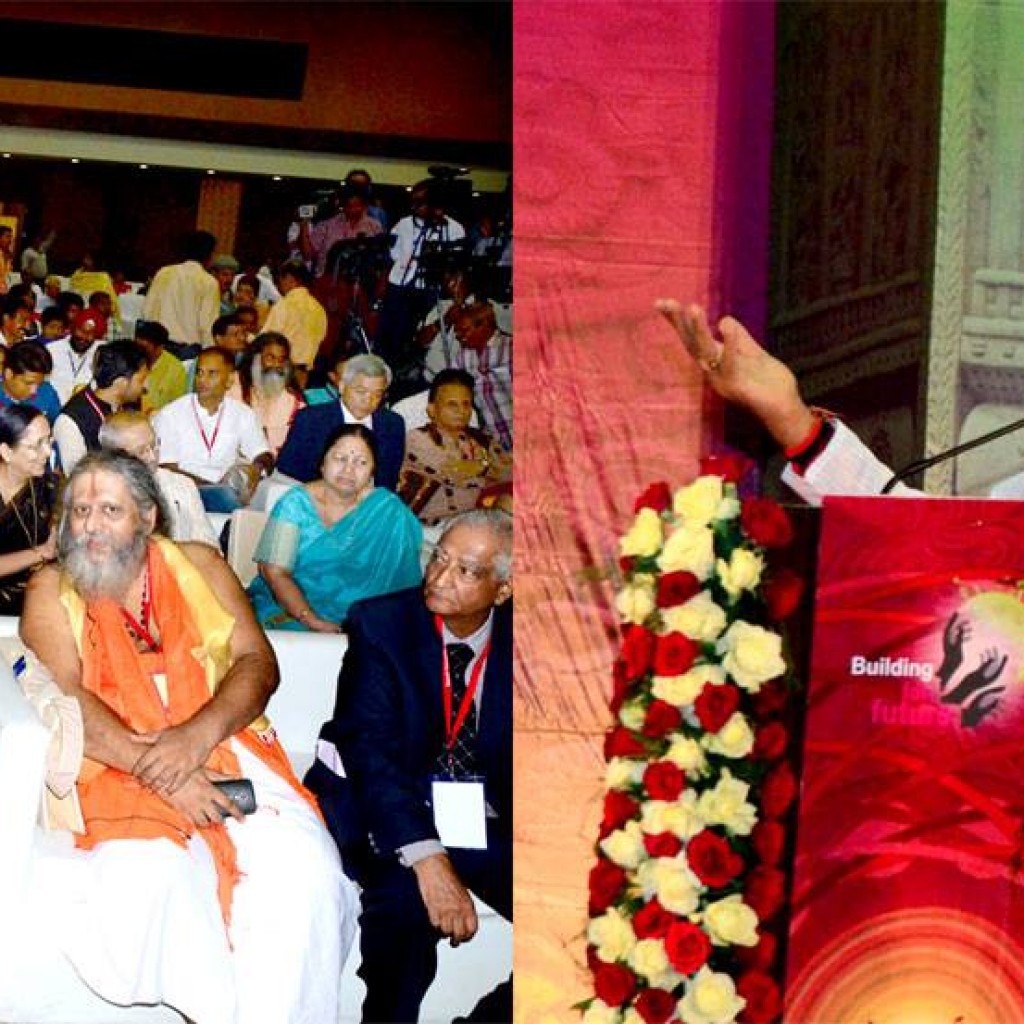 Speakers at 3-day international seminar on religion 180 representatives of religions from 26 countries taking part
Addressing 3-day international seminar on religion and spiritualism in the context of Simhastha-2016 at Indore today, speakers unanimously said that true religion is close to humanity. One of the 6 sessions held during seminar "Religion for Human Welfare" was chaired by President of Sri Lanka's Mahabodhi Society Shri Bangala Upastissa Nayak Thero.
Head of Malakka Orthodox Syrian Church of Kerla, Shri Baselios Marthoma Paulos while referring to St. Thomas tradition said that he is against forced conversions. He held dialogue among society as significant and stressed the need for programmes like religious seminars to remove religious intolerance.
The main session was presided over by Swami Paramanand Saraswati Ji. He said that harmony in society is declining as a result of construing wrong meanings of religion and sects. He said that religion must be close to humanity and society should follow religion considering it their duty and Karma. Swami Vishveshwaranand of Sanyas Ashram and Prof. Sadhvi Chaitanya Prabha of Jain Vishwa Bharti University threw light on tolerance, harmony and coordination in religion and stressed the need for its use for human welfare. She described social traditions, morality and spirituality as significant.
Representatives from country and abroad spoke on 9 different subjects including global peace, nature & environment, human pride, religious diversity, moral and spiritual values, Yoga traditions and knowledge ete.
As many as 180 scholars and representatives of religions from 26 countries are attending the seminar. On October 25, Sri Lankan Energy Minister Shri Patli Champika Ranavka and Swami Avdheshanand Girji Maharaj will attend special spiritual session of the seminar from 6 pm.
The session will be held under the aegis of Culture Department, Sanchi Buddhist and Indic Studies University and Centre for Study of Religion and Society from 6 to 8 pm. Discussions will be held on "Role of Religion in Present Time". It would be presided over by former vice chancellor of Central Tibet University, Varanasi Prof. Geshe Samtan. Vedacharya David Crowley of American Vedic Teaching Institute, Founder of New Age Islam, New Delhi Prof. Sultan Shaheen, Sri Lankan Energy Minister Shri Patali Champika Ranvaka will attend the session. Various sessions will be held on human welfare subject during which representatives of various religions will discuss world peace, social justice, human service, knowledge and spiritualism in the light of teachings and scriptures of their respective religions. Not only religious representatives, but philosophers will also present their papers during the seminar.
In the meantime, scholars who have arrived at Indore include Vedacharya David Crawley frm America, Prof. Hyan Shen from China, Prof. Sultan Shaheen, Editor of New Age Islam, Director of Akshardham, Delhi Shri J.M. Dave, Dr. Thik Tam Dak from Vietnam, Dr. Sumna Siri from Singapore, Lobsang Sange from Tibet, Naresh Man Bajrangacharya from Nepal, former vice chancellor of Central Tibet University Prof. Geshe Samtan, Baselios Marthoma Paulos from Kerla, Shri Hari Prasad Swami from Vishnu Mohan Foundation, Swami Paramananda Saraswati Ji, Rajkot and Dr. Joseph Marthoma and Swami Vishveshwarananda.
‪#‎religion‬ ‪#‎human‬ ‪#‎bhopal‬ ‪#‎seminar‬ ‪#‎welfare‬ ‪#‎social‬