USA: 4 People Including A Woman Died In Violent Pro-Trump Protest In Washington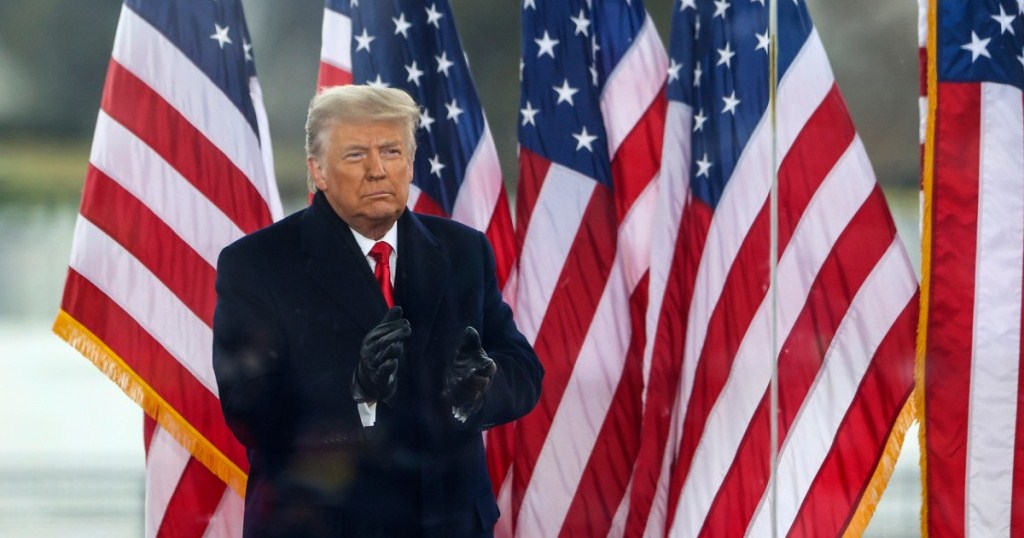 Washington, January 7, 2021: Donald Trump's supporters created a ruckus in Washington's Capitol Hill on Wednesday. A large number of Trump supporters entered the Capitol Hill building and vandalized it. It was very difficult to control Trump supporters.
However, during the violent clash between the police and supporters, four people including a woman died, while 3 are injured and under critical condition. So far, the police have arrested 52 people. The incident happened when the process of the electoral college was held in the Capitol Hill and Joe Biden's victory was to be announced. The Trump supporters were demanding that Donald Trump should be re-elected as President and to recount the vote.
Emergency was Declared in Washington DC
In view of the violent attitude of Trump supporters, curfew has been imposed in Washington and police personnel in large numbers have also been deployed. Here, the mayor has declared a 15-day emergency till January 21. Police say Trump supporters also had weapons and inflammable substances to carry out the arson incident. After this violence, two of Trump's assistants have also resigned from their posts.
Condemnation of the incident worldwide
Former US President Barack Obama, George W. Bush and Indian Prime Minister Narendra Modi have also condemned the incident. PM Modi has said in his statement that he is deeply saddened by the news of violent clashes in America. The transfer of power should be completed in a very calm and happy atmosphere. Such incidents have no place in a democracy.
Obama said in his statement that the time to come will always remember the day how the President tried to falsify election results by lying and promoting illegal activities. In his statement, he has described this incident as dishonour and shameful for the United States.
Trump's social media account suspended 
Following the incident, Donald Trumps' accounts on Facebook, Twitter and Instagram have been suspended for his objectionable speech. Confirming this, Facebook's Vice President of Integrity, G. Rosen, said he believed the video was contributing to increasing rather than reducing the violence. So this video has been removed. Apart from Facebook, this video has also been deleted from other social media platforms.
Trump and Biden attacked each other 
At the same time, Trump once accused Biden of rigging the presidential election. After this, responding to Trump, Biden said that they should protect the constitution and end such siege. He has also called the uproar of Trump supporters an attack on the US Constitution. They have called it a bad day in American history. Biden has said that some people are not only accepting the results of the election but are also flouting the law. While Biden has appealed to Trump to pacify his supporters, Trump has said that he is not going to give up.
Biden will take oath on 20 January
On January 20, Joe Biden is to be sworn in as the President of the United States. This is the first time in American history that there has been so much uproar and violence in the presidential election. Meanwhile, Reuters has reported that the newly elected US President Joe Biden has selected Merrick Garland, who is a judge, as his new attorney general.
Trump had argued with Pence 
Trump has asked his supporters not to commit violence and there should be peaceful demonstrations. He has categorically refused to give up in the election. Trump has even asked Vice President Mike Pence to send back the election results from the states. However, Pence has made it clear that Trump does not own it. Trump then attacked Pence, saying that he did not do what Pence should have done to protect the Constitution. States should get a chance to verify the facts of election results. The American public wants to know the truth of this election result.
The Whole Incident
Significantly, in the joint session of the US Parliament on Wednesday, the process of counting and certifying the votes of the electoral college started. This was objected to by Republican lawmakers in Arizona. Based on this, Vice President Mike Pence adjourned the joint session of the Senate. He also gave the members of both houses two hours to debate on objections. After this, the commotion started.
Follow Punekar News: