VideoVerse CEO discusses the role of AI & ML in the future of video content creation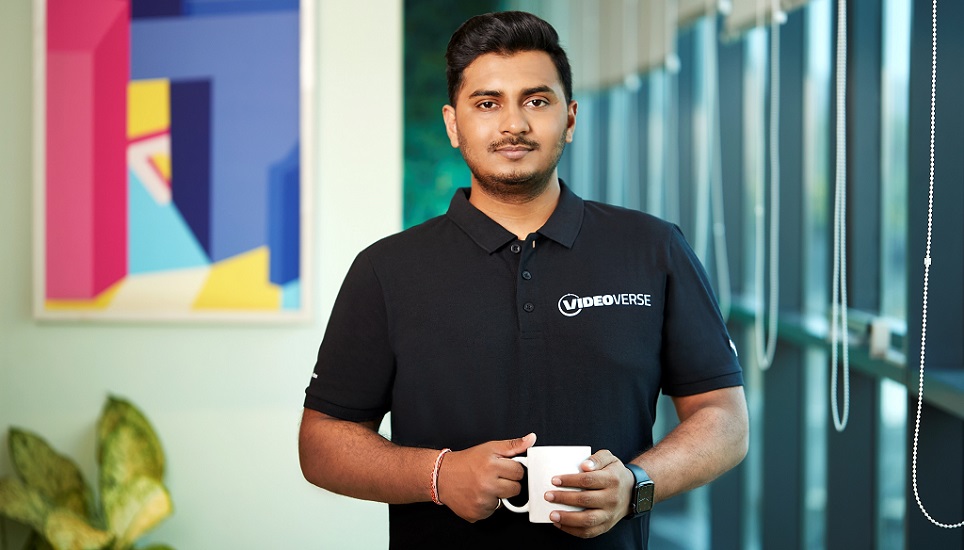 Pune, 11th April 2023: Vinayak Shrivastav, CEO & Co-Founder of VideoVerse, a Pune-based video technology startup, speaks to Punekar News about how they help Indian and global broadcasters to increase their viewership. It does so by using its proprietary AI & ML powered video editing tools to highlight key moments of the programming.
1. Overview/Growth Journey of VideoVerse
VideoVerse (as Toch Inc.) was founded in 2016 when Vinayak and his partners met at a media event and discovered they were all passionate about creating solutions to address the need for automation in video content creation and had been working on ideas independently. 
Synergising their work was the obvious way forward. They recognized the potential of AI technology to make video editing more accessible and democratic. With Vinayak's passion and understanding of sports and experience as a part of a venture capital firm, he saw the opportunity to create a cloud-agnostic platform that could produce short-form video content from hours of footage using next-generation technologies. 
In 2022, the company rebranded as VideoVerse as there were multiple products that the company built catering to different user types. In the same year the company raised series B funding of 47 million. Over the past six years, the company has served various industries, including linear broadcasters, OTT players, sports clubs, leagues, marketing agencies, and e-gaming platforms. Their primary focus has been on building assets for their partners and amplifying their engagement through meaningful short-form content.
2. Vision behind the startup
The endeavour to create interesting content with AI technology and make video editing more accessible to everyone was the goal of the company. They primarily focused on cloud-agnostic solutions powered by AI and ML technology for video editing. These technologies included face and image recognition, vision models, optical character recognition, projection denoising, and audio detection. The company created personalised assets from a single feed of data and broadcasted them in real-time across multiple websites and apps. They also provide an auto-share option across over 30 social media platforms.
VideoVerse aimed to build the next-generation video editing ecosystem that could handle every use case in the post-production process. Their vision was to revolutionize the viewership of all types of content and help content-driven industries and individuals make an impact across all media genres. The company aimed to work with compatible partners to strengthen their position and generate new revenue streams while creating a self-sustaining and self-serving business model. #Trulylimitless was the guiding principle.
3. Online video consumption patterns – globally & in India
Over the past decade, there has been a dynamic shift in online video consumption patterns, with new trends and platforms emerging. Thanks to the increasing accessibility and affordability of the internet, video consumption has become much easier, with mobile phones playing a vital role in this trend.
In 2022, over three billion internet users watched streaming or downloaded videos at least once per month, as per Statista. Short-form video platforms, such as TikTok, Snapchat, and Instagram, have become incredibly popular with a diverse range of viewers. Subscription-based VOD streaming services like Amazon Prime Video, Netflix, Zee5, and Disney Hotstar have amassed a vast library of content, and have gained enormous traction. Live streaming, enabled through platforms such as YouTube Live and Facebook Live, has given audiences the ability to watch real-time events, games, and other content. User-generated videos are another massive trend, with influencers and vloggers garnering sizable followings by creating engaging content and building communities around their channels. According to DASH, global viewers are watching around 84 minutes of videos every day.
4. Video content consumption formats & volume – insights for content creators and marketers
For content creators, video content consumption formats and volume are crucial considerations. Since the pandemic, short-form videos have emerged as the most popular and effective social media content format, making them an essential social media marketing strategy for small and large businesses to effectively reach and engage their target audience. Long-form content formats, such as those offered by VOD platforms like Netflix and Amazon Prime, are favoured when time is a luxury and attract audiences with higher entertainment value. Although on-demand services like Netflix, Amazon Prime, and YouTube have gained significant attention recently, there is still a substantial demand for media platforms that provide live coverage of events. 
The Internet of Things (IoT) technology holds great potential in leveraging streaming to enhance people's convenience and enjoyment in daily life. There was a steep rise in video consumption in 2020 by 96%, in 2022, an average person watched about 100 minutes per day watching videos. Content creators and marketers have inferred the power of videos and it is an extremely crucial tool in reaching consumers across demographics.
5. Role of AI & ML in the future of video content creation
The future of video creation is expected to be significantly impacted by the advancements in Artificial Intelligence (AI) and Machine Learning (ML). These technologies can automate tasks involved in video production, such as editing, captioning, and sound mixing, thus reducing the workload of video creators. With the help of AI and ML algorithms, creators can analyse viewer behaviour and preferences, which can assist them in making more informed decisions about content creation and distribution. AI and ML with their intuitive ability will be able to identify trending topics, keywords, and video formats that engage viewers, content creators can create personalised content to cater to niche audiences. Moreover, AI and ML can be used to enhance video quality by identifying and correcting errors, optimizing video compression, and adding augmented reality and virtual reality elements to video content. Consequently, AI and ML are set to revolutionize the video creation process, making it more efficient, personalised, and engaging for viewers.
6. Newer formats of video which are on the horizon
To keep up with the trend of short-form video dominating social media, Netflix has introduced a platform for short-form videos called Fast Laughs. Personalization is consequential in meeting customer needs and enhancing their experience. The vertical video trend is also gaining popularity, with Instagram Stories, IGTV, Facebook, and YouTube supporting 9/16 vertical videos through their content, Escape From Hell, the first blockbuster movie made entirely in a vertical format paved the path for smartphone-friendly movies. The demand for video captions has increased by 257% over the past 5 years, with 80% of viewers enabling captions because they prefer subtitles. 
The silent videos are liked, shared more than ever and are gaining a steady momentum like the GIF. Both content creators and platforms need the attention and engagement of the viewers to generate revenue through video marketing, which has long been the coexisting model for content creators and advertisers.
7. How is the industry changing to make videos easier to create, share and accessible (from and for a business)
To meet the growing demand for video content, the industry has introduced several changes that make video creation, sharing, and accessibility easier for businesses. 
Firstly, there are various video creation tools and software available that are amateur-friendly with the negligible technical knowledge needed and provide pre-designed templates, music, and special effects to create videos. Secondly, cloud-based video editing platforms such as Magnifi, Illusto, and Inshot make it easy to upload, store, and share videos without worrying about storage or bandwidth limitations. Thirdly, with the increasing popularity of smartphones, businesses can now create high-quality videos using their mobile devices, making video creation more accessible and cost-effective. Social media platforms such as Facebook, Instagram, and YouTube have integrated video features that allow businesses to easily share their videos with their target audience and analyze video performance. Lastly, closed captioning is becoming a standard feature in video creation to make videos more accessible to a wider and more discerning audience.
8. How are tools helping simplify video editing, creation, and accessibility? 
With the rise in content creation, good video editing software has become quintessential for converting raw footage into shareable bite-sized video, it is important to ensure that they are accessible to all internet users. This not only helps to enhance the SEO but also makes videos entertaining and accessible for everyone. 
The majority of content creators prefer cloud-based video editing platforms with easy-to-use tools for both amateurs and professionals. The video editing and creation tools have made it easier for content creators to create high-quality videos without technical knowledge or expensive equipment. These tools make video access more convenient and affordable by providing pre-designed templates, user-friendly interfaces, and cloud-based platforms. With the growing popularity of smartphones, businesses can now use their mobile devices to create high-quality videos. Closed captioning is also becoming a standard feature to make videos more accessible to a wider audience. Social media platforms have video features that allow businesses to easily share videos with their target audience and analyse video performance. 
9. Has spending on video advertising and video content increased in the past few years, and do you think marketers will start to back it up more in the future?
In our purview, there has been a categoric hike in video advertisement and content creation spending. 85% of businesses use video as a marketing tool and 92% of marketers consider it an important part of their strategy, according to a report by Wyzowl. The report also showed that 86% of businesses are spending more on video content than they did before.
The popularity and impact of videos in an engaging and growing market, as well as the technological advancements in video creation such as simplified video creation tools and social media integration, make it easier and more viable for businesses to create and distribute video content. Artificial intelligence innovations have made it possible to achieve expert results quickly when editing photos and videos. These tools can handle tasks such as adjusting colours, blending audio tracks, creating seamless interview clips, and adapting video content to different aspect ratios. With AI, the need for human intervention in the editing process is reduced, providing new possibilities for automating and streamlining the editing process. Given the trends, businesses will continue to back video advertising and content in the future.