When Employees Are A Priority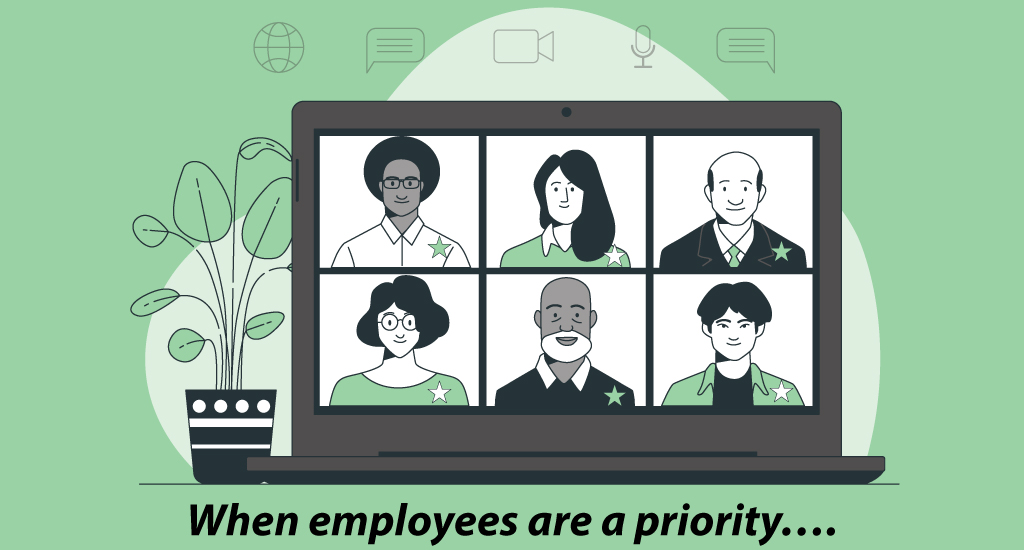 Pune, 11th April 2022: Richard Branson, the founder of The Virgin Group, rightly said "Clients do not come first. Employees come first. If you take care of your employees, they will take care of the clients."
This is the truth of the modern-day work culture. Companies across the world realize that their true asset is their people. And if they can create a happy, satisfied workforce, every goal is achievable. 
But what creates this happy, satisfied workforce? Google search and you will come across millions of articles listing various tips to create and sustain one. We may know the theory well, but it is a different ball game when it comes to implementing it in reality. While most organizations have their employee-centric policies in place, it is important to realize that it finally boils down to behavioral aspects such as respect and empathy. 
HiDoc Dr. is one organization that has been successful in achieving this. Providing a great quality of work environment, a horizontal organizational structure, and giving importance to work-life balance even while working from home are the main drivers of HiDoc's employee satisfaction. 
25-year-old Zainab Madarwala, a Digital Marketing Executive at the company, shares "I am a Muslim and we follow Moharram for 10 days. My colleagues and superiors co-operated so well with me during these days that I could follow all my rituals peacefully. This place stands out for the mutual respect that exists between the employees." Sujit Joshi, 28-year-old Mobile Application Developer, agrees "The work culture in HiDoc is great! The seniors trust you and are extremely supportive. The growth opportunity is immense."
Onkar Musale has been working with HiDoc for the last three years. The 25-year-old Java Developer has already worked on various fronts including software development, digital marketing, artificial intelligence, machine learning, cloud architecture, and computer vision. "The exposure I have received here is commendable. The quality of work is next level, helping me learn new technologies to solve real-world problems" he adds. 
While the employees vouch for the quality of work at HiDoc, some are specifically impressed by the horizontal structure of the organization. Take the story of Narayan Wetal, who joined the company as a PHP Developer during the pandemic. This was his first experience in developing products for clients. "I faced a lot of pressure initially as I was not used to such quick turnarounds. Servicing clients directly was extremely challenging. But my senior was always there to help me. I could turn to him even at odd hours." 
Juveria Shaikh, 21, HR Associate, and Arpita Solanki, 30, Digital Marketing Executive, have similar narratives about the approachability to seniors. "I joined HiDoc only 4 months back as a telecaller. But within a month, with the guidance of our COO and colleagues, I got promoted as a recruiter. There are no management levels and I can easily approach even our COO directly" says Juveria. 
"When my dad had to undergo heart surgery, Varun Sir (COO) helped me a lot. All my colleagues supported me in every way possible. The way they stood by me is beyond words" narrates Arpita, who joined the company in September 2021. 
HiDoc strongly advocates work-life balance, even in the remote work setup. The pandemic has forced companies globally to adopt work from home and while this is stressful for many, HiDoc ensures that it is a smooth ride for its employees. As Jay Kanjar, 27-year-old Digital Marketing Executive rightly points out "We have flexible schedule and a customized environment. The seniors ensure that the online meetings and work are managed smoothly. I get to spend quality time with my family and can also pursue other hobbies or courses on the weekends. We receive our pay and bonuses in time, which encourages us to work diligently." 
Kapil Mahakal who has been working with HiDoc for 2 years as a Web Developer, adds "I joined the company during the pandemic. And even though there were several issues because of the lockdown, we sailed through them easily because of the supportive work culture. It is a great place to work." 
HiDoc Dr. is just five years into business but it already has its heart in the right place. By prioritizing its employees, it has gained their trust and support which most companies take years to achieve. After all, there are only two ways to influence human behavior: you can manipulate it or you can inspire it. (Simon Sinek) And an inspired workforce is the biggest strength of any company!