Work from Andamans – The adventure continues..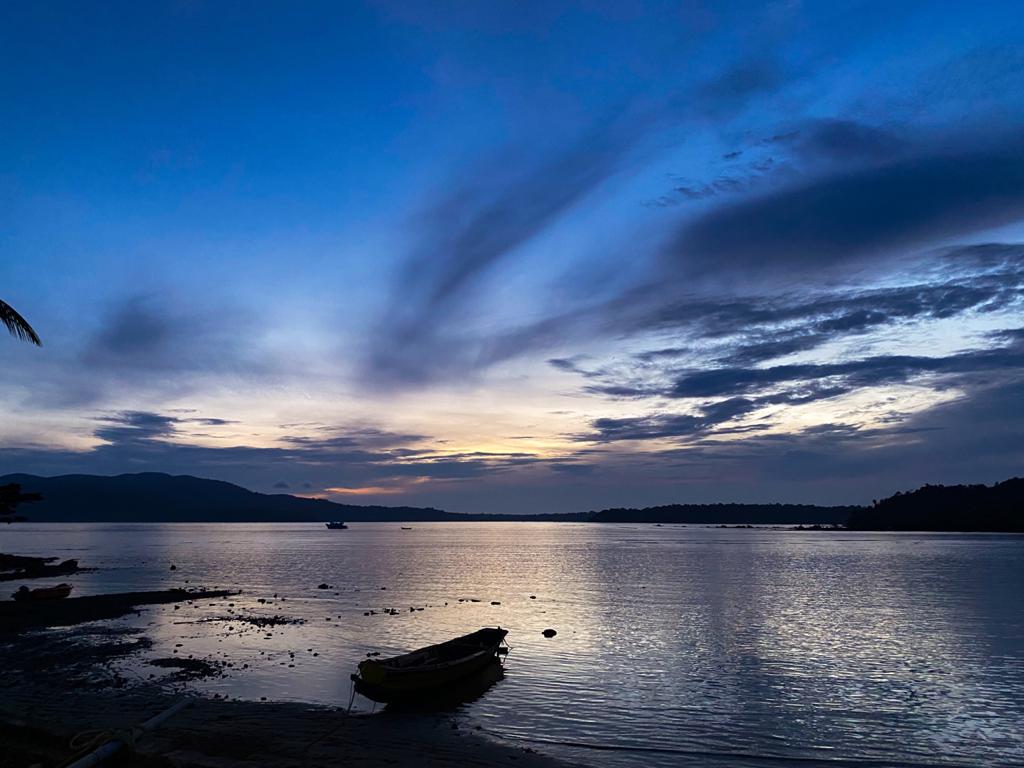 Saurav Chauhan
Andaman, 27 April 2021: Welcome back friends to a new workday from the Andamans. I always get a smile while writing this and why would one not, I am loving this experience. I am all set and ready to discuss our next workday. This day came with some hiccups but also some new adventures and a new friend.
Work From Anywhere Day 1: Can You Work From The Andamans?
After a few days of being agile and waking up on time for the sunrise, today I failed. Our adventures yesterday were a little tiring for us so I slept till 9 in the morning. Once done with my morning routine I went for breakfast. The cook here is an old lady from Kerala but surprisingly she is very good with North Indian food as well. Today we had lip-smacking delicious aloo paratha and Mrs was jealous after tasting it. Once done with our breakfast and thanking the person who made it, we head back to our room to start another workday.
Day 2 – The workday is here in Andaman!
Luckily I was able to complete a large part of my work by 1:30 noon, so after lunch I went for a quick nap again, Yes I was tired. Then the horror started. As I woke up I felt little irritation on my skin under the T-shirt. I ignored it for some time but then thought to give it a look, and was terrified to see dark red rashes all over my stomach and back. All the thoughts about the beauty of the place and calm life went to the bin for that moment and I was obsessing about what happened to me. Is it chickenpox? Is it some other severe medical condition? My wife, knowing about my obsessive nature tried to calm me down and reminded me what doctors are for.
Day 3 In Andaman Islands – Snorkelling in North Bay
Straight away I went to search for skin doctors near me, unfortunately, due to covid cases (which were like pennies when compared to the mainland), most were shut. So I searched for medical stores near me and got to know about one Om Medical. I rushed there and my horror in a very serious voice. He was hardly able to contain his laughter. Then he asked me the question that solved this mystery, 'Did you have any seafood recently which you never had before? and it hit me, the exotic fish I had yesterday at North Bay island, apparently wasn't very happy to assimilate with my blood. He gave me some anti allergens for a few days and assured me that it will be fine. So to all who are travelling to this beach heaven, please be careful about what you eat and pack some anti-allergy drug with you. My rashes thankfully were gone the next morning when I woke up.
Day 4 In Andaman- Ross Island and the ruins of colonial past!
Once back from the medical store I was relieved of knowing what was causing the issue, so I happily got back to work. I finished the work by 4 PM and my wife also had a rather free workday. So we decided to go someplace where we can see the sunset. After a little search, we got to know about Chidiya Tapu. Which was around 24 km away from where we were. The sunset for the day was at 5:20 pm so we had a good 1 hour to reach the place.
We quickly packed a few important things which I would advise all of you too. Water bottle, sunscreen, an extra pair of clothes as the rain is unpredictable in this region, some snacks for munching and a poly bag to keep our phones and wallets dry.
We started at around 4:15 from our stay in Shadipur on our Scooty. Up till now, we have only ventured till Corbyn's cove beach in this direction which is just a few kilometres from our stay. After a few minutes of riding crossing Corbyn's cove, we saw the change in scenery. The mangroves and some small water streams greeted us. 10 more minutes of the ride and we were crossing some rural villages which gave us a feel of riding in some remote villages in Kerala. The trees, the houses, the whole scenery was so similar to what we see in the southern part of India. While I was appreciating the beauty of it all, my wife reminded me of how slow we are going and the possibility of missing the sunset.
I rode a little quicker and we finally reached the sunset point at around 5:10, just 10 minutes before the sunset.
The place though was not what we expected, it looked like a small dam. Many people stopped by the road and there were some boats parked towards the shore, there was no beach here and the mosquitoes ruled the land. But that was not all, the day was very cloudy, so we didn't even get a glimpse of the god of light. It was all dark in a matter of minutes and we dreaded wasting our time. Also a little hungry first we thought of taking out the snacks we brought but were tempted by the smell of banana chips being fried in a nearby small eatery. We ordered a plate of banana chips and stood outside the stall to at least stare at the seawater in the dark, the sight we hardly get to see in central India.
In a few minutes the crunchy banana chips were ready and as expected they were very tasty, Mrs joked, these McBananas are better than what the fast-food chain giant serves for triple the cost, middle class much? I know we are. We quickly finished our McBananas and rode back. After another 40 minutes, we were near to our stay and Mrs saw a Pani Puri stall. There's something about Pani Puri that Indian girls, no matter their background or history or age, can just not avoid the temptation. So we stopped there and she gobbled a dozen or more.
Just behind that pani poori stall was a temple so I thought of paying a visit, in this Covid period you wouldn't want the gods to be angry at you. As we entered, the young priest entered with us. After laying my respect to the gods I asked him who the head priest of this temple is, to this he replied with a counter-question, 'Aap kahan se hain? (Where are you from)'. From my dialect or any specific word I used, he identified that I belong to the Chambal region from where he also hails.
That started a long and friendly conversation which lasted for an hour. During which our new friend told us a lot of anecdotes about his life on the island. He came to the Island in 2010 or so when he was a kid from Gurukul. He studied music and was the head priest of a few temples on the islands. There I also got to know a hidden talent of my Mrs that she knows how to play the Harmonium. Though she played just the Sargam but showed that she knew how to, I was pretty proud. The new friend also had an electronic musical keyboard and played a lot of melodies for us. As we bid him goodbye and started back for our stay, which is just 2 minutes drive from there. This thought hit me, how having time brings in patience and hence the whole experience changes. If I would have been on a quick leisure trip to Andamans I would be busy with continuous activities and wouldn't have time to explore unplanned things let alone sit in with a Sadhu for an hour.
With this lesson learnt, we close our day. Thanks for keeping up with us and please come back tomorrow for our first-weekend experience from Port Blair in the Andamans.