Work of two tunnels of the underground metro completed in Pune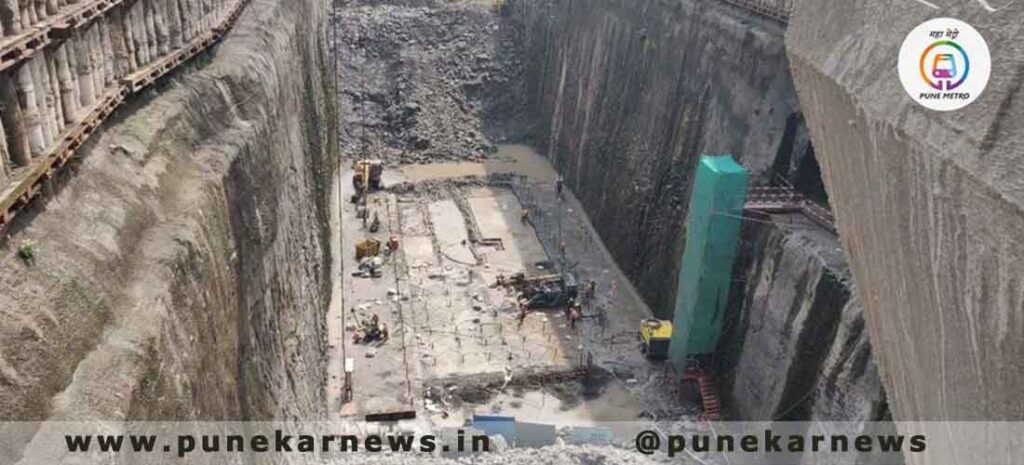 Mrunal Jadhav
Pune, November 11, 2020: The work on both the tunnels from Rangehills to Shivajinagar Court for the underground metro completed on Tuesday. The digging work of the tunnel for the underground metro under the Mutha river will start in a meanwhile.
A 16 km long metro line from Pimpri Chinchwad to Swargate is currently under construction in Pune and Pimpri Chinchwad. It will have a 5.5 km long underground line. It's going to be between Rangehills to Swargate. The work of digging a tunnel for the underground metro started from the premises of the Agricultural College near Rangehills in January. Two tunnel boring machines (TBMs) have been used. The length of this machine is about 120 meters.
Two tunnels of 5 m 8 ft diameter each are being dug from the premises of the Agricultural College. The work of both the tunnels up to Shivajinagar court has been completed. There will be a multi-storey Shivajinagar station in the premises of Shivajinagar Court. At the same place, Hinjewadi-Shivaji Nagar Metro Cross of Pune Metropolitan Area Authority (PMRDA) will be done. Therefore, both the metro routes will be available from the station premises.
These tunnels will have a footpath for maintenance and repair of metro routes. In case of emergency, passengers will be able to come and go through both the tunnels. The tunnel will have facilities like electricity, water, fans etc.
In the next phase, two tunnels will be dug for the underground metro under the Mutha river. At the same time, excavation work of the underground metro for Mahatma Phule Mandai will be started from Swargate. There will be five stations between Rangehills and Swargate which includes Kasba Peth, Budhwar Peth and Mahatma Phule Mandai, according to Mahametro's administrative sources.
The work of the 15 km long Vanaz-Ramwadi metro line is going on fast. Mahametro plans to start the route between Vanaj to Garware College will be done by the end of March next year.  Work of Vanaj, Anandnagar and Garware College stations is underway. 2.5 km railroad work has been completed on this route. So, Mahametro plans to complete the first phase of work on Pimpri Chinchwad – Swargate route between Pimpri Chinchwad to Phugewadi will be done by the end of December. Mahametro is currently facing the challenge of completing the first phase of both the routes within the deadline given by the Guardian Minister Ajit Pawar.