Works of great men inspire and guide human race: Prof Vilas Adhav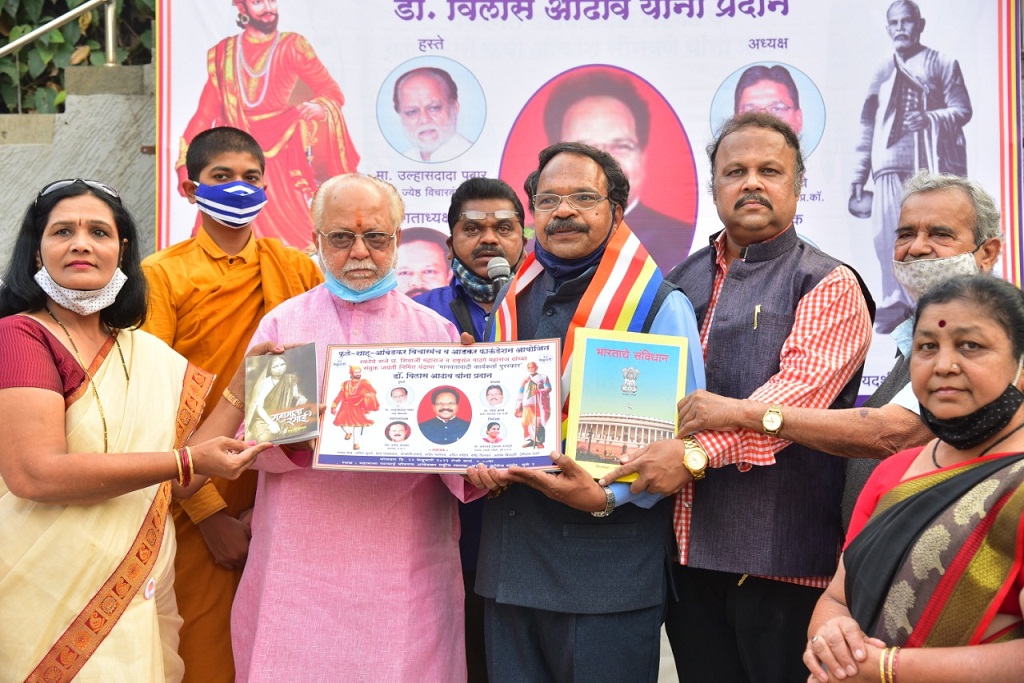 Pune, 27 February 2021: "Our great land comes with a history of great men and women such as Tathagat Buddha, Mahatma Phule, Rajarshi Shahu, Dr Babasaheb Ambedkar, Sant Gadgebaba, Mahamata Jijau, Savitribai Phule, Ramai etc. They have nurtured the human mind in the Indian soil with toil and their work towards the nourishment of humanity is inspiring and guiding today's generation," said Prof Vilas Adhav, Head, Economics Department, Savitribai Phule Pune University (SPPU).
Prof Adhav was awarded the Manavatavadi Karyakarta Award on behalf of Phule Ambedkar Vichar Manch and Adkar Foundation on the occasion of birth anniversaries of Chhatrapati Shivaji Maharaj and Gadge Baba at the hands of Ulhasdada Pawar, saint literature enthusiast and former MLA; Adv Pramod Adkar and Prof Vilas Wagh.
In response to his felicitation, Prof Adhav further took stock of today's human beings moving away from humanity with gadgets attached all over themselves. Though today's man is educated in terms of technology, he is ignorant of human relations and seems directionless because he does not know how one human being should treat another; he does not know what relations mean. These times challenge us to once again erect the movement aimed at humanistic behavior proposed by our great men, he stated.
Ulhasdada Pawar also addressed the audience on this occasion. He regretted that despite having a tradition of saints, today's atmosphere in our society is saddening and numbing for humanity. We must create a young generation that takes further the thoughts of these great men and women and brings back the golden days.
The programme was anchored and organised by the poet Vithhal Gaikwad. Other attendees included Dr Nisha Bhandare, Dhammakranti Mahotsav President Kantatai Dhone, Dhammasevak H M Shinde, Indrajit Bhalerao, Samrat President Datta Suryavanshi, Sadik Sheikh, Karim Turk, Jagannath Kamble, Ravindra Shilwant, Ashok Priyadarshi etc.
Follow Punekar News: