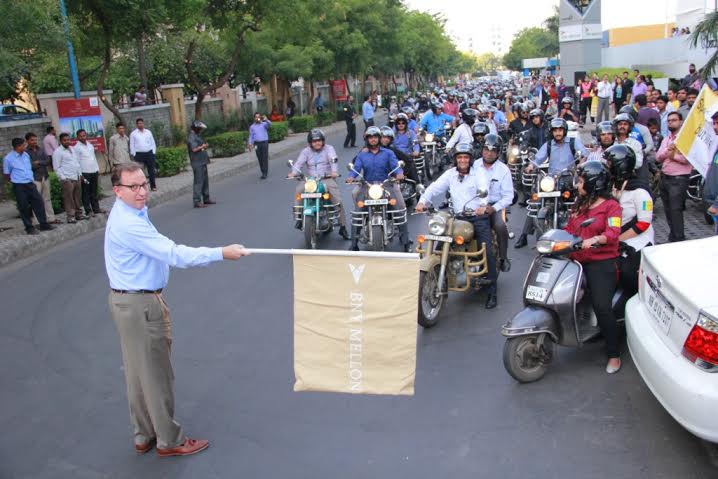 Company's Global Delivery Center in India distributes over 5,000 helmets to employees to encourage road safety
PUNE, November 19, 2015:BNY Mellon, a global leader in investment management and investment services, hosted a road safety awareness eventfor its employees in Pune to help reduce risk for employees traveling to and from work on their own. The event featured presentations from Dinesh Deo, Chief Executive Officer of BNY Mellon's Global Delivery Center and Mr. Sarang Avad, DCP Traffic, Pune.
In addition, BNY Mellon distributed more than 5,000 helmets to all employees of the company, across both locations at Pune and Chennai.To mark this initiative, over 200 employees participated in a joint two-wheeler event across the streets of Magarpatta Cybercity, where BNY Mellon offices are located to help raise awareness of road safety.
The company has been consistently working at providing its employees in both cities with transportation facilities for smooth commutation to and from work. The event and distribution of the helmets are designed to further reduce risk for employees traveling on their own.
"The alarming rise in unfortunate circumstances from road traffic accidents has made it imperative for every individual to understand and respect the risks. BNY Mellon has a strong focus on managing and mitigating risk for all of its clients. With this principle in mind, we felt it was appropriate to increase awareness of traffic safety as a sign of our strong commitment to our employees' well-being.", says Dinesh Deo, Managing Director and Chief Executive Officer of BNY Mellon's Global Delivery Center Pune and Chennai.
"According to the Global Road Safety Report, 2015 released by the World Health Organisation (WHO), anestimated 1.25 million deaths, globally, are a result of road traffic crashes.The overwhelming number of vehicles, therefore, makes it increasingly important for every individual in the city to take every necessary safety measure while riding or driving," said Daniel Kramer, Executive Vice President, Client Service Delivery.
Also supporting the event were Ann Fogarty, Head of Global Fund Accounting and Administration Client Service Delivery, Brian Urkowitz,Global Head of Institutional Accounting & Risk Solutions, Client Service Delivery, and Mr.B.B. Jagtap, Traffic Inspector, Hadapsar.