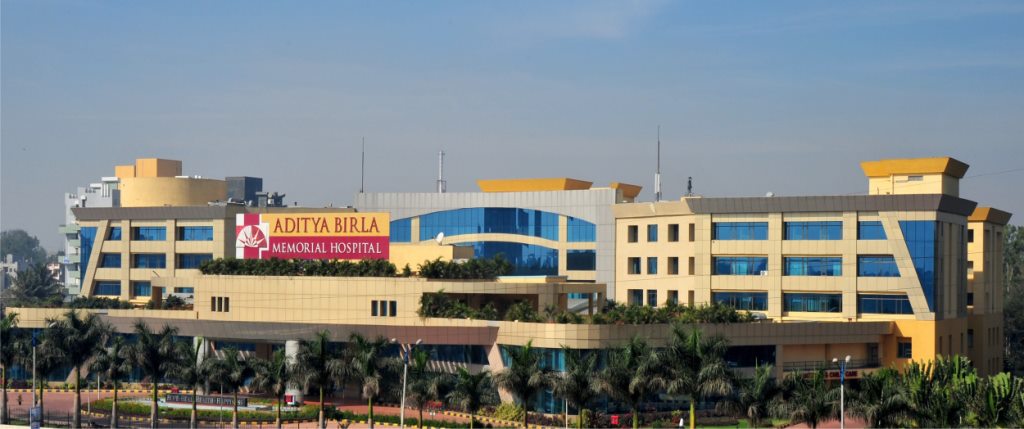 Pune, September 16, 2020: Aditya Birla Memorial Hospital, Thergaon, has successfully treated a 10-year-old girl child who was a rare case of paediatric co-infection of Dengue & COVID-19 positive.
Arya (name changed), the 10-year-old girl child, was brought to Aditya Birla Hospital's flu clinic with complaints of high-grade fever > 102F every 8-12 hours along with sore throat, malaise and nausea since 5 days with positive COVID 19 RT PCR report. There were no complaints of cough and breathlessness. All the family members were positive for COVID RT PCR father being mildly symptomatic and others being asymptomatic.
At Aditya Birla Flu Clinic she was examined on an immediate basis. Her initial physical examination revealed a temperature of 103 F with tachycardia, a condition that makes one's heartbeat more than 100 times per minute. There was no respiratory distress with her oxygen saturation (spO2) levels being 98% on room air but she had a comorbid condition of overweight (BMI – 25.6). Her outside reports suggested Leucopoenia, a condition where the number of white cells reduces in the blood and her chest X-ray report showed bilateral infiltrates. Arya was immediately admitted in the isolation ward and her treatment was started instantly. Her laboratory tests were conducted and the initial screening reported worsening of leucopoenia, with normal platelets, deranged liver enzyme and raised inflammatory markers. She was started on medications and also underwent HRCT chest.
However, on the second day of her admission, she developed an erythematous maculopapular rash (abnormal redness and rash of both flat and raised lesion) on the trunk (torso) and extremities. On repeating the lab tests, it revealed her WBC count had further reduced along with her platelets count. "We conducted tests for NS1 and anti-IgM dengue the results of which came positive", shared Doctor Vrushali Bichkar, Associate Consultant Neonatologist and Pediatrician.
"According to current literature knowledge, this is amongst the first cases of coinfection of COVID & Dengue positive reported in the pediatric population till date. It is important for Pediatricians and Treating physicians to be increasingly aware of this emerging phenomenon of co-infection going forward as the cases of Dengue start to peak in an already existing COVID 19 pandemic at its peak", further added Dr Rahul Kallianpur, Associate Director, Department of Neonatology and Pediatrics.
Her course of treatment was planned in a way that both her medical condition of Dengue & COVID-19 could be treated, keeping her comorbidity in mind. The child was closely monitored for temperature, blood pressure, oral intake, hydration status. On day 3 of admission, fever started responding, first with a reduction in frequency and the severity with improvement in oral intake. Rash disappeared completely on day 5 of admission. Her ECHOsuggested mild left ventricular hypokinesia (reduced contraction in the distal anterior wall) with an ejection fraction of 45-50% which showed improvement in later ECHO, EKG (digital recording of the electrical signals in the heart) being normal. Lab values including WBC, platelet, Liver enzyme count started improving.
Repeat COVID RT PCR test results turned out to be negative. Repeat blood samples for Dengue showed Primary Dengue infection. The WBC & Platelet count had normalised. The patient was discharged on oral vitamins in a healthy condition.
"We are very thankful to the doctors & medical staff of Aditya Birla Hospital for saving my daughter. We got very scared when our entire family was COVID positive and her fever refused to come down. When we were informed that she also had Dengue we became more tensed. But the doctors and the staff supported us during this tough time and cured our daughter", shared Arya's father.