Association of Muslim Professional's conducted a successful Talk Show at Abdul Razzak Kalsekar Polytechnic ARKP.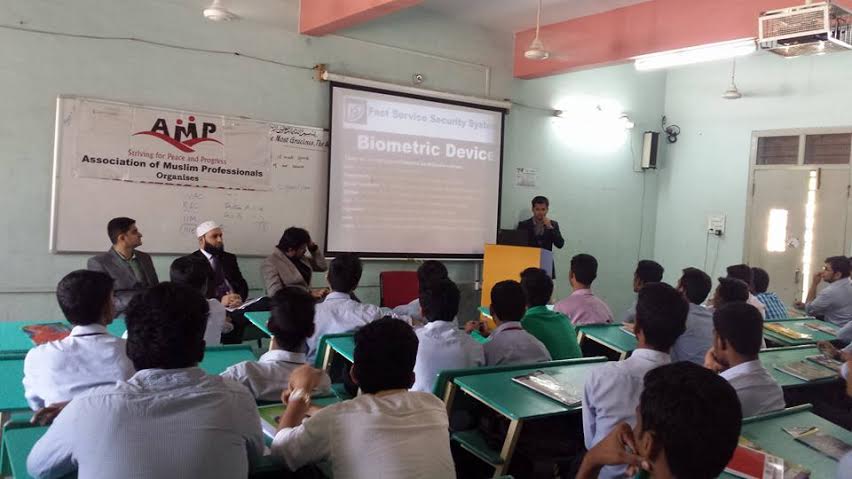 Talk Show was initiated by Mr Anil M. the TPO of ARK Polytechnic. Then it was hosted by prominent member and Head of AMP's Navi Mumbai chapter Mr Samir Bubere who himself is an entrepreneur and overseas education consultant running his successful organization "Skillsoft Overseas Education" since 2008. More than 100 students participated in the Talk Show. Talk Show was attended by all Final year ARKP Diploma students of Mechanical, Civil, Electronics and Telecommunication on what options they have in terms of Entrepreneurship.
Samir Bubere, aged 32 years hosted the Talk Show by introducing himself and spoke about the Opportunities he had to enter into this business he choose into. He said as he travelled in many countries including London for his higher studies and as it was his passion to guide the students to study abroad. Later on he made his passion his business and entered in Self Employment guiding more than 800 students. So now Entrepreneurship is No Big deal for him after pondering on all hardships which were left behind. He also said that one should sustain his business for atleast 2 – 3 years to make the baby grow day by day and stronger in its portfolio.
Another Guest speaker was a 24 years young Graduate Mr Faiz Tamboli who studied from Northampton University UK and did his Bachelors of Computer engg. He said it was his dream to start business in India and to become a self made person. He revealed his business secrets to students on how he aimed and planned to enter into the business of security systems and spoke all about his products, strategies and ideas how he runs his organization "Fast Services Security Systems". He advised student's "Dont be DREAMER'S but be DOER'S".
The 3rd panelist, vibrant and dynamic speaker aged 30 yrs was CA Naveed Mulla who runs his successful firm M/S Naveed Mulla and Associates Chartered Accountants and has 3 offices from Mumbai to Navi Mumbai. He inspired the young minds how it can be easy for them to enter into small setups at this raw age with little experience and then to gain huge understanding in the field they are more interested in, with their own initial fundings to fund their small businesses and startups. As his session went on He said the keen listeners, that No one is going to teach you in business, you need to be self learners, a consistent gainers of vocational knowledge. He also said Passion is always required to enter into new startups also leaving behind all odd factors as they might not be from business families and for them the challenges would be more and also it would be tough for them in starting but then they would be successful examples to others. He ended with "A successful business starts with a passion/vocation leading to professionalism and then eventually it becomes a really viable business.
The 4th last speaker but not least, was an energetic mind blowing person Mr Arafat Sheikh a BE Mechanical engg aged 30 yrs who entered into entrepreneurship 5 years back of making Portable Cabin's out of containers, as he Managing Partner of "Hayajami Porta Solutions Pvt Ltd having business turnover approx INR 6 crore since 2011 of its inception. He enlightened whole crowd that how he headstart his career into aviation industry and was one of the youngest Aircraft Maintenance licensed engg in his previous organisation who worked for "Indamer Company Pvt Ltd" catering to many big clients such as Tata's, Ambani's, BHEL Electronics, etc. He gave his own example that good deeds also leads you to success as previously he was also a trainer at Muslim school to design their curriculum, training students and teachers, doing sessions on time management in studies and many more. He said that he has liberty of doing business and not working for someone else.
The Talk Show was ended by the round of questions asked by the students to panelist whilst getting successful answers to their real time queries on How to start small startups, How to implement ideas, How to file ITR, How to enter into bidding or Tenders.
Lecturer from Mechanical Department Mr Babu Teli ended the Talk Show by thanking  the Panel members and the students and he also requested AMP Team to conduct more such talk shows in future.