'Artificial intelligence, Machine Learning plays vital role in defence'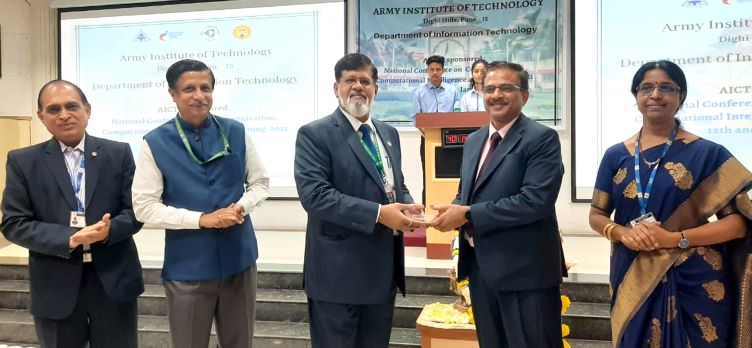 Pune, 20th January 2022: "Advanced technology is evolving through artificial intelligence, machine learning. In depth research is required to be done to meet the changing challenges in the field of security, biotechnology, communication sector etc. Artificial intelligence and machine learning are playing vital role in the field of defense. Students need to develop a tendency to do research and innovation, advised by Dr P M Kurulkar, Director, Research and Development Establishment (R&DE) of Defense Research and Development Organization (DRDO).
He was addressing the students and researchers at the inauguration ceremony of the two-day 'National Conference on Communication, Computational Intelligence and Learning' (NCCCIL) jointly organized by the Department of Information Technology of Army Institute of Technology (AIT), Dighi and the All India Council of Technical Education (AICTE). Senior scientist M M Kuber, (R&DE) and from Army Institute of Technology – Brig (Retd.) Abhay Bhat, Director, Col (Retd.) M K Prasad, Joint Director, Dr B P Patil, Principal, Prof Dr Sangeeta Jadhav, HOD of Dept. of Information Technology, Prof Dr Ashwini Sapkal, coordinator of NCCCIL, were present.
The conference reviewed about 64 research papers (more than 150 participants) out of which 43 papers were selected and 34 were registered. Due to the prevailing Covid-19 pandemic, conference is being conducted online. Selected research papers will be published in 3 peer reviewed journals i.e. The Institution of Electronics and Telecommunication Engineers (IETE), Web of Science Group and CRC Press.
Dr P M Kurulkar said, "The intelligence of Indians is immeasurable. With the right combination of technology & Indian intelligence we can make impossible things possible. The efforts made by the Indians during the Corona epidemic and the three vaccines developed are indicative of this. The discovery of three effective vaccines on corona and its mass production is a guideline for the world. It is a matter of joy for all that India is being looked upon with respect from all over the world. He also expressed the expectation that the curriculum would change with the changing challenges and advancement of technology.
Senior scientist Dr Parag Kulkarni, Prof. Dr U V Kulkarni, Prof. Dr Sujata Kulkarni delivered the keynote address. Prof Dr Sangeeta Jadhav gave opening remarks. Brig (Retd.) Abhay Bhat gave vote of thanks.