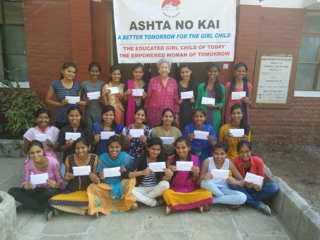 FEB 21 2109, PUNE – Ashta No Kai, (ANK) an NGO working since 1998 to empower and educate rural women
and girls, held a Scholarship Distribution Programme at the Agakhan Palace on Tuesday, February 19, 2019. Scholarships were disbursed to 112 rural girls from 10 villages in Shirur Taluka, Pune District to pursue careers in Law, Engineering, IT, Pharmacy, Microbiology, Accountancy, Banking, Taxonomy, Fashion Design, etc. The girls'
mothers also attended the program, proudly watching their daughters introduce themselves in English. They expressed gratitude to ANK for supporting their daughters' education and wistfully wished that they had had the same opportunity to study further, as many of them were illiterate since they were married off as child brides. ANK
volunteer, Mrs. Maxine Cleminson, who conducts English classes for rural girls and Armene Modi, ANK Founder, gave away the scholarships. Mrs. Cleminson commented:
"It was really inspiring to hear of all the girls' dreams and ambitions; I am confident that we saw a cohort of young women who will be agents of change in their community and the wider world."
Ashta No Kai, which means "For a Better Tomorrow," in Japanese has disbursed more than 1,500 scholarships to rural girls over the years to pursue higher education, with the number of applicants increasing yearly. Village girls who received scholarships are now aspiring to venture into hitherto unchallenged fields, becoming dentists, pharmacists, Ayurvedic doctors, computer engineers, agricultural researchers, IT specialists, and electronic and automobile engineers besides taking up careers in teaching, and nursing.
Several girls from ANK villages who received scholarships and graduated from junior college or university started working after they graduated, further delaying their marriages.
The scholarship program, started in 2005, was a natural offshoot of ANK's Bicycle Bank, which was set up to arrest the high dropout rate of adolescent girls from secondary school. These interventions were invaluable in giving rural girls the opportunity to follow their career choices. Had it not been for ANK's scholarship support, many a village family would not have sent their girls for further education, and instead would have married them off at an early age. Hence, an unintended but positive consequence of the ANK scholarships is that they have helped to arrest child marriages in villages since girls who continue their education often delay their marriage. Research done by Armene Modi at the Brookings Institute in Washington DC, USA, where she was selected as a 2017 Echidna Scholar established that ANK's interventions to promote adolescent girls' education, has had a huge impact not only on educational outcomes for rural girls but also arrested their early marriages. The mean age of marriage for girls in ANK target villages has increased to 19 from the earlier 12 or 13. ANK is proud to have played a small part in
giving rural girls wings to fly, the opportunity to dream, and achieve their dreams and potential.