'Bindu': A Bold Step Towards Menstrual Equity And Helping End Period Poverty In India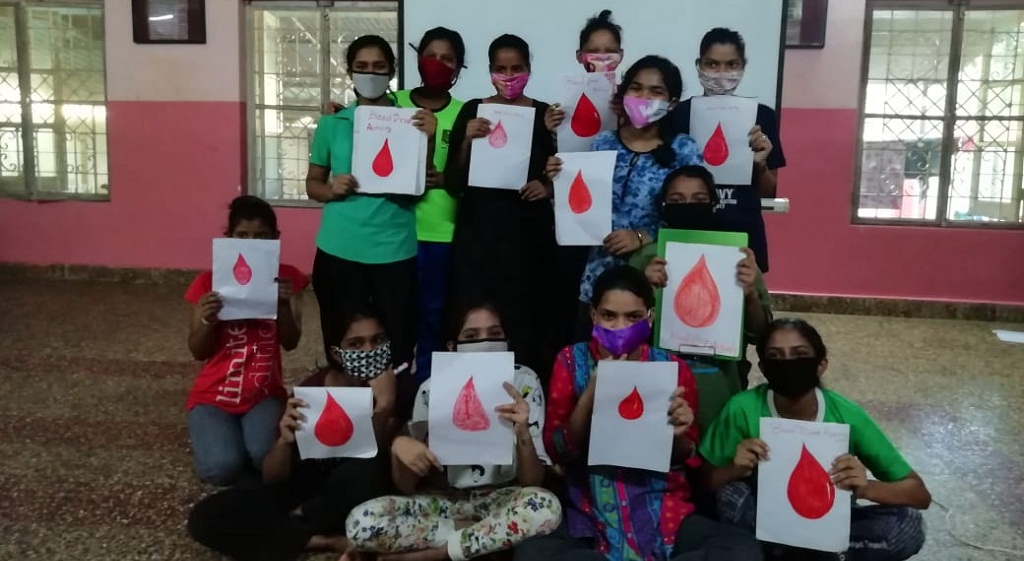 Amrita Bhalla
Pune, 13th October 2021: Punekar News speaks with Iliyan Hariyani, founder of Bindu which educates people about menstruation.
What is Bindu?
Bindu is a youth-run nonprofit organization that seeks to destigmatize menstruation and fight period poverty in India. In three words, we enrich, educate, and empower. We enrich menstruators by voicing their concerns and answering the unanswered questions about topics ranging from reducing menstrual cramps to choosing the right products on our social media platforms. We educate young school children – both privileged and underprivileged – to make future generations aware of menstruation. Our courses and workshops are conducive to discussions with both girls and boys. 
Lastly, we empower menstruators by giving them sustainable menstrual hygiene kits. We believe that no one should sacrifice their hopes and dreams simply because they menstruate. With the aid of three major crowdfunding campaigns and a seed grant, we procured 7000 menstrual hygiene kits, almost all of which contain cloth-based, reusable, and sustainable sanitary napkins, and distributed them to underprivileged individuals impacted by the pandemic, Hyderabad flash floods, and other difficult circumstances. 
How and when did it start? 
Back in the Summer of 2019, I sat down with a group of 10 passionate students at the Aga Khan Academy, Hyderabad to discuss a unique vision. We wanted to do something about the issues surrounding menstruation in India. We decided to further delve into menstrual hygiene and its situation in India. After some research, which included interviewing government school children and teachers, we were surprised to learn that more than 80% of menstruators in India do not use sanitary napkins. 
Twenty-three million girls in India drop out of school annually because of a lack of menstrual hygiene management facilities. These discomforting truths along with many more stories of menstruation being labelled as an "aurato wali bimaari" prompted me and Ananya Shah – a classmate of mine – to found Bindu: a bold step towards menstrual equity and helping end period poverty in India. 
Ranging from stigmatization and sexist rituals to inaccessibility and diseases due to the lack of hygienic menstrual management, so many issues needed to be solved. Bindu has since been continuously striving to be a contributing member of a much larger narrative surrounding menstrual equity.
What inspired you?
I have always felt inspired by the vision of the founder of my high school, His Highness the Aga Khan. He wishes the Aga Khan Academies to create ethical leaders with a strong sense of civic responsibility, who will lead in all those institutions that create positive change in our world. 
Thanks to this vision, I see community service not simply as an extracurricular activity or a favor to the underprivileged, but instead as an integral part of my civic responsibility, especially towards those who are less fortunate. In fact, I can confidently say that the many volunteers who are a part of Bindu's family also have a similar outlook towards the organization's work, and are constantly working not for themselves but for the millions who are in desperate need of aid and support. 
Elaborate on your organisation approach? 
Bindu relies on the power of the youth and social media, as well as active team collaboration to achieve its goals. Today, we are a team of more than 70 volunteers, almost all of whom are under the age of 19, and work across different teams including social media, marketing, field, communications, education, innovation, and human resources. 
We have been especially active on platforms such as Instagram for awareness and education since this is an excellent way for us to reach many young people. We have a core team that makes the major decisions at Bindu, and coordinates with representatives from each team. Each team has a dedicated goal, and meets on a regular basis to further our efforts in the respective areas. Importantly, we do not encourage power hierarchies at Bindu. From the grassroots volunteers to the founders, every voice counts. We continually strive to make sure that we are a healthy and inclusive community that collaboratively undertakes its endeavours. 
Organisation statistics? 
5000 menstrual hygiene kits distributed, 2000 more are ready and to be distributed by the end of 2021 (almost all of these contain cloth-based, reusable, and sustainable sanitary napkins that last up to 3 years). 20 projects conducted across India. Locations served thus far: Telangana, Andhra Pradesh, Jharkhand, Tripura, Maharashtra, West Bengal. We also have projects under the pipeline in the US and Thailand, where some of our volunteers are based. A USD 1000 seed grant was awarded to us in 2020 by The Pollination Project, a California-based non-profit. We have raised over INR 16 lakh, including online crowdfunding campaigns and the seed grant. Instagram (@bindu_org) followers: 4700 
Future plans? 
We have been incredibly fortunate to have gotten the opportunity to serve so many communities across India, especially during the pandemic. We see this success as just the beginning, and hope to expand our horizons in the future. We have been particularly keen on leveling up our education efforts. We are trying to reach out to schools and organizations across India and hope to deliver comprehensive menstrual hygiene education not just to girls, but also to boys across schools in the country. Our mission is to impact 1 million menstruators by the end of 2025, and we have been looking for ways to partner with other NGOs and institutions to establish centers across India that will help produce and distribute menstrual hygiene kits as well as educational workshops to communities.
Moreover, since we have some volunteers who are based in other countries too, they have begun expanding Bindu's vision in their own unique ways in their respective local communities. We cannot wait to see how the organization ventures into impacting communities across the globe in the near future. 
Your message for society? 
Be kind – be kind to others, to the environment, and to yourself. We live in an unequal society where millions are suffering at this very moment, and a small act of kindness from your end can go a long way in improving their lives. You do not have to initiate an organization like Bindu to accomplish that. Talking to your housemaid about their menstrual hygiene needs and financially supporting them is an act of kindness. Supporting institutions that work for causes like this by donating or even sharing our efforts with your friends on social media is an act of kindness. We also live at a time where the world is facing the brunt of the climate crisis. It is critical that we practice environmental sustainability when it comes to menstrual hygiene. Be kind to the environment by using, advocating for, and donating sustainable products such as menstrual cups and cloth-based pads. 
Lastly – and perhaps most importantly – be kind to yourself. Our society is plagued with countless taboos surrounding menstruation, and it is difficult to change your belief systems overnight, especially if you are a non-menstruator. So, give time to yourself to replace your internalized biases with truth and verified information surrounding menstruation, and then use this renewed awareness to educate your friends and family who might be misinformed.