Col. Rajyavardhan Rathore confers diplomas to IIMC students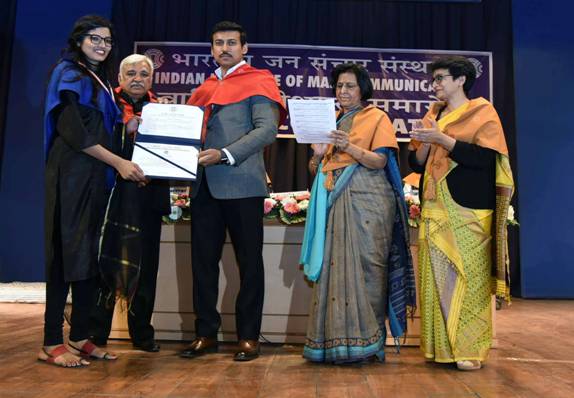 48th Convocation Ceremony held at Indian Institute of Mass Communication, New Delhi
Minister of State for Information and Broadcasting, Col. Rajyavardhan Rathore has said that the Government was proactively pursuing to provide IIMC the status of Institute of National Importance. At the same time, keeping in mind the contemporary trends, the institute could also work on introducing new courses related to Animation and Digital Media in its course-curriculum.  Media being the fourth pillar of democracy, the students of journalism needed to incorporate a balanced view in their professional career. It was also important to practice the spirit of self-regulation. The Minister stated this, today, while delivering his address at the 48th convocation ceremony of the Indian Institute of Mass Communication for the academic year 2014-15. Chairman IIMC and Secretary, Ministry of I&B, Shri Sunil Arora, was also present on the occasion.
Speaking further, Col. Rathore said that keeping in view the interests of students and institute, a committee may be constituted to deliberate and work upon issues related to student's welfare and employability. He also advised students to always have a constructive approach towards life and should endeavor to keep improving their knowledge and skills.
Chairman (IIMC) and Secretary (I&B), Shri Sunil Arora said that Journalism was one of the very challenging and exciting profession amongst many other career options. He also said that IIMC should increase its international outreach by having tie-ups with equally good schools of journalism across the world for better exposure to the students as well as faculty.
IIMC has the distinction of being universally recognized as a centre of excellence in the field of journalism, media and mass communication teaching, training and research. 364 students were conferred with their Diplomas at this Convocation which included students from six Centres of IIMC, at New Delhi and Regional Centres at Dhenkanal, Aizawl in Mizoram, Amravati in Maharashtra, Jammu in J&K and Kottayam in Kerala. The PG Diploma courses were conferred in Journalism Hindi and English, Advertising& Public Relations, Oriya Journalism and Urdu Journalism. Special awards were also conferred in different categories to 30 students across all courses.
Follow Punekar News: