Pune, 25th August 2023: India embarked upon an ambitious target to achieve "Net Zero Emission" by 2070 in Glasgow COP26. With the Govt of India initiative for the sustainable development goals, India's power generation mix is expeditiously moving toward renewable energy based with time. 
As per PIB report 40% of total installed electricity capacity is from non-fossil fuel source, Solar being the largest amongst all. Ministry of Defense too zealously initiated multiple projects across Indian Armed Forces to transform Defense forces to take strides towards Energy producers and a self-reliant force.
College of Military Engineering, Pune was established in year 1948 as a premier institute for training of all ranks of Indian Army, Navy and Air force including Friendly Foreign Countries in various technical and tactical aspects with changing character of warfare. CME, Pune being an institute of national importance is instrumental in various aspects of technological advancements. Various projects have been undertaken at CME, Pune by Military Engineering Services through the office of GE(CME) Khadki in order to reduce CME's carbon footprint and be at the forefront whilst battling combat climate change and global warming. The biggest of the project is implementation of 7 MW Solar Power Plant in CME, Pune in two phases, apart from multiple important pilot projects such as Solar steam cooking plants for community cooking for troops at CME, installation of Retrofitting Emission Control Devices (RECDs) on DG Sets to curb emissions etc.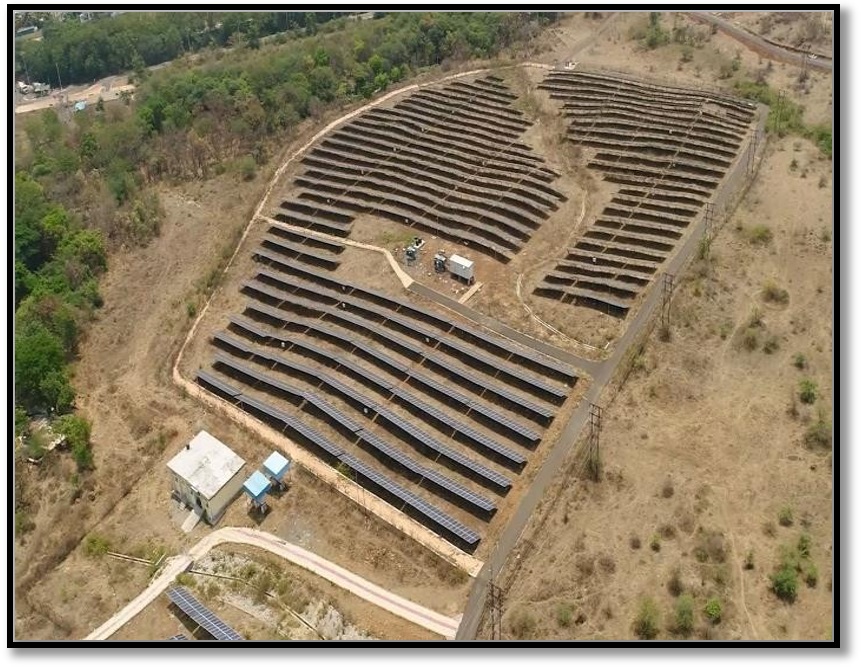 The first phase of 7 MW Solar Power Plant was undertaken with the commissioning of 2MW Solar Power Plant in year 2021 fulfilling the daytime energy requirements of College of Military Engineering, Pune. The commissioning of the 5MW Solar Power Plant in the second phase is extremely crucial in achieving the objective of "National Solar Mission" under Government of India. Success of the project has paved way for other formations and tri-services establishments to become carbon negative in the future. Apart from annual fiscal savings of Rs 6.5 crores to the national exchequer, the 5 MW Power plant connected to the Maharashtra State Electricity Grid makes it possible for the power generated at CME, Pune to be consumed at National Defence Academy (NDA) Khadakwasla; Command Hospital Pune; Military Hospital Khadki and Bombay Engineer Group & Center, Khadki spread across the city of Pune, thus further ensuring achieving of "National Clean Air Programme" by reducing dependency on conventional thermal power plants. With commissioning of 5 MW Solar Power Plant, College of Military Engineering has become completely carbon negative garrison- a first in India which is an impressive feat.
Among the world's biggest consumer of fuel, militaries around the world account for 5.5% of global greenhouse gas emission as per experts from Conflict and Environment observatory report of 2022. Indian armed forces being at the forefront has progressively undertaken steps to minimize the carbon footprints signifying its motto of "Service before Self", with College of Military Engineering, Pune maintaining its status as the centre of excellence.
Ad