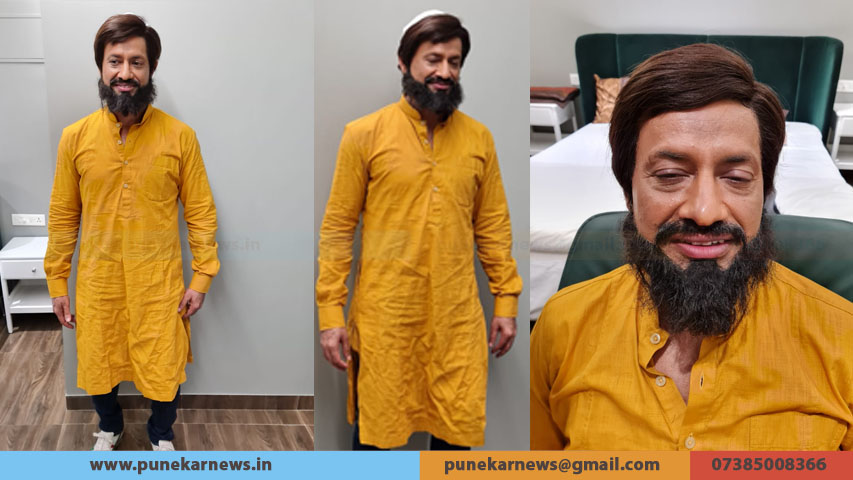 Mubarak Ansari
Pimpri, 6th May 2021: You might have experienced or heard about misbehavior, and high-handedness by police personnel. To get a first-hand experience of how the cops under him work, Pimpri Chinchwad Police Commissioner Krishna Prakash disguised as a common man to went to three police stations – Hinjawadi, Wakad, and Pimpri.
The staff at the first two police stations impressed him, however, the on-duty policemen at Pimpri police station were found shirking their responsibility.
On Wednesday night, IPS officer Krishna Prakash, known for his good command over the Urdu language and Shayari (Urdu poetry), donned the role of 'Jamalkhan Kamalkhan Pathan', wearing a kurta and skull cap. He also wore a fake beard and a henna-coloured wig to look his part. ACP Prerna Katte acted as his 'Begum' (wife).
The commissioner, posing as Pathan, made the first visit to Hinjawadi police station at 12.30 am. He claimed that some anti-social elements harassed his wife in Bavdhan while they were returning home after namaz and beat him when he opposed them. He gave the address located in Bavdhan about which he had been getting complaints that youths burst firecrackers late in the night. The on-duty officer sent a team there who found some youths bursting firecrackers. The cops informed Pathan about it and he revealed his identity and appreciated the work.
The next stop was Wakad police station at 1.30 am Thursday. Pathan informed a police officer on duty that his wife's chain was snatched by a bike rider. The cop took details and informed the night round police sub-inspector and asked him to go to the spot. He also offered a police escort to drop Pathan home. Krishna Prakash told the officer about his identity and lauded his work.
After that, he went to Pimpri and made a call to the police control room seeking action against an ambulance driver for demanding Rs 8,000 for ferrying a COVID-19 positive patient (his neighbour) to a hospital. The control room informed the Pimpri police station for taking further action on the call. However, instead of going to the complainant, the cops asked him to visit the police station. The 'couple' hired a cab to reach the police station at 2.30 am.
The couple told the policeman on duty that there is a loot going on in the name of ambulance services for COVID-19 patients and asked them to register a case and take action. The duty officer promptly responded by saying, "It is not our job" and asked him to go to Sant Tukaramnagar police chowky.
Pathan told him that he has read about Police Commissioner Krishna Prakash saying that police station can directly take complaints related to extortion in the name of medical facilities. ACP Prerna Katte almost cried requesting police to intervene. However, the officer on duty did not budge. Pathan revealed his true identity and took the officer to the task.
He also found that only junior officers were sent on a night round duty in Pimpri and instructed that Senior Police Inspector has to also go for the night round duty.
At a nakabandi point in Wakad, he was going without wearing a mask when cops on duty caught him. Pathan said that he was going to a hospital and in a hurry, he forgot to wear the mask. However, the cops asked him to pay the fine and then only go. The cops passed the test by the city police chief and he removed his fake beard and wig.
Police Commissioner Krishna Prakash said such surprise checks will also continue in the future to check the functioning of police personnel in the Pimpri Chinchwad Commissionerate.
Once he had rightly shared on his Facebook page:
मैं इबादतों की तरह हर काम करता हूँ,
मेरा उसूल है की पहले मैं सलाम करता हूँ ,
मुख़ालिफ़त से मेरी शख़्सियत संवरती है ,
मैं दुशमनों का भी बड़ा एहतेराम करता हूँ।
(Ibaadat: worship
Usool: principle
Mukhalifat: Opposition
Sakhsiyat : persona
Ehteram : respect)
Join our Whatsapp Group and Telegram for each update about Pune and PCMC
Follow Punekar News: