Ein Besuch In Deutschland: Fergusson's E-Visit To Germany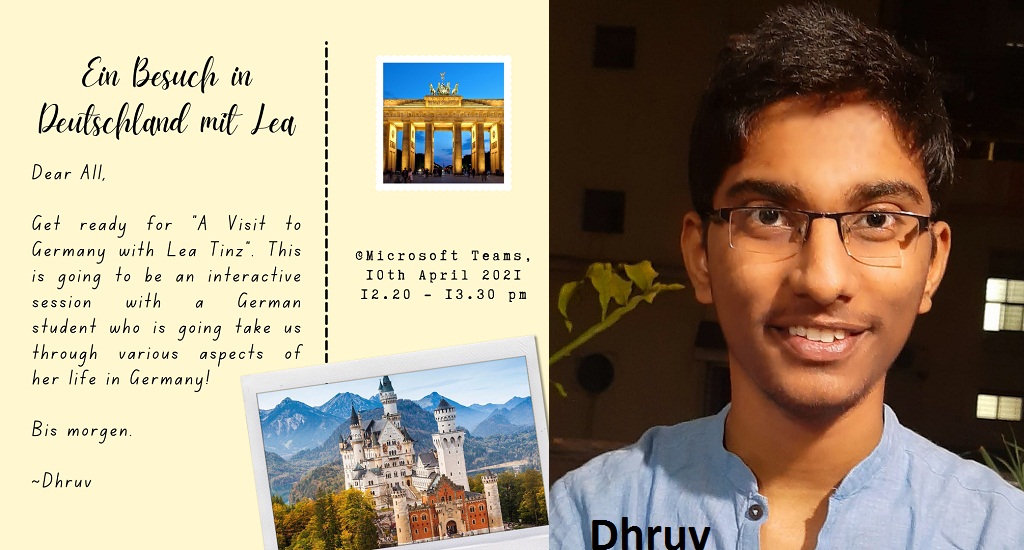 Pune, 15th May 2021: Fergusson College for the first time held the virtual student exchange programme for German students.
It was Dhruv Lokhande standard 11th student who took efforts in organising this virtual learning programme. Lea Tinz, a German student of United World College, Dilijan (Armenia) was invited for the interaction. Dhruv and Lea are pen-friends and thus took the initiative.
Senior German teachers of the college, Savita Kelkar and Kalyani Paradkar, the technical assistance of Rupali Brahme, and the principal Ravindrasinh Pardeshi's encouragement.
The main aim behind the program was to "recreate the actual exchange experience virtually, and to give a glimpse to how German students of our age live, think and what they aspire to do." explains Dhruv. He named the program "Ein Besuch in Deutschland" which means "A Visit to Germany".
This programme started with the welcome address by the principal. Later, Lea took the audience on a visit to her city, her extracurricular interests like political activism and debate. She gave a comprehensive insight into German housing, cuisine and culture, and the education system.
The session, attended by nearly 300 students from Fergusson, BMCC and the DES School, was followed by a Q&A.
When asked about climate change by a student, Lea said "Germany is trying to meet the Paris Agreement terms for tackling climate change. The German youth, through various demonstrations and activism, is quite vocal and critical about the actual implementation of the policies and is advocating for more environmental awareness."
"The German youths are bold and politically. They are aware of the democracy and other political issues of the country said," Dhruv. He is inspired by Lea's thoughts on politics and human rights.
"The programme gave a diverse view to the students and I am sure that it will benefit them", concludes Savita who has been conducting in-person exchanges to Germany for 25 years.
Suruchi Phadke, Sayali Soman, Dr Seema Purohit, Jyoti Bodhe, and Dr Amruta Kulkarni also attended the session. The German language has been taught since 1914 at Fergusson College.