HOLLYWOOD ITALIAN ACTRESS ANTONELLA SALVUCCI'S STARRY RENDEZVOUS WITH BOLLYWOOD AT SIN CITY ROOFTOP RESTO AND LOUNGE LIVE, ANDHERI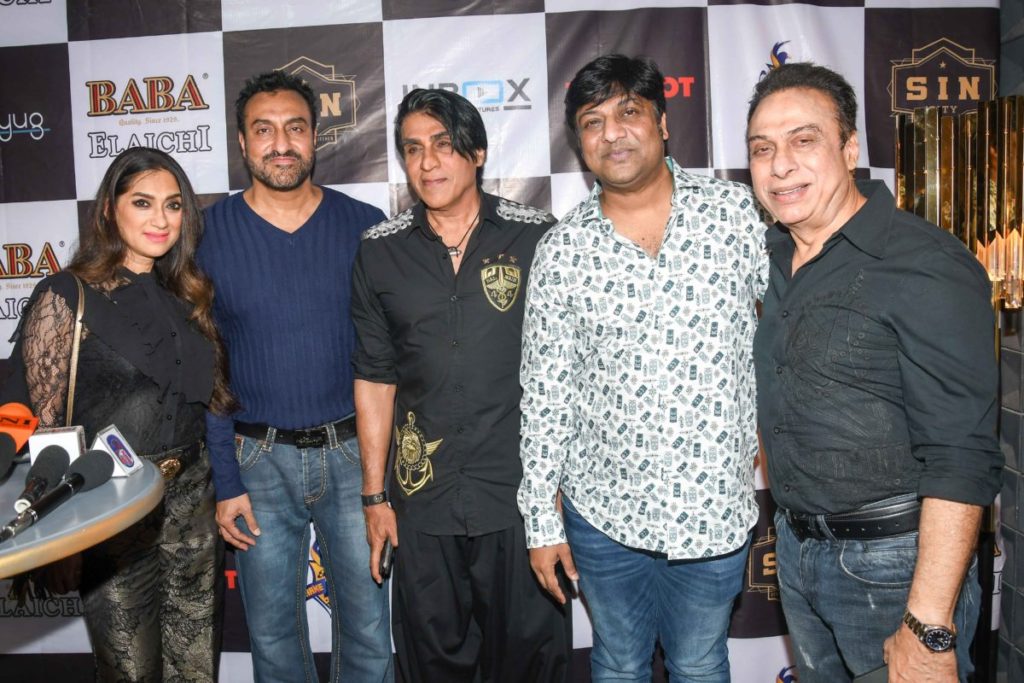 27 May 2019 : The starry night saw the presence of, Mrs.Madhu Chopra, Urvashi Rautela, Mukesh Rishi, Mohammad Morani, Aly Morani, Karim Morani, Lucky Morani, Vindoo Dara Singh  Dr. Aneel Kashi Murarka, Brinda Parikh, Zaisha Nancy, Prashant Virendra Sharma, Kamal R Khan, Dj Shiezwood.
The taste and variety of food at Sin City Rooftop Resto And Lounge Live was as impressive as the decor. They had an interesting line up of starter options for both vegetarians and non-vegetarians and the mains were a mix of old and new favorites.
Performance in the evening  was by
Anamta-Amaan is Playback singers, Music Composers, Songwriters, and Live Performers.
[They have Two films coming up. The first film is-
'The Devils Daughter' which is an Iran-Bollywood Collaboration starring
Jackie Shroff and Esha Gupta for which They both have written, composed and Amaan has sung a song. The film is produced by Mrs. Lucky Morani and Directed by Award Winning Iranian Director Mr. Ghorban Mohammadpour.
The Second film is 'Sayonee' for which Anamta-Amaan has written, composed a dance song that is sung by Mika Singh and Anamta Khan. Anamta-Amaan Live is the concept on which they do live performances. They do Sufi-western fusions,  Old school rock, Bollywood and English Songs.]
The mains left everyone spoilt for choice and they were faced with a dilemma that perhaps all Sin City guest face – whether to stuff themselves pre-emptively with their special dishes or to taste a number of different dishes.
Sajid Qureshi, owner of Sin City & Inbox Pictures said "Having Antonella Salvucci visit Sin City was an honor. Star of her stature visited our place was great" further adding" The purpose of Sin City is to provide our guests, with quality entertainment in an enjoyable, pleasant atmosphere. We must prove to guests that exceptional service is still available and should be expected as part of an entertainment experience"
Hollywood Italian Actress Antonella Salvucci is on her maiden visit to India and has already caught the nation's attention. She flew directly from Cannes Film Festival & received a very warm welcome by her fans "Firstly,  I have never seen a reception, entering a country, as I saw after coming out from the plane. The music, the culture, the fact that people were so happy to celebrate the culture, it's a beautiful thing. It was a wonderful reception. I've always wanted to come to India. In my field, if it's not work-related, you never get to go to a place. The fact that I got to come to India is something I'll always cherish. I am so excited to be here. The excitement, the enthusiasm, the kindness and the energy level of this city is incredible"
Antonella Salvucci proudly flaunted her love for Bollywood "There is something special about Bollywood that brings a different kind of magic on the big screen. I have seen a couple of Bollywood films & loved all of them. To meet them in reality was a delight. I mean, obviously, what's not to love about the colourful and beautiful art that is Bollywood"
Follow Punekar News: