IPL 2023: Lucknow Beats Kolkata By One Run; LSG Enters In Playoff, Secures Third Position In Points Table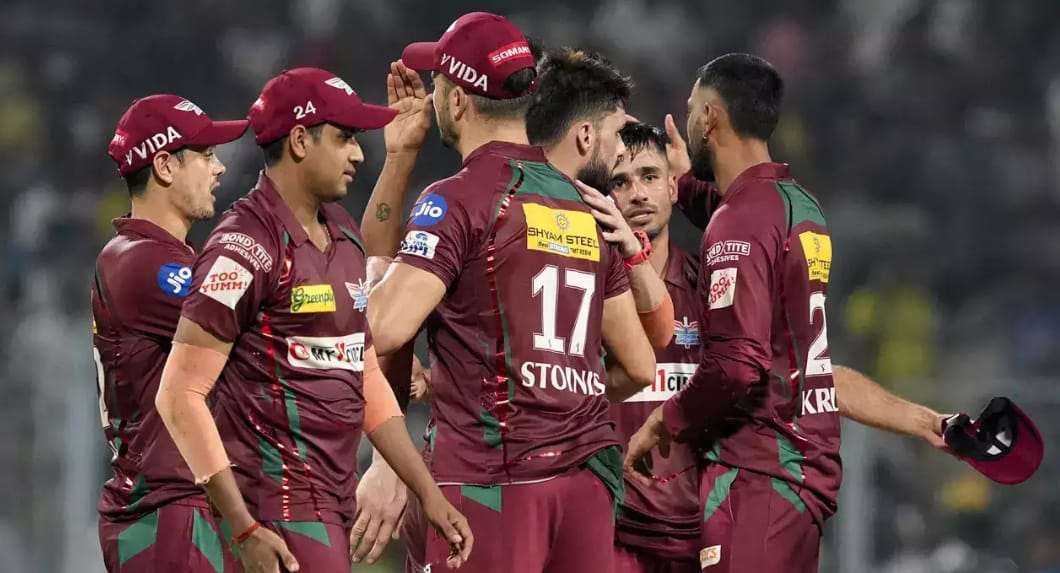 Kolkata, 20th May 2023: Rinku Singh once again played the role of a finisher in the 68th match of the season held at Eden Gardens. But this time Kolkata Knight Riders (KKR) could not win the match. Even though KKR lost, Indian cricket got a new match-finisher.
Rinku scored 16 runs off the last three balls of the last over, hitting two sixes and a four while needing 18 runs. Lucknow Super Giants (LSG) reached the playoffs by just a run. Rinku Singh hit 66 off 33 balls to take the match to the last ball. Ravi Bishnoi took two wickets for 23 runs from Lucknow.
Lucknow sealed their play-off ticket with 17 points with this one-run win. But the dream of directly facing Hardik Pandya was shattered. Because of the strength of the net run rate, Chennai Super Kings (CSK) remained in the second position in the points table and Lucknow, which is in the third position, will now have to play an eliminator match.
The KKR openers, who entered the field with a challenge of 177 runs from Lucknow, scored 61 runs in the power play itself. Jason Roy and Venkatesh lyer took advantage of the new ball and power play. But after that, Lucknow started to disrupt KKR's batting. At the end of the power play, Venkatesh Iyer was dismissed for 24 runs.
Next up, skipper Nitish Rana scored eight runs off ten balls and fell victim to Ravi Bishnoi. Meanwhile, Jason, who scored 45 off 25 balls was dismissed by captain Krunal Pandya in the 10th over.
Rahmanullah Gurbaz bounced back with 10 off 15 balls as Rinku Singh tried to pull KKR back from the shock. Andre Russell scored seven, Shardul Thakur three, and Sunil Narine one before going back to the pavilion while Rinku Singh fought alone for one side. Now when the match was slipping away from KKR's hands, Rinku Singh hit a half-century and brought the match to 21 runs in six balls.
Rinku had won the match with 29 runs needed in the last over this season. So there were expectations from Rinku. But Rinku could score only two runs in the first three balls. Now the match came to 19 runs in three balls. But Yash Thakur, who bowled the last over, bowled a wide ball to bring the match to 18 runs in three balls. Rinku hit a six off the very next ball to bring the match to 12 runs in two balls.
Needing two sixes to win the match, Rinku hit a boundary on the fifth ball. So the match came down to one ball and eight runs. The match was slipping away from KKR. But Rinku kept Lucknow's victory for just one run by hitting a six.