It is important to perform duty than doing politics: Uddhav Thackeray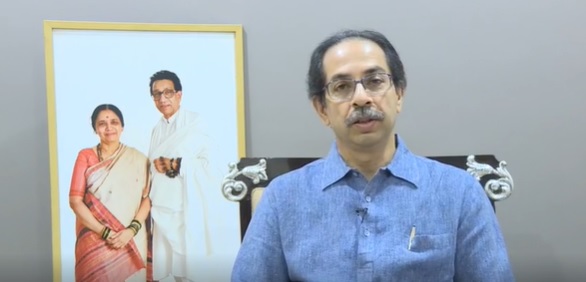 Mumbai, 24, 2020: Stating that it was not values of Maharashtra to indulge in politics during the hour of crisis of a calamity and he was adhering to it chief minister Uddhav Thackeray has made it clear that instead of commenting on it, he would give priority to remove the calamity standing by the people of state and standing behind farmers of the state firmly in addition to concentrating on agriculture, education, industry and finance sectors for larger public interest. He extended his wishes to Muslim citizens for Ramzan Eid. Telling Muslims to celebrate Eid by staying at home, Chief Minister Thackeray said that people from various religions have celebrated their festivities by staying at home during Corona crisis and asked Muslims to pray Allah to make entire world free from Corona.
Opining that it was neither proper to impose lockdown at one go suddenly nor it was right to remove it, chief minister stated that while bringing the life back to normal he was taking every step cautiously. He expressed the need to ensure that while doing away with lockdown, people should not violate social distancing and exhibit indiscipline so that relaxations are forced to be withdrawn.
Chief Minister today had interaction with people through social media.
This is package for people of state – Chief Minister
Stating that state Government was helping people of the state in many ways, he said that Union Government has agreed to demand by state Government to provide food-grains to those who do not have ration cards and for this we thank Union Government.  He said that lakhs of Shiv Bhojan Thalis are being distributed to people at a cost of Rs 5 per Thali. Treatment as well as meals distribution is part of the help being provided.
Mahatma Jotirao Phule Jan Arogya Scheme benefit is being provided to 100 per cent citizens in the state. There are 5.5 to 6 lakh labourers from other states who are being provided breakfast and two- time meals at shelter homes.
The state Government never felt any burden of these labourers but they wanted to go back to their home and after getting due sanctions almost seven lakh labourers have been sent back to home-states by 481 trains.  Whether Union Government would pay 85 per cent of the cost of tickets for fare for these labourers or delays it, state Government has paid 100 per cent cost for tickets so far by paying more than Rs. 85 crores. He made it clear that despite the demand by state for 80 trains a day state is getting only 30 to 40 trains for sending labourers back to their states. The labourers are being sent by registering them and state Government is taking so much care that labourers are giving slogans of Jai Maharashtra while returning back.
In addition to Railways the state Government through its more than 32 thousand buses 3.80 lakh labourers have been sent either till border of their states or till Railway stations. For this, state Government has spent Rs. 75 crores.
Chief Minister made it clear that those coming by air are being quarantined and this service is to be started with due planning and preparations.
School and farming season
Stating that farming and school season is to begin in June, Chief Minister said that education would not stop and parents need not worry since decision on final examinations would also be taken soon.
Effort to bring the state back on track
Stating that a total of 70 thousand industries have been given green signal to resume and 50 thousand have started their operations with six lakh persons back on work, Chief Minister said that the service of State Transport buses have been started within districts in green zone areas. Goods transport is already on and there is big migration from various states. He said that he has every right during such time to tell people stranded in districts to have patience he can say this with authority since he has a emotional bonding with these people.
Chief Minister made it clear that it is under consideration to give permission for shooting of films, TV serials as well as for theatre in green zones.
Farmers would not be left ignored – Assures Chief Minister
Stating that the preparations for ensuing Kharif season is being completed, chief minister said that farmers are being provided seeds and fertilizers at their farms and this experiment is a new on in state. He made it clear that there was never any restriction on agriculture related works or transportation of agri-goods, equipment transport and he assured that Government would never ignore farmers nor it would let them down.
Cotton purchase along with other food-grains
He said that there has been 75 to 80 per cent cotton purchase so far and it would give a sigh of relief for cotton growers from Vidarbha, Marathwada and North Maharashtra. He said that Gvrrnment was in the process of purchase of other food-grains like maize, Rice and others.
Your discipline resulted in this
Chief minister further stated that so far people of state have cooperated with Government since they belive in Government. He said that there are few who do not understand seriousness of the same and are criticizing the state Government. He said that Union Government had estimated that by the end of May Maharashtra would have 1.5 lakh patients and this information was conveyed so that necessary precautions are taken. But today there are 47.190 thousand patients in state and there are 13.404 thousand who have been sent home after getting cured. It means that at present state has around 33 thousand active Covid 19 patients and this is nothing but success of collective efforts and cooperation by people of state who maintained discipline.
Increase in health services
Chief Minister also informed about various health services in the state and said that there have been more than 3.48lakh Corona tests done in the state so far. He said that 2.98 tests have been negative and there have been 1577 deaths so far but this includes many patients who were admitted to hospitals at eleventh hour and they were high risk patients. The symptoms of cold, temperature, cough now has new ones like fatigue, feeling tasteless, feeling no odour and those who sense such symptoms should immediately approach hospitals for check-up. He also cited the examples of new born to ninty year old getting cured and free of Corona.
Chief Minister also made it clear that the next battle would be more serious and number of patients is likely to increase but appealed people not to resort to panicking since Government is providing health services on a big scale. He told that the first field hospital in country has been set up at  Bandra Kurla complex. He also informed that hospitals equipped with ICU beds with Oxygen supply are being set up all over the state along with in Mumbai and lakhs of beds are getting readied for patients. In Mumbai alone, by the end of May 14 thousand beds with ICU and oxygen facility are being set up., he added.
Donate blood, save lives
Stating that there is blood shortage in the state, chief minister appealed that people should come forward to donate blood for Covid patients. He said that state needs your help for blood donation.
Stay away from Monsoon diseases
Chief Minister said that people should take every precaution to keep Monsoon diseases away and ensure that they boil water before drinking and keep away from enjoying the rains by going out. He said that it was in the interest of everyone to prevent Corona and any other disease during this time.
Thanks to Covid warriors
Chief Minister thanked all the Covid warriors including doctors, nurses, health workers and all those who fought against Covid 19 for their service. He assured that Government would stand by them and told that Municipal Corporation is undertaking house to house health check ups and was approaching people before they reach hospitals.
Admiration
Admiring all areas of the state including Vidarbha, Marathwada, North and Western Maharashtra as well as Konkan  for fighting Corona Chief Minister said that rural areas need special thanks since it has kept the Corona away with determination.
Chief Minister told that Corona testing laboratories have started at Marathwada, Vidarbha, Sindhudurg in Konkan and health services are being augmented in a big way.