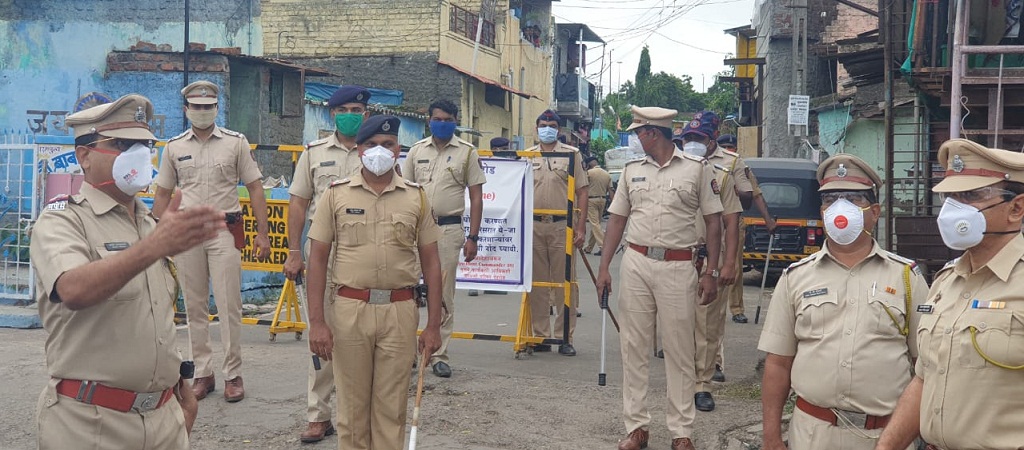 Mubarak Ansari
Pune/Pimpri, July 13, 2020: In order to enforce strict lockdown orders issued by the Pune Municipal Corporation (PMC), Pimpri Chinchwad Municipal Corporation (PCMC), Pune, Khadki and Dehuroad cantonment boards, both Pune City Police and Pimpri Chinchwad Police today issued curfew orders under section 144 (1) (3) of the Criminal Procedure Code (CrPC). No person shall come out of home except in a medical emergency, police said. 
Commissioner of Police Sandeep Bishnoi issued an order for the Pimpri Chinchwad Police Commissionerate and Jt CP Ravindra Shisve issued an order for the Pune City Police jurisdiction. They have clarified that employees of IT companies and industrial units in PCMC and PMC will be allowed to travel with vehicle pass issued by their company HR department head. 
The curfew order will be enforced from July 14 till July 23 midnight. Police have appealed citizens to stay at home and do not come out as legal action will be taken by registering FIR against those found outside. Their vehicle will be seized and its registration number will be cancelled.
Divisional Commissioner Deepak Mhaisekar said that passes issued by industrial units and companies to their workers and employees will be valid for commuting through Pune Municipal Corporation, Pimpri-Chinchwad Municipal Corporation and Pune rural areas. Officers and workers of these establishments will not need a separate police pass for the daily commute.
District Collector Naval Kishore Ram said that all MIDC areas in the district including Chakan, Talegaon, Ranjangaon, Baramati, Jejuri, Kurkumbh will remain functional. No restrictions have been imposed on the shops of fertilizers, medicines and implements related to agriculture in the district. In rural areas, citizens should not go out without work, appealed District Collector Ram.
ALLOWED/PARTIALLY ALLOWED with restrictions in Pune, Pimpri Chinchwad police areas from July 14-23
   – Milk selling and home delivery, LPG home delivery, Water tankers
   – All private clinic, all hospitals and related organizations 
   – All medical stores including online delivery 
  – All central/ state govt. offices with 10 % strength (advised work from home) 
– Petrol pump/gas station between 9 am to noon for govt/ emergency vehicles only 
– Industry supply chain vehicle with prior permission. 
– Newspaper, print media offices. Newspaper delivery between 6 am to 9 am only 
– Isolation/COVID centre private buildings 
– All banks with minimum manpower for online services. Customers not allowed to visit bank
– Permitted govt/PMC/PCMC employees with id card, others with Aadhar card copy for emergency services 
– Medicine companies, food chain supply with MIDC permission
– Pune Metro, Smart city project with prior permission 
– Permitted industry employee with id card. If any COVID-19 case found, the company will be shut completely till all employees are tested and disinfection done in the premises. Also, the mandatory COVID-19 test of all employees. Expenses to be borne by the organization 
– Companies in MIDC with dedicated bus facility and police pass 
– IT companies with 15% staff (advised work from home only) 
– Agri related shops and business 
– Medical officers, nurses, sanitation staff transport within the district
– Caretakes for old age and ill persons 
– Home delivery of all essential goods and medicines between 8 am to 10 pm for pass delivery holders only (pass issued by Police only)
COMPLETELY SHUT 
– School, colleges, coaching classes 
– All private and public transport (except for emergency services)
– All heavy vehicles, public transport except police van and permitted govt vehicles 
– All construction work (allowed for on-site residential labour) 
– Cinema hall, gym, swimming pool etc 
– Mangal karyalaya (those who have taken permission cannot gather more than 20 persons), hall, religious places, prayer halls 
– All private organization & all private offices 
– Social, political, cultural, religious events and gatherings
– E-commerce, Amazon, Flipkart (to be allowed from 19 July) 
– All grocery and other retail, wholesale shops completely shut from 14 – 18 July. (From 19 — 23 July shops for necessary items will be permitted from 8 am to noon only) 
– Zomato, Swiggy and similar online food delivery 
– Public gardens, open spaces, morning/evening walk 
– Hotels, resort, malls, market, bazaar etc. 
– Salons, beauty parlour, spa 
– Mandai, vegetables, fruit stall completely shut from 14 – 18 July (From 19 – 23 July will be permitted between 8 am to noon only) 
– Meat, chicken, egg, and fish shop completely shut from 14 – 18 July. (From 19 — 23 July will be permitted between 8 am to noon only)