Madhya Pradesh: Youth marries girlfriend and woman selected by his family in the same mandap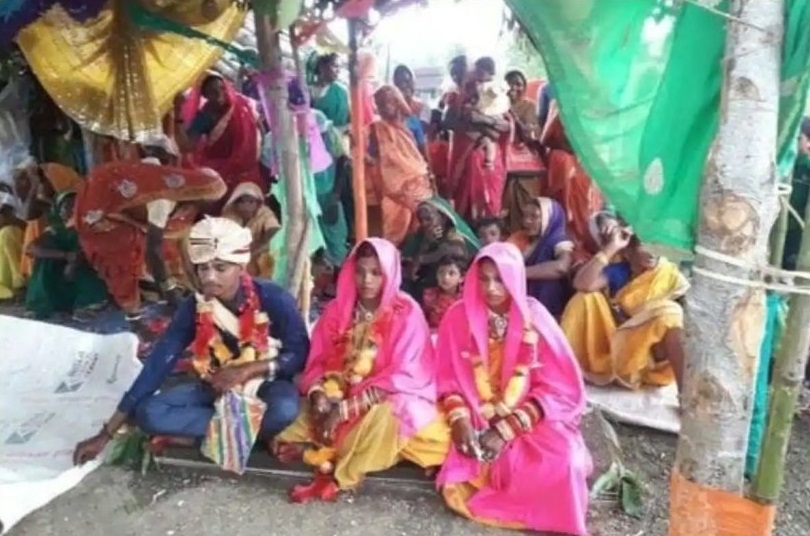 Shikha Chaurasia
Bhopal, July 12, 2020: Sandeep Uike, a tribal youth living in Madhya Pradesh in Betul district had a one-of-a-kind marriage ceremony. He married two women in a proper marriage ceremony in Keria village under Ghodadongri block near Betul.
He tied the knot with two women on July 8. One woman is from Hoshangabad district and the other is from Koyalari village of Ghodadongri block. Uike met the woman from Hoshangabad when he was studying in Bhopal. Both of them started dating and decided to marry each other but Uike's family had already selected a bride for him from Koyalari village. This situation led to a dispute between the three families and they approached the Panchayat to take a decision.
The Panchayat asked both the women if they were ready to marry and live together with Uike and when the two women agreed to this Uike was set to marry both women.
The holy ceremony was set in Keria village where Uike married both women in the presence of all three families and the villagers in one 'mandap'. He took 'saat phere' with both women and vowed to be their husband.
Vice-president Mishrilal Parate of Janpad Panchayat from Ghodadongri and another witness to the marriage said that the three families had no objection and themselves agreed to go ahead with this idea.
However, due to the ongoing Coronavirus pandemic, permissions have to be taken from the district administration to carry out such ceremonies.
Monika Vishwakarma, Ghodadongri Tehsildar said that no such permission was sought and and "since polygamy is a criminal offence, I'll write to the SHO of the concerned police station for taking action."