'Mission 500' water conservation movement from rural Maharashtra participating in the 'UN Water Conference 2023' in New York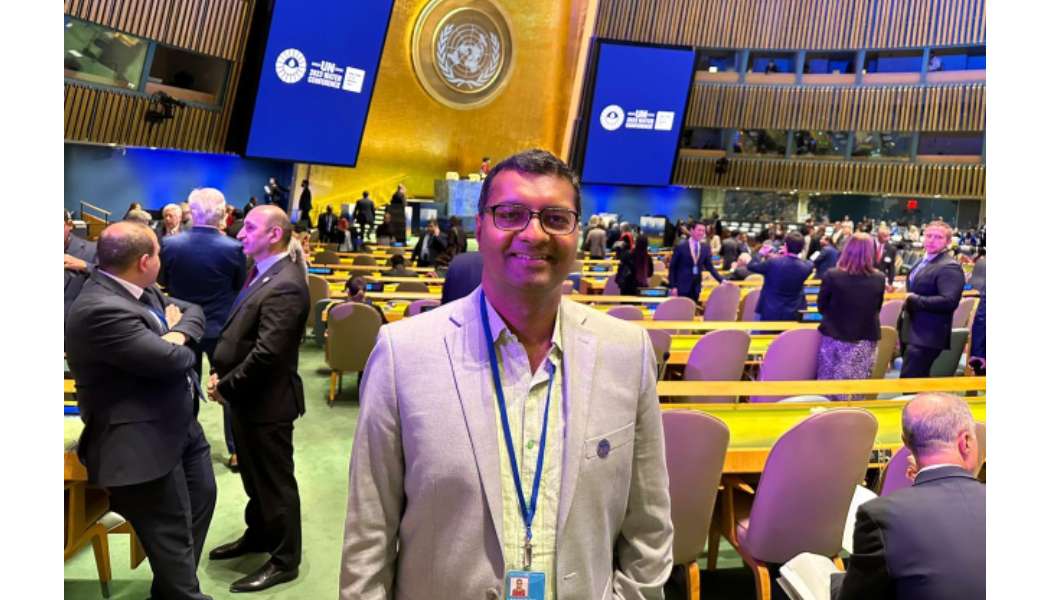 Pune, 23 March 2023: The United Nations Water Conference 2023 is being organized in the auditorium of the United Nations Headquarters in New York from 22 to 24 March 2023. Ministers, secretaries, representatives of international organizations and representatives of various social organizations are present in this conference. On behalf of India, the Cabinet Minister of the Ministry of Jal Shakti Shri Gajendra Singh Shekhawat will be present along with the delegation. Hailed as India's Waterman, Stockholm Water Prize and Ramon Magsaysay Award winner Dr. Rajendra Singh will also address the gathering. The "Mission 500 Crore Litre Jalsatha", farmers movement in north Maharashtra has got the honor of participating in the United Nations Conference. As a representative of the Mission, 'Paach Patil' Mr. Shrikant Paygavhane is participating in the conference.
Prior to that, a seminar on "World Water Dialogue" was organized at Bronx Community College from 20/03/2023 to 21/03/2023. Through the "Peoples World Commission on Flood and Drought" Mission 500 Crore Liters Water Reserve Pach Patil team has received an invitation for a seminar. In this seminar, there was discussion about finding a sustainable solution to the problem of water, drought and flood at the global level. Shrikant Paygavhane has reached USA as a representative of the Mission to participate in these discussions. He will share the experience of the "Mission 500" movement in the seminars at the City University of New York (CUNY) on March 23 and at Columbia University on March 24 as a side events of the United Nations Water Conference.
"Mission 500 Crore Liters Water Storage" water conservation movement started in Chalisgaon tehsil. Dr. Ujjwalkumar Chavhan(IRS) started it in Dhamangaon village in 2017.This movement is 'of the people, by the people, for the people'. It works on the simple principle of "Put the diesel and use the machine" for creating small check dams by the farmers. Through people's participation and planning in the Gram Sabha, river deepening and widening work is done to create dams and ponds in village area.
So far under this Mission, 450 crore liters of water reservoir has been created in 70 villages of 9 districts, 30 km of farm roads have been repaired and 45000 trees have been planted. This movement has been honored at many platforms including Union Ministry of Jal Shakti and the Governor of Maharashtra.
In the United Nations Water Conference, there is a discussion on 'Water for climate change, resilience and sustainability' in which efforts made for mitigating the drought and flood across the globe, different models adopted and different ways of fund raising will be shared. The objective of the 'Mission 500' is to use global experiences for local actions to mitigate droughts and floods in rural areas in Maharashtra.
'Mission 500' created water reservoirs in villages in a decentralized manner at very low cost. It is a model of "Community Based Decentralized Water Management System" in which people are empowered to create water bodies in their village, conserve it, maintain it, and raise the ground water level.
Before the arrival of the British in India, villages were self sufficient and sustaining for water management. The head of village planning was called Patil. Hence, the volunteers who take charge of five villages are called "Paach Patil" in this movement. 21 such 'Pach Patils' have been working in nine districts of Maharashtra for the last six years.Their selfless work motivated people, created awareness among the people who spent for diesel expenses for Machine for de-siltation and creation of check dams. Such model was previously implemented by Hon. Dr. Rajendra Singh in Rajasthan. It is known as 'Johad Pattern'. His vision is to implement this pattern in drought- and flood-prone areas across the world. Africa, North and South America, Europe and Asia are facing the problem of draught and flood because of climate change. The climate change is caused by the energy sector, but its effects are manifested in the water sector. Water conservation is essential for mitigation and adaptation to the climate change. Water conservation recharges groundwater. Rise in groundwater level supports crops, bushes and trees. It leads to carbon sequestration. Reduction in Green House Gases reduces the rising temperature.
Rising temperature causes frequent floods and droughts. Drought and flood are directly mitigated through water conservation. The next World War III is likely to be caused by water. Prevention of water crisis is possible through the behavioral innovations of mankind. Public awareness, awareness of communities and end users for water conservation is essential. Conference of Parties had been organized 27 times at the international level so far to discuss the issue of global warming and climate change.
In the 27th Conference (COP 27) held in Egypt last year, Dr. Rajendra Singh, insisted on including the issue of water in the agenda for mitigation and adaptation to climate change. Accordingly, the United Nations has organized this Water Conference for the first time. The movement of farmers from Maharashtra has got the honor of participating in this conference.