Mitsubishi Electric India showcased its technological advancements and innovative CNC solutions for Machine Tool Industry in IMTEX-2023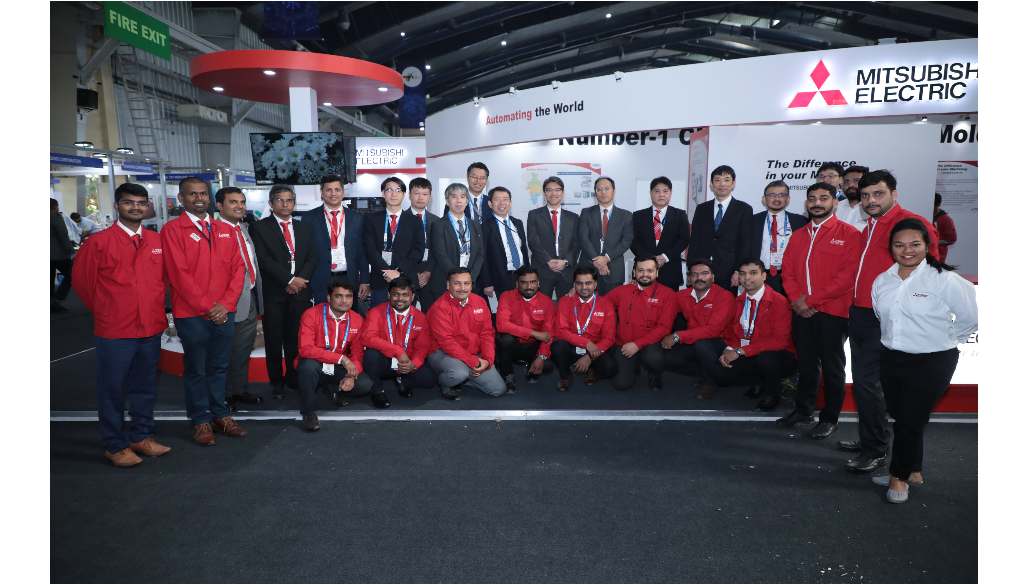 Bengaluru, 25th January 2023: Mitsubishi Electric India participated in IMTEX- 2023, an event organized by Indian Machine Tool Manufacturers' Association (IMTMA) at Bangalore International Exhibition Centre (BIEC) from 19th January 2023 to 25th January 2023 in Bengaluru. After a long break of Covid-19 outbreak, this most awaited, largest metal cutting machine tool exhibition in South and Southeast Asia was able to attract many Indian as well as Foreign Machine Tool Builders who exhibited their machines incorporated with Computerized Numerical Controllers provided by a reliable partner- Mitsubishi Electric. The exhibition could attract a footfall of visitors that exceeded the previous editions of IMTEX event which included manufacturers, suppliers, visitors, researchers etc.
Mitsubishi Electric India offers advanced CNC control system to take the machining needs of customers to a higher performance level. The company supplies CNC package and technologies to various market segments and industries. Mitsubishi Electric India started It's CNC manufacturing facility in Peenya, Bengaluru in 2017 to support the 'Make in India' initiative and aid industries who want to adapt the latest manufacturing technology.
During IMTEX-2023, Mitsubishi Electric India displayed its latest technologies and solutions in the machine tool and automation industry at Hall No. 2A, Booth No. A105 among over 600 exhibitors in this event. The exhibition included the display of Mitsubishi Electric- M80V, the evolution in smart manufacturing, which provides high productivity and easy operability, Mitsubishi Electric- Drive Units MDS-E Series, MDS-EM Series, MDS-EJ Series as high-gain servo/spindle drives, and with capability of fully enhancing drive system performance, Mitsubishi Electric- Servo Motor Units HG Series as Nano-control compatible servo motor, that boosts smooth rotation and outstanding acceleration capabilities, well suited to various types of machines, Mitsubishi Electric- Spindle Motors equipped with high speed and high efficiency. Latest product introduced by Mitsubishi Electric- CNC that is, M80V & M800V and its variants were exhibited to experience the application and robust working of this recently launched product.
In IoT segment, Mitsubishi Electric presented the concept "Remote4U" etc. as the solution to support new-age manufacturing in the country. The concept was used to show the remote diagnosis which enables machine engineers to operate remotely with a tablet connected. It allows improved work efficiency for the machine tool operators and frees them from the constraints of time & space and also enables them to work remotely.
As a milestone for IMTEX-2023, Mitsubishi Electric CNC launched ME-connect which is a mobile based application for its Customers and end users. The mobile application will help the Customers to see the status of their Repair requests and Service/Maintenance personnel who will be able to use this technology to remotely keep a track of their machine's information at all times. Prototype of an Educational machine called TEACH-T has also been launched in this exhibition to encourage skill development. This simple Turning machine is designed as an aid to strengthen the educational institutions in India. It is equipped with E80 Computerized Numeric Controller which can provide state-of-the-art education facilities for the technical students with the required skills in the metal cutting industry which can contribute and support the Skill India Mission.
Addressing the event, Mr. Masaya Takeda, General Manager- CNC Systems, Mitsubishi Electric India Pvt. Ltd. said, "It was indeed a privilege and pleasure for us be a part of this largest exhibition for machine tool industry in India. The long wait for this exhibition due to Covid-19 outbreak ended well with the successful recognition of our latest and advanced CNC products and solutions in IMTEX-2023. This has been a great platform to connect with our customers and partners on a vast level. The one weeklong event, was a great platform to cater to the requirements and advancements in the metal cutting industry and to extend our strong support towards Skill India Mission through our sustainable machining and reliable CNC solutions."
About Mitsubishi Electric India (MEI)
With more than 100 years of experience in providing reliable, high-quality products, Mitsubishi Electric Corporation (TOKYO:6503) is a recognized world leader in the manufacture, marketing and sales of electrical and electronic equipment used in information processing and communications, space development and satellite communications, consumer electronics, industrial technology, energy, transportation and building equipment. Mitsubishi Electric enriches society with technology in the spirit of its "Changes for the Better." The company recorded consolidated group sales 4,476.7 billion yen (U.S.$ 36.7 billion*) in the fiscal year ended March 31, 2022.
Mitsubishi Electric in India has grown to become a company offering a wide range of innovative and high-quality products for the Indian market. This includes products and solutions for Air Conditioners, Factory Automation and Industrial Systems, Semiconductor & Devices and Transportation Systems. For more information visit: http://in.MitsubishiElectric.com/en/
*U.S. dollar amounts are translated from yen at the rate of ¥122=U.S.$1, the approximate rate on the Tokyo Foreign Exchange Market on March 31, 2022.