North-East India gets the taste of Maharashtra's Arts and Culture through 'Kalasetu''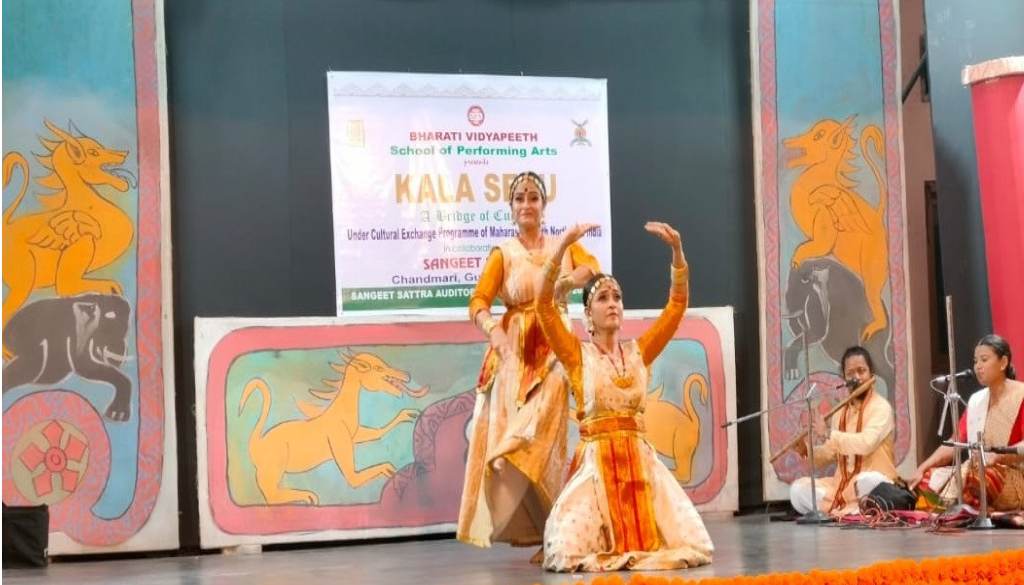 Pune, 4 January 2023: In order to showcase the arts and culture of Maharashtra in the North-Eastern states, the students of Bharti Vidyapeeth School of Performing Arts, Pune displayed their skills in various universities in North-East India including Assam under the initiative 'Kalasetu organized under the Cultural Exchange Scheme by the Director of the School of Performing Arts and Samvadini player, Pandit Sharangdhar Sathe.
The event was organized with the aim of sharing music, dance and art culture between Maharashtra and North East India.
Dr. Devika Borthakur, Coordinator, Prof. Praveen Kaslikar, Head of Music Department, Prof. Swarda Kulkarni and Dr. Rajendra Doorkar along with 9 students of the college participated in the event. The School of Performing Arts (SPA) is a renowned college in India offering courses ranging from Certificate Courses to Ph.D. in Classical Music and Dance.
Under this initiative, the first program was held at Mahapurusha Srimanta Sankaradeva University in Guwahati in presence of Dr. Mrinal Bora, Chancellor of the University.
Then the students of the Bharti Vidyapeeth presented their art at various places including 'Sangeet Satra', an old and renowned institution that pioneered the classical dance training of 'Satriya' in Assam, Dibrugarh University, Rajiv Gandhi University at Itanagar in Arunachal Pradesh, College of Agriculture at Vishwanath near Guwahati and at 'Orchid Park' tourism festival at Kaziranga.
The students performed Bharatnatyam, Kathak, Classical Music, Percussion, Marathi folk music and dance as well as traditional dance of Assam and Bihu Geet.
The students also got to experience Assamese classical dance, 'Ojapali', 'Borgeet' a musical dance tradition and 'Rasleela' a folk art form of Assam.
The presentation received a great response from the local art lovers.
Under this initiative, Abhinaya Society, Guwahati, Sangeet Sattra, Guwahati, and Barnali Dance Academy presented Pt. Sharangdhar Sathe with a special medal and a letter of honour for his remarkable contribution in the field of music and dance training.
During the tour, Pt. Sathe interacted with the Culture Minister of Assam, Bimal Borah and requested him to start a North-East India Cultural Centre in Pune.