OBSERVANCE AND CELEBRATION OF REPUBLIC DAY IN PCDA (O) OFFICE PUNE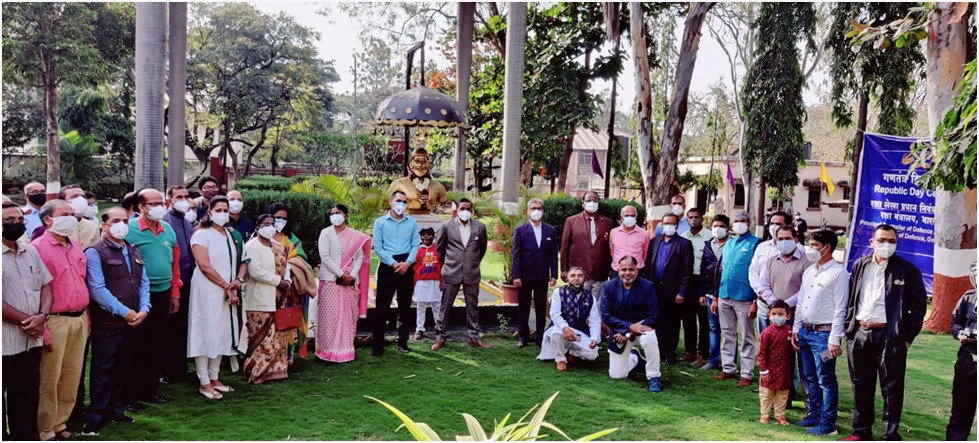 Camp, 26th January 2022: Republic day was celebrated in the Office of PCDA (O), Pune with great gusto, fervor & immense gaiety under the aegis and guidance of Dr. Rajeev S. Chavan, IDAS, ndc, PCDA (O), Pune on 26th January 2022 and in the presence of all IDAS Officers in a most dignified safe manner abiding and following COVID-19 norms and behavior.
The national program began with Unfurling of Flag by Dr. Rajeev S. Chavan, IDAS, ndc, PCDA (O), Pune, at 09:30 AM followed by our National Anthem जण गण मण by Officers and staff of this Office.
Dr. Rajeev S. Chavan, IDAS, ndc, PCDA (O), Pune, in his keynote address emphasized on the immense relevance of abiding adopting following and propagating the core value enshrined in the Indian Constitution which are basically Justice, Liberty, Equality and Fraternity. He paid his sincere homage and offered his tribute in a humble manner to all great Nation Builders revolutionaries for laying their life through their Service to achieve freedom from British Rule and requested to remember and follow their ideas ideals to make the nation glorious powerful and improve in years to come.
Dr. Rajeev S. Chavan, IDAS, ndc, PCDA (O), Pune appreciated and motivated all the Officers and Staff members present for working incessantly and tirelessly during all the waves (including 3rd One) COVID-19 Pandemic. He fully appreciated their sincere commitment, complete dedication and full devotion towards their duty and responsibility for the well being and welfare of all the Army Officers. Being a Six Sigma Flagship Office he exhorted all to  work harder so as to  meet the aspirations of the Army Officers who are the warriors guarding our Nation on its very frontiers as well as in remote interiors.
On eve of Republic Day, i.e. on 25th Jan 2022, Commendable efforts of staff members under स्वछता अभियान Operation Broomstick/Mop up were fully got appreciated by PCDA (O), Pune.  Certificate of appreciation  and Cash Award  was given to the Team lead by Smt. Julie Sawant, IDAS, ACDA for this noble deed. This drive ran for a fortnight and each day 75 gunny bags were burnt through an mechanical incinerator and trash, litter waste was cleaned and removed.  He commended and applauded all for the brave task amidst COVID-19 3rd Wave.
Photo session was organized near the beautifully decorated War Trophy of Arjun Tank (T-55) installed in the premise of the O/o PCDA(O), Pune and humble floral tribute was paid in the loving memory of the War Heroes/Brave hearts. Sincere Tribute and Respect was also offered to the Statue of Chhatrapati Shivaji Maharaj by garlanding the same. A small sapling with tree guard was also planted by the Chief Guest.