Pune: A Web Radio Launched At Garware School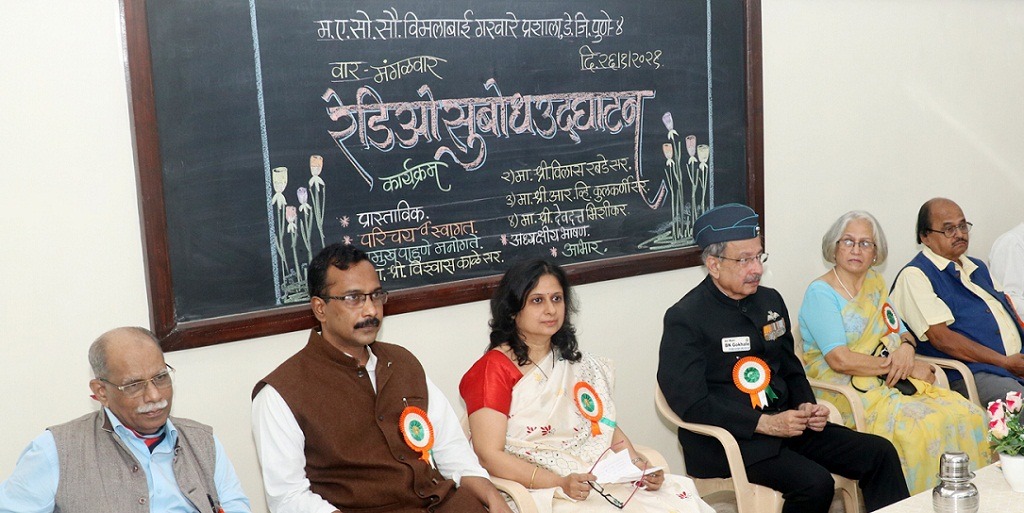 Mrunal Jadhav
Pune, January 27, 2021: "There is a need to promote creative attitude in the students. The web radio station 'MASO Subodhwani' will open up new avenues to boost the intelligence of the students", said Maharashtra Education Society president Air Marshal Bhushan Gokhale (retd).
This radio station has been named after Subodh Purohit. On the occasion of the 72nd Republic Day, the 'Subodhwani Radio Center' was inaugurated. This is the first and only web radio in a Marathi medium school in the country.
On this occasion, entrepreneur Vishwas Kale, Subodhwani's founder Vilas Rabade, Vigyan Bharati's president R V Kulkarni, Member Ramesh Hate, Shrikant Kulkarni, Neela Purohit, School Committee Chairperson Anandi Patil, Member Devdatta Bhishikar, Sudhir Gade, Arvind Gaikwad, Shridhar Karkare along with representatives of Parent-Teacher Association were present. On the occasion, alumni of the school's 1970 batch visited the digital classroom.
Air Marshal Gokhale said, "India is now emerging as a superpower. Whether it is a war with China or a Chinese Corona, India has met all the challenges head-on. The policy has had economic implications and consequences. The bravery of Subodh Purohit is inspiring to us."
The ceremony was inaugurated by Sudhir Gade. He said, "This opportunity will benefit the students to develop creativity."
Vishwas Kale introduced the life of Subodh Purohit. Vigyan Bharati president R V Kulkarni said that Subodhwani will help in the development of the personality of the students as well as the spread of science.
Vilas Rabade shared his memories of Subodh Purohit. "As a former student of the school, I approached my friends with the feeling that I owe something to the school. Arvind Paranjape, Ravindra Godbole assisted me and under the guidance from Shripad Kulkarni, I started the radio."
Students will shape themselves through Subodhwani. The program was hosted by Archana Ladkat and Vidya Gaikwad.
About Commodore Subodh Purohit 
Subodh Vasudev Purohit was a student of Vimalabai Garware School. Subodh became a mechanical engineer and later joined the Indian Navy. He served in the Navy for 35 years from 1969 to 2004. He had a reputation as an excellent pilot.
He was proficient in air flight. He was selected for the United States Naval Training School (USNTS) in the United States. He acquired in-depth knowledge of telecommunication equipment and mathematics. He became the first Test pilot in the Indian Navy. He was also elected for the delegations in France and Italy. Subodh Purohit was sent to Kochi for a 'VVIP' visit.
At that time, the plane suddenly went out of control. Nevertheless, Commodore Subodh lowered the plane to 200 feet before it sank. He saved the lives of people on the plane and others by testing his leadership qualities under such a situation, patiently, for seven hours. For this, he received the Medal of Bravery in 1981. After retirement, Subodh uplifted the underprivileged, promoting small businesses by focusing on tribal children. He also worked as a consultant for some aviation organizations.