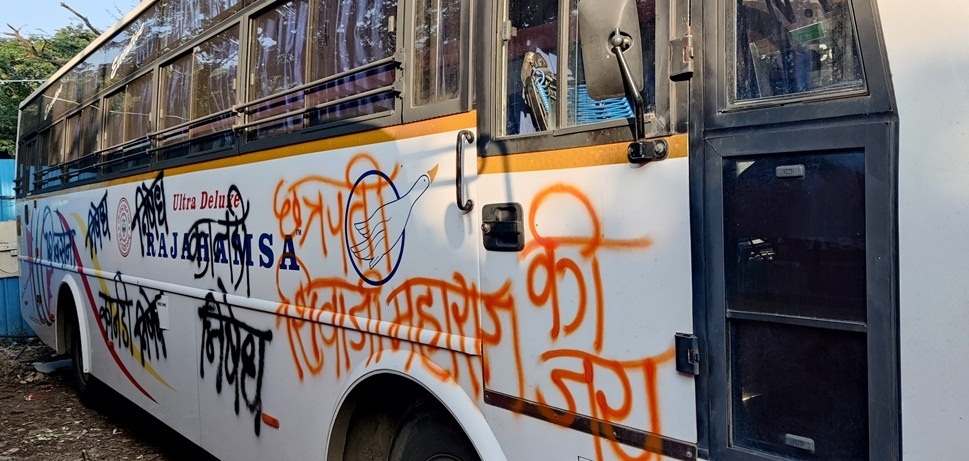 Pune, 18th December 2021: To condemn the desecration of the statue of Chhatrapati Shivaji Maharaj in Bengaluru, Shiv Sena party workers held protests today in Pune. They wrote, "Chhatrapati Shivaji Maharaj Ki Jai" on many buses of Karnataka state transport (ST).
The Shiv Sainiks gathered at the private bus parking lot in front of Laxminarayan Cinema in the Swargate area and shouted slogans against the Karnataka government.
On this occasion, Pune city Shiv Sena president Sanjay More, Gajanan Tharkude, Anant Gharat of Kamgar Sena, deputy president Balasaheb Malusare, City Organizer Rajendra Shinde, Vibhag Pramukh Suraj Lokhande, Ashok Harnawal, Manish Jagdale, Yuvraj Parikh of Yuva Sena, Srinath Vitekar, Vijay Jori, Sandeep Gaikwad, Chandan Salunke, Harshad Thakar, Mukesh Dalve, Dilip Poman, Nandu Yeolale, Nitin Rawalekar, Rajesh Mandhare, Gani Pathan, Prasad Kakade, Sagar Salunke were present.
More said that the statue of Chhatrapati Shivaji Maharaj was removed overnight in Belgaum last year. There have been incidents of Kannada organizations and the Karnataka government repeatedly trying to evict Marathi speakers. In addition, the statue of Chhatrapati Shivaji Maharaj was defaced in Bengaluru. The hatred of the BJP government towards Chhatrapati Shivaji Maharaj is being seen again and again. As the elections approach, the BJP remembers Chhatrapati Shivaji Maharaj. In elections, people used to ask for votes in the name of Chhatrapati Shivaji Maharaj, get elected and then throw ink. This is their policy. It should be stopped now.
BJP is paying homage to the statue of Chhatrapati Shivaji Maharaj tomorrow as the Pune Municipal Corporation election is nearing. A groundbreaking ceremony (Bhumi Pujan) is being held for the next elections by announcing the installation of the statue which was announced five years ago. They do not even utter a word about Maharaj. How much more will BJP cheat Punekars?"