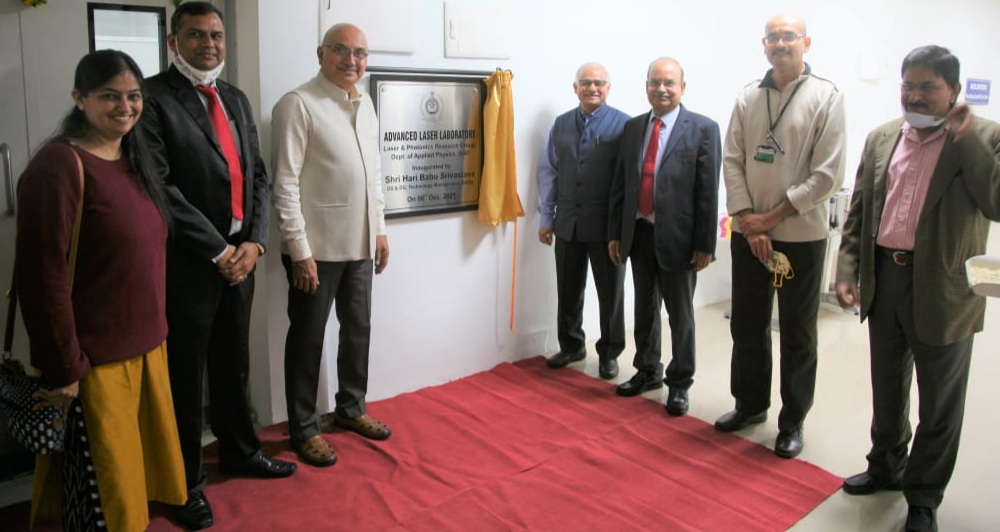 Khadakwasla, 6th December 2021: Defence Institute of Advanced Technology Pune, a Deemed to be University of Dept. of Defence R&D, MoD, Govt of India has set-up two labs "Advanced Laser Laboratory" and "High Power CO2 Laser Facility" will be one of the futuristic and strategic interdisciplinary set up for optics, laser, Quantum and surface engineering.
These laboratories were inaugurated by Shri Hari Babu Srivastava, Director General, Technology Management, DRDO, and Dr Sudhir Kamath, Director General, MED &CoS (Microelectronic Device & Computational and Cyber system) DRDO on 6th December 2021.
The Advanced Laser Laboratory comprises of six state-of-the-art research facilities with the themes: Photonics Modeling, Fiber & Solid-State Laser, Optical Communication, Laser Spectroscopy, Wafer scriber, wire bonder facility, and Quantum Cascade Laser characterization. These facilities are one of its kind that shall be the forerunner in supporting various research institutes and labs for Atmanirbar Bharat.
In each research facility, state-of-the-art tools are installed in the newly constructed class 10000 cleanroom. New laboratories can meet the future research challenges in the area of Laser and photonics that include Quantum Cascade Laser, Quantum Dot Laser, Interband Laser, Fiber Laser & Amplifier, Mode-locked Lasers, optical communication, Fiber optics-based sensors, laser Spectroscopy, integrated optics & Si-Photonics, IR Thermography, etc.
The quantum cascade laser characterization facility is unique in the nation equipped with a FTIR and other advanced tools capable of characterizing lasers from 200 nm to 1THz wavelength. Photonics modeling facility is equipped with high-performance computing with Nextnano. NGF, Lumerical Device Suits, RSOFT BPM & Fullwave, L-Edit, and personal version of Optics Studio software. These software tools are capable to design and model almost any semiconductor laser, optical system, and integrated optics & photonics device that shall support various SME's and LE's semiconductor industries.
The High Power CO2 Laser facility is equipped with a 1 kW Diamond E-Series Industrial CO2 Laser. This facility will soon be equipped with a 2-D scanner for material processing and other directed energy-related applications. Laser Spectroscopy Research and High Power CO2 Laser facilities were created with the support of Laser Science and Technology Center, LASTEC, DRDO, Delhi. These facilities are open for academics/ industries and R&D labs for developing futuristic technologies for the Atmanirbar Bharat.
All above facilities will be technically managed by the Laser and Photonics Research Group, Department of Applied Physics. Currently, the group is having two flagship research projects on the design & development of Mid-IR and THz quantum cascade laser technology sponsored by DRDO.
On this occasion Dr. C. P. Ramanarayanan, Vice Chancellor DIAT stated that the set-up of these two advanced futuristic laboratories will be more beneficial to the M.Tech/ PhD scholars in the research area as well as for the sponsored research projects.
Advt