Pune: Dream Works Realty Celebrates 11th Anniversary with Bollywood-Themed Coffee Table Book and Unveiling of Brochure by Staff's Family Members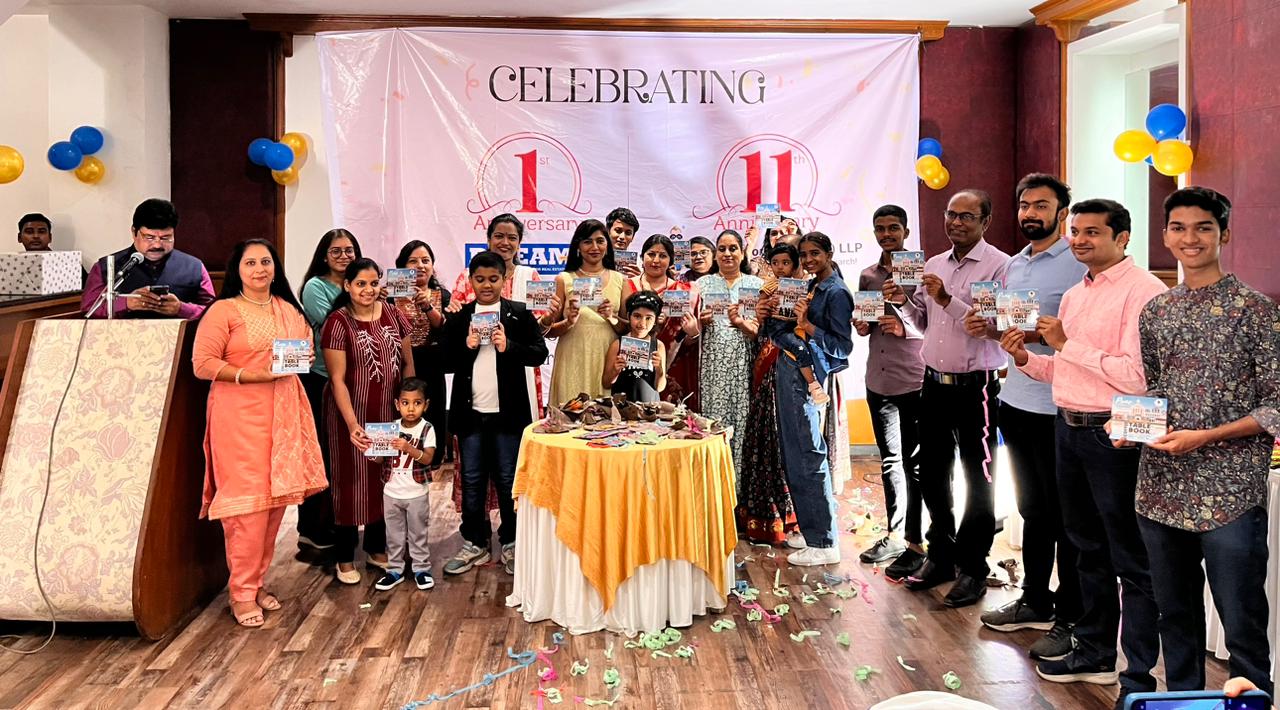 Maitrayee Kulkarni
Pune, 10th June 2023: Dream Works Realty, a trusted and prominent Real Estate Investment Advisory, celebrated its 11th anniversary in style with the launch of a unique Coffee Table Book. This captivating book, inspired by Bollywood, features a collection of funny memes that not only entertain but also provide valuable insights into the company's mode of operation. It aims to add entertainment and fun to the otherwise serious journey of property buying.
The Coffee Table Book beautifully captures the essence of Dream Works Realty's corporate ethics. Each meme in the book highlights a particular aspect of how the company operates, showcasing its principles through amusing anecdotes about property viewing in comical scenarios. With the inclusion of Puneri Paatya, it presents a delightful blend of wit and wisdom. The lighthearted nature of the content adds a refreshing twist, making it an engaging read for both industry professionals and enthusiasts.
One of the highlights of the event was the involvement of children in the unveiling of the coffee table book. Their innocence and enthusiasm added a delightful charm to the occasion, symbolizing the company's commitment to fostering a sense of community and inclusiveness.
Additionally, the company honoured the dedication and hard work of its staff by inviting their family members to participate in the unveiling of the new brochure. This gesture highlighted Dream Works Realty's recognition of the importance of family support in achieving success.
The 11th-anniversary celebration was attended by industry leaders, clients, and employees who praised Dream Works Realty for its 11 years of success and appreciated the idea behind the Coffee Table book.
Founder Umesh Pawar expressed gratitude to everyone who contributed to the Bollywood theme, Real Estate Detective, and Google vs Dream Works Realty theme. He also acknowledged the fantastic design work by Chaitanya Potdar (Manager), the contributions of Amit Joshi (Sr. Designer) and Chaitanya Joshi (Co-Founder-Dream Works Realty), and the input from his daughter, Jaee.
Dream Works Realty is a Real Estate Investment advisory that specializes in advising and assisting clients in their new residential and commercial property purchases in Pune and PCMC. DWR believes that humour can be a powerful tool to connect with people and communicate effectively. The Coffee Table Book reflects the company's commitment to fostering a positive and enjoyable environment, even in stressful situations.