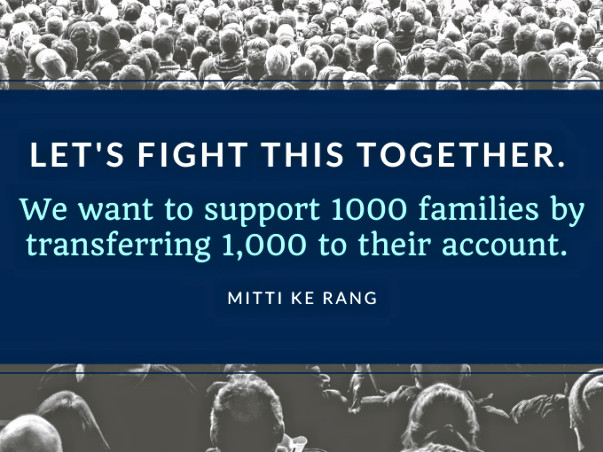 Pune, March 29, 2020: Amit Jain (30) of NGO Mitti Ke Rang, which works for widows, said, "We are soon starting-with COVID-19 community support fundraising as an emergency response – to help provide a safety net to families. The amount will help them to survive the next 21 days. We aim to directly support these families by providing a minimum wage by transferring in their account. This is about getting money in the hands of people who need our help."
According to him, the people who need immediate support include Daily Wage Workers, Maids, Laborers, Street Side Vendors, Hawkers, Construction Workers or anyone who is in need of support.
"There are four NGOs we support who are working on the ground. The police are also supporting them to help the community. Apart from that, we are helping individual maids who are in need of financial help immediately.
We are getting the details of all the people we will be donating to, as well as the people who are recommending us their names. Every single detail of the donation will be shared with you in case we need to reach out to them for any further assistance.
Saraniyavaas slum in Ahmedabad, Gujarat, has a community including 120 families of maids and people dependant on daily wages. None of them has a permanent job to depend on. Panah India is a grassroots organization working for migration in India since 2015. They run a single-window solution for citizens in India. Based in Ahmedabad, it runs in more than 7 centres across the city. We hope to connect and support people on basic requirements and equal opportunities. 507+ Families in the Indira bridge Community including, 20+ Widowed women. A ration shop will be opened for the families in the community.
The number of families in Dhanbad that survive on rag-picking, begging and daily wages have been affected deeply due to the current COVID 19 pandemic. They need urgent help. Nand Care Foundation (a Not For Profit managed by youth) is leading the 'Feed the Ragpickers, Beggars, and Daily Wageworkers.' campaign.
"Our aim is to help them have a reliable supply of groceries in the absence of employment opportunities. We have mapped close to 200 such families across Dhanbad who need our support. 1 Ration Kit will be issued to every family mapped. Each kit will contain items for a family of 5 for one month. We are targeting 200 Families × Rs.1500 per kit= Rs.3,00,000 Approx. The project will be in the village Budha, Dobari in Dhanbad, Jharkhand."
Support the unemployed disabled
NADE is a national level Non-Governmental Organisation, with the specific mission of supporting unemployed disabled individuals so as to make them independent through their own effort and hard work.
"Given the current scenario of the COVID 19 Pandemic, our disabled members who earn their living through production-based wages are severely affected. This has put their families under severe financial and mental stress. NADE had around 1200 such members who are currently on the verge of starvation. We have calculated that by making a minimum donation of just Rs 80, you can feed a family of 4 members for a single day. Your donations can help our members survive this period of lockdown. We appeal you to donate whatever amount possible and help our poor, disabled members in this time of crisis."
Jain further said, "The Complete information to whom we have donated will be shared with the donors. And it will be directly transferred to the beneficiary account."
How to Donate 
Jain has started crowdfunding through Milaap website. You can donate through this link