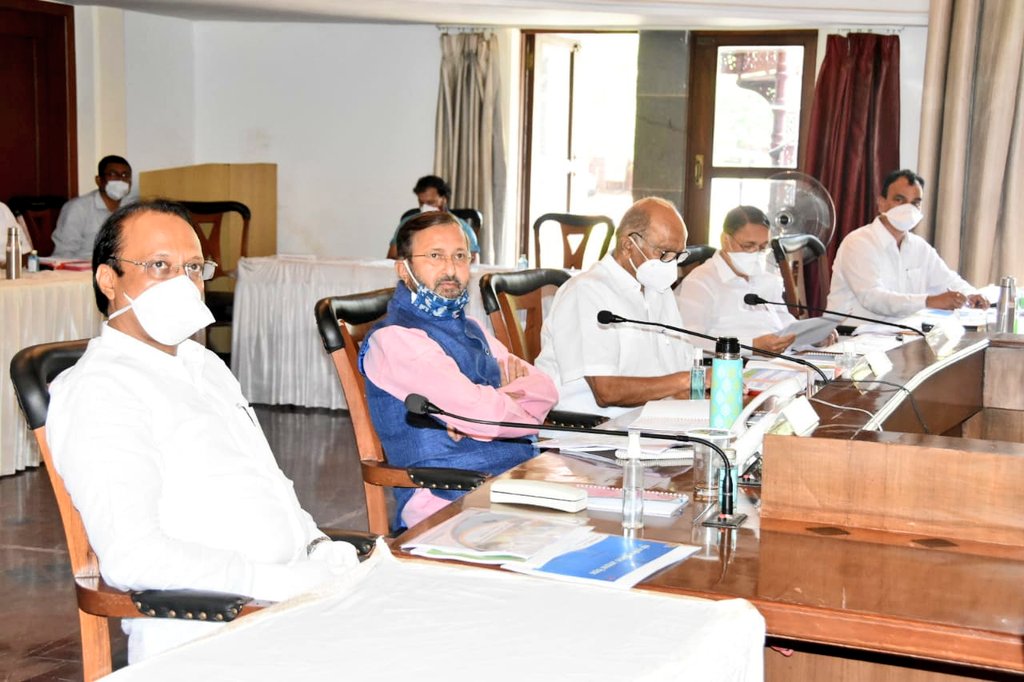 Mehab Qureshi
Pune, September 5, 2020: In a review meeting of the situation of Coronavirus (COVID-19) in Pune district, Nationalist Congress Party (NCP) supremo Sharad Pawar today suggested that COVID-19 affected patients should be given immediate treatment and the rate of testing should be increased substantially in the district.
The meeting was held at the Council Hall to assess the preventive measures being undertaken to curtail corona spread. Deputy CM Ajit Pawar, Health Minister Rajesh Tope, Union Minister Prakash Javadekar and senior officials were present during the meeting.
NCP chief after reviewing the high number of cases in Pune and Pimpri Chinchwad city instructed senior administrative officers to emphasize on door-to-door surveys. He also suggested that people in contact with the infected patient should be effectively traced and quarantined. "Many citizens are seen walking around without masks, which is a serious matter. Thus, fines should be collected from the citizens found walking on the streets", he said.
Meanwhile, health check-ups should be made mandatory at the entrances of malls, bus stands, railway stations, and big stores. He also proposed that construction buildings can be used as a COVID Care Center.
Deputy Chief Minister Ajit Pawar informed, "We have informed Center through Union Minister Prakash Javadekar, that oxygen cylinders should be provided to health facilities at a 50-50 ratio so that equal share is supplied to both health services and industries."
Adding to this, Union Minister Prakash Javadekar, said, "it is a matter of concern that Pune had the highest number of patients in the country. Emphasis should be made on public awareness along with the effective management of containment zones. Video messages of patients recovering from COVID should be spread on social media, to reduce fear amongst the people."
"Sero survey on large scale will be conducted, to identify people with antibodies", added Javadekar. He also noted that fines of Rs 500 and Rs 1000 will be levied for not wearing a face mask and spitting in public, respectively.
Maharashtra Health minister Rajesh Tope informed about 'My family, my responsibility' program which embarks door to door surveys and to check the oxygen level of people. "Beds shouldn't be given to asymptomatic patients and the communication with the patient's relatives should be proper", he added.
Pune Municipal Commissioner Vikram Kumar and Pimpri Chinchwad Municipal Commissioner Shravan Hardikar spoke about the measures taken in their respective municipality area. Hardikar said that early diagnosis and timely treatment of patients are being taken care of.
Pune Divisional Commissioner Saurabh Rao educated about the statistical data in terms of infected patients, cured patients, mortality rate, number of tests, plasma therapy, and corona management.
In this regard, Director NCDC, Dr. Sujit Singh also indicated measures to be taken in the containment zones.
The meeting was also attended by Labor Minister Dilip Walse Patil and Public Works Department Minister Dattatray Bharne.