Pune: Sakal Times newspaper shuts down amid lockdown, 50 journalists, others lose jobs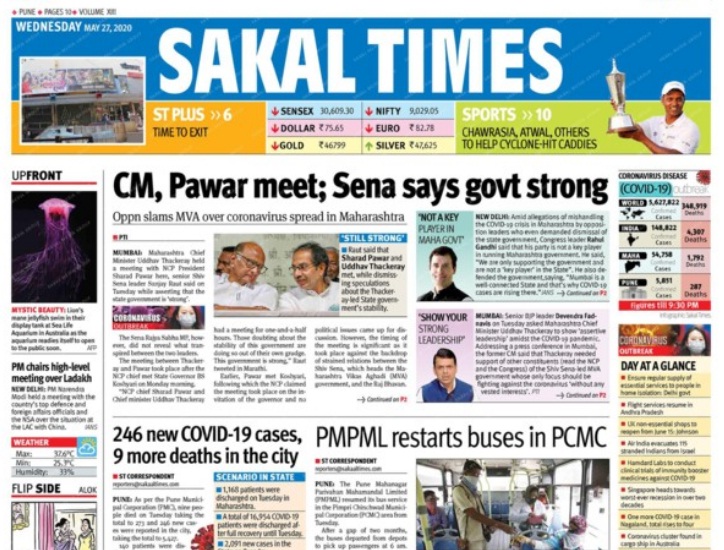 Pune, May 28, 2020: English language daily newspaper Sakal Times, based in Pune, and owned by Sakal Media Group yesterday announced closing the only edition of the newspaper citing losses due to Coronavirus pandemic lockdown. About 50 employees including news reporters, sub-editors, designers, feature writers, have lost their jobs.
Headed by Nationalist Congress Party (NCP) president Sharad Pawar's nephew Abhijit Pawar, the paper had replaced group's earlier English newspaper The Maharashtra Herald in May 2008.  The content was generated by staff reporters, writers and photographers. Also, some of the content was sourced from news agencies.
Due to lockdown, the printing of the newspaper had stopped and only its website and epaper was being updated. According to Sakal Times employees, their salary was cut by 50 percent in April. On May 26, employees had received phone calls asking them to attend a meeting on Wednesday (May 27) at 4 pm.
In the meeting, Sakal Media Group CEO Uday Jadhav announced that due to 'financial losses' the management has decided to shut down operations of Sakal Times and that May 31st would be last day for the employees with the paper. He offered one month (June) salary as compensation besides paying earlier deductions in salaries and asked them to resign immediately. The employees demanded three months salary as compensation but the management didn't budge.