Pune Students Get Rs 4 Lakh Incentive Fund For Making Drone Touted To Compete With China-made Nano Drones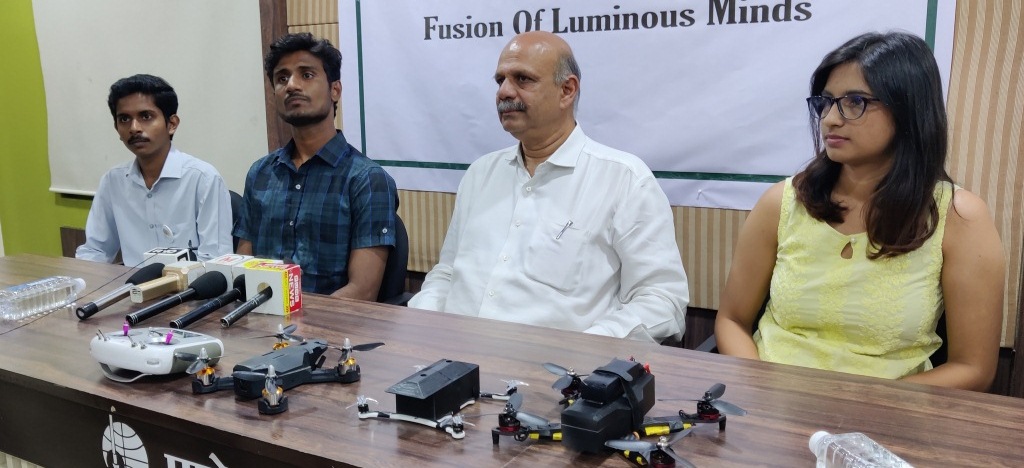 Pune, 13th March 2021: The CS Pride drone built by engineering students of JSPM College has received a staggering Rs 4 lakh through Vertex's startup crowdfunding platform.
A team of 6 people from the college worked together to build the drone. The drone was created by the ingenious thinking of college youth. The funds were distributed on behalf of Vertex by Tanveer Inamdar, Ketki Takle, Vanrai's President Ravindra Dharia, and Rotary Club President Sneha Subhedar. Social activist Tamanna Inamdar, Autocluster CEO Prasad Gore, and Vertex's Tahir Inamdar were present on the occasion. Valuable expert guidance was received during the event.
Ganesh Thorat and Mihit Kedar, the founders of Celebrospark, introduced the concept of the drone. Both shared their experiences of the crowdfunding campaign. Through Vertex, he raised the required funds of Rs 4 lakhs to start his pilot project in 40 days.
Thorat also expressed confidence that his drone CS-Pride will be launched in May 2021 under the guidance of Vertex.
Ravindra Dharia said that industries based on the innovative ideas of the youth are essential for the development of the country. So the younger generation should turn to entrepreneurship, not just jobs. "If there is quality and capacity, there are no difficulties in raising funds. There is a lot of funding available around the world and to get it you need to convince your startups how different they are. To develop entrepreneurship, you need to have a continuous learning attitude and maintain consistency in work." He also gave guidance on the qualities that an entrepreneur should have.
Tanveer Inamdar of Vertex said, "We have grown up listening to many stories that mean unity is strength or progress through people's participation." When human beings come together for a doer, their positive energy has the potential to make a lasting difference in society. This is called effective and efficient public participation. Today, crowdfunding has become a form of service and numerous websites are providing such services all over the world. These websites help innovative people. Vertex is India's first platform for crowdfunding. They are also constantly organizing various projects on social media to contribute financially to our quality.
Sneha Subhedar said that to create a bright future for the country, the youth should do innovative things. The attitude of the youth towards education is changing. Young people are experimenting with different paths rather than pursuing a one-size-fits-all education and pursuing a career in the same field. They are also getting success in this. Sneha Subhedar expressed the feeling that today's youth are especially happy to do innovative activities with social commitment.
Indian drone startup, CerebroSpark Innovations has successfully launched its crowdfunding campaign on the startup platform VertexX. CerebroSpark, led by a team of young engineering students with an entrepreneurial streak, has already gained recognition from agencies like the United Nations. With the funds raised, the founders, Ganesh Thorat and Mihir Kedar, aim to produce nano drones under the brand name CS PRIDE (Personal Remotely Operated Drone Entity).
The drone is touted to directly compete with China-made nano drones, which currently capture most of the global and Indian Markets. According to CerebroSpark, the lightweight drone can speed up to 70kmph with a 35-minute flight time. CS PRIDE also boasts features like autonomous flight, reprogrammable software, waterproof, and 4K live stream camera. Their crowdfunding campaign on the VertexX website has already surpassed 54% of their goal of Rs 7 Lakh.