SIBM Pune launches 3 months certificate programme in Business Analytics & Digital Marketing which gives a conditional Job offer to all those who get selected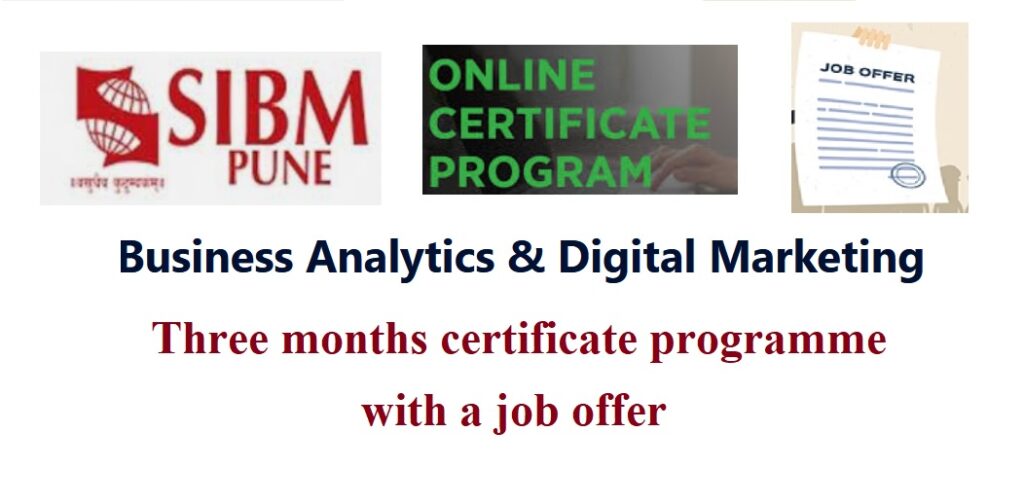 Pune, 3rd July 2022: There are several graduates who are scouting for jobs but can't find one due to a lack of skill sets that are needed in the industry. Many of these graduates don't even have the required funding to get certified from well-known technical schools or business schools. 
With the purpose to help all those who are willing to learn and secure good jobs, SIBM Pune has launched a three months certificate programme in Business Analytics & Digital Marketing which gives a conditional Job Offer to all those who get selected for the programme which is offering 200% ROI (Return on Investment)! The school has also tied up with HDFC Credila which is extending 100% loan to all those who need financial support to pursue the programme.
Business analytics and digital marketing professionals are the hotshots of 21st-century organizations. Today, every successful company is driven by data and leverages social media. Considering this, SIBM Pune has launched a certificate programme in Business Analytics & Digital Marketing. In the first part of this course, the students will develop a deeper understanding of aspects related to "Business Analytics" and will also learn to use R Studio. 
Dr Abhijeet Lele, Faculty member at SIBM Pune, who will be teaching one module of the programme stated "One doesn't need to have any prior knowledge about 'R', as everything that is required, starting from basics, will be taught and the students will be trained to use of the R Studio package. Also, aspects related to various business analytics methods viz. sentiment analysis, logistic regression, artificial neural network, k-means clustering, multidimensional scaling and conjoint analysis etc to solve various business problems using different types of data will be taught in this segment." 
The second segment of this course, i.e., Digital Marketing, has been designed by industry experts to help the participants master the key digital marketing skills and also implement their learnings. The segment comprises 4 modules that shall provide holistic knowledge about the various tools, techniques, skill sets, and best practices that anyone needs to make a successful entry into the world of digital marketing.
Speaking about this certification programme, Dr R Raman, Director of SIBM Pune, stated, "This certification programme in Business Analytics & Digital Marketing provides a great opportunity to graduates who aspire to take Digital Marketing as a career option and are currently in search of Job Opportunities in this domain. The enrolment for this programme which is starting on 27th August 2022 is now open and aspirants can visit https://siux.siu.edu.in/course/business-analytics-dm to get more details. The tie-up with HDFC credila is a boon for all those who don't have the financial ability to pay, but have the will to study and want to get a good job." 
The unique aspect of this 125 Hours which will be running for 3 Months duration is the fact that all participants will receive a Conditional Job Offer Letter after registration & payment of fees. The Offer Letter shall carry a Cost-To-Company (CTC) of minimum Rs. 3,00,000/- (Rupees Three Lakhs Only) per annum and the participants will have the flexibility to accept or reject the offer at the end of the programme. The programme comes at a fee of Rs. 1,50,000/- (Rupees One Lakh fifty thousand Only) to be paid at the start of the programme and SIBM Pune has a tie-up with HDFC Credila which is offering 100% education loan to the selected participants. 
He added, "The sessions for this certificate program in Business Analytics & Digital Marketing would be held Online using the MS Teams platform. The Internal Evaluation would be done online while the external evaluation components such as written exams and hands-on live assignments will happen offline at SIBM Pune's Lavale campus." 
The session would happen on two weekdays (2hrs each) and two weekends (3 hrs each) for three months. The sessions will be live, instructor-led sessions. They would also be recorded and made available to participants on request, which will be of help to them, in the event of missing the sessions due to an emergency. Also, a minimum attendance of 80% has been made a mandatory requirement to be able to qualify for evaluations and further placement opportunities, Dr Raman informed.