SOUTHERN COMMAND IN HIGH MORALE AND READY TO MEET CHALLENGES OF 21 STCENTURY SAYS LT. GENERAL ASHOK SINGH ON RELINQUISHING COMMAND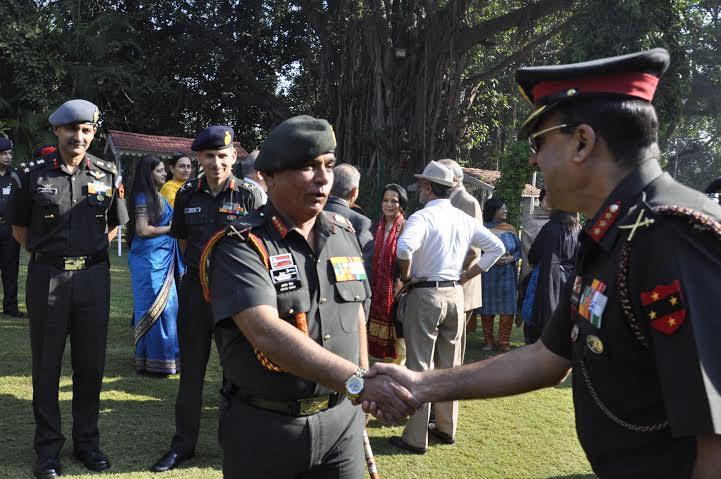 On the final day of his illustrious  service with the Indian Army, ie, 31 December 2015,  Lt Gen Ashok Singh, PVSM, AVSM, SM, VSM, ADC, paid homage to martyrs by laying wreath at the National War Memorial, Pune in a solemn and emotional ceremony prior to relinquishing command of the Southern Army. Expressing himself on this occasion, the General Officer said he was content that Southern Army is in fine state and is ready to take on any challenge both in peace time and war time commitments.
Crowning a magnificent career in profession of arms spanning  over four decades,  Lt. General Ashok Singh conceptualized and directed one of the biggest military exercises of recent times, Exercise 'DRAD SANKALP' in Rajasthan and simultaneously launched one of biggest rescue and relief operations during the unprecedented floods in Chennai. An exceptional circumstance which was overcome with steely resolve and professional thoroughness that comes with commitment to National Service that started as a cadet at NDA during the 1971 war.
Incidentally, he is a second generation officer, following the footsteps of his father who was the first commanding officer of 7 GUARDS. Lt. General Ashok Singh has served as Defence and Military Adviser High Commission of India, Islamabad, Pakistan from December 2006 to July 2009.
As General Officer Commanding in Chief of Southern Army, he laid foundation for continued evolution, refinement and validation of operational tasks, logistics and functioning of static formations to ensure soldiers excelled in their tasks and were equally well taken care of. He was instrumental in establishment and improvement of War Memorials and War Museums so that sacrifice of gallant soldiers continues to inspire coming generations. The public at large is attracted to them as places of solemn pilgrimage to honour those who gave their today for our tomorrow.
The General Officer is married to Mrs. Usha Singh who, as Regional President Southern Command AWWA has been a driving force in running of all family welfare activities in Southern Command with special commitment to schools for children with special needs wherein she went to great lengths to ensure these children were given the environment and expert handling so that they could grow normally and hold their own.