Swedish Prime Minister concludes India visit in Pune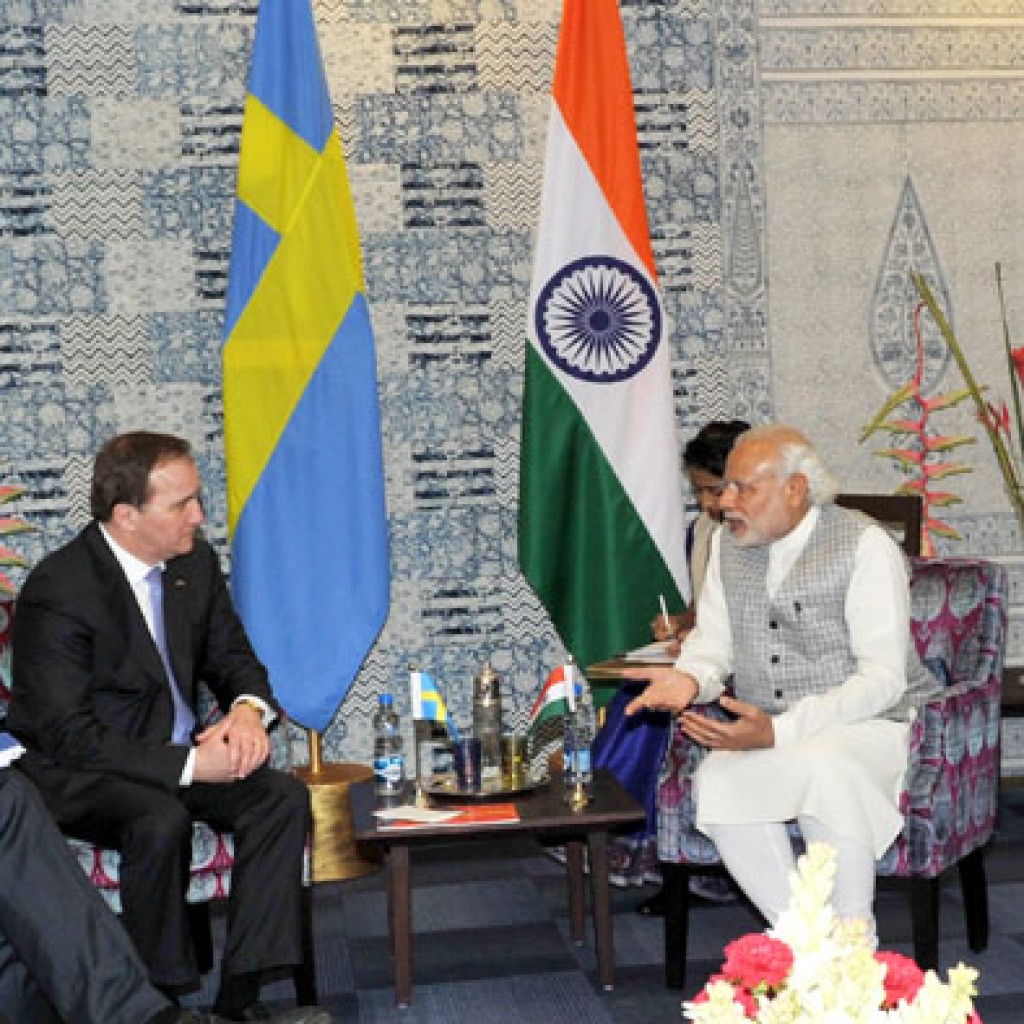 –      Swedish majors Ericsson and Tetra Pak showcase how #SwedenMakesinIndia –
Pune, February 14, 2016: Swedish Prime Minister Mr. Stefan Löfven concluded his two-day visit to India in Pune; he toured the facilities of Tetra Pak and Ericsson, two leading Swedish companies in India. The Prime Minister unveiled commemorative plaques and planted a symbolic sapling. This visit emphasizes the continued importance of Pune as one of the major investment and industrial hubs for Swedish companies in India.
"Prime Minister Löfven was very happy to be in Pune, a city that has a long history of deep economic ties with Sweden. After having witnessed the scale and magnitude of the Make in India Week in Mumbai and a significant bilateral dialogue with PM Modi and other ministers from the Indian side, this visit to Swedish manufacturing facilities is a befitting close to his India tour. In Pune he sees the reality of how Sweden makes in India," said Mr Harald Sandberg, Ambassador of Sweden to India.
Upon his arrival, Prime Minister Löfven first visited the world-class, state-of-the-art Tetra Pak packaging material factory in Chakan. It is the largest Tetra Pak site in the world outside of Sweden. The facility has been awarded the Indian Green Buildings Council (IGBC) Platinum certification and the Confederation of Indian Industry (CII) has awarded Chakan its Food Safety Award for manufacturing excellence and maintaining the highest standards.
"It was a great honour and a very proud moment for Tetra Pak India to host the Hon'ble Prime Minister of Sweden. Our Chakan facility reinforces our commitment to 'Make in India' Chakan is a reflection of the highest standards of food safety as well as sustainability. Our outlook resonates well with the overall positive experience of Swedish companies in India, and the Government's stated determination to enhance the 'ease of doing business' will be a critical factor in improving our appetite for increased investments," said Kandarp Singh, Chairman of the Swedish Chamber of Commerce and Managing Director of Tetra Pak South Asia Markets.
Following the visit to the Tetra Pak Facility, Mr Löfven visited Ericsson's upcoming facility at Chakan. Being set up with an initial investment of $15 million, Ericsson's Chakan plant will serve as an export hub for the Company's exports to South East Asia, West Asia and Sub Saharan Africa regions. The Company plan to manufacture current and future products for 2G, 3G and 4G technologies at this Plant including radio and microwave products.
"2016 is a milestone year for Ericsson in India as we strengthen our commitment to 'Make in India' by setting up our second manufacturing facility here at Chakan. The setting up of this hi-tech, export oriented manufacturing facility will generate employment as well as lead to the development of the vendor eco system in and around Pune. We are delighted and honored to have had the proud privilege of welcoming the Hon'ble Prime Minister,     Mr Stefan Löfven to our facility." said Mr Paolo Colella, Head of Region India, Ericsson