Want Help or Want to Help during Lockdown? Contact Social Policing Cell of Pune Police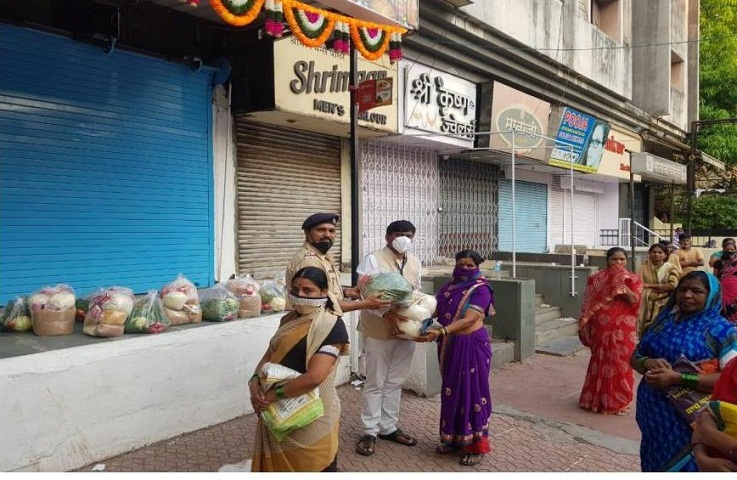 Pune, April 11, 2020: The lockdown imposed in Pune since March 24 to contain the spread of Coronavirus outbreak, has brought the city to standstill. Except for medical stores, milk parlours, vegetable and Kirana shops are open, everything else is closed.
This has largely hit a section of the society including labourers, students, transgenders, commercial sex workers (CSW), senior citizens, beggars, homeless, patients and their relatives at Sassoon and Kamla Nehru hospitals, among others, who found it difficult to get food.
To ensure smooth delivery and functioning of food services, Commissioner of Police Dr K Venkatesham launched 'Social Policing Cell' on  to centralize the food collection and distribution system under the 30 police stations and traffic divisions in the city on April 7.
Many police stations and traffic divisions with the help of social organisations and donors distributed 2.21 lakh food packets among the needy between March 25 and April 6. However it was carried out haphazardly. Therefore, to streamline the process, the Social Policing Cell has been set-up which will be supervised by  Additional Commissioner of Police (West region) Sanjay Shinde, Crime Branch DCP Bachchan Singh and ACP Vijay Choudhary.
The cell comprises Traffic Branch Police Inspector Prakash Khandekar, Control Room Police Inspector Sunil Dorge, Police Sub Inspector Santosh Sonawane besides 20 constables from the Traffic Branch. At the police station level, the officers and constables of the crime detection branch (DB), who know the geography of their police station like back of their palms, will work with the social policing cell.
Since this cell became operational, a total of 1.72 lakhs food and grocery packets have been distributed between April 7 and 11. And between March 25 and April 11 (as per latest information), a whopping 3.93 lakhs food and grocery packets have been distributed.
ACP Choudhary said that there are many people who are eager to help while there some who need help, all these people can contact Social Policing Cell on Phone number 8806806308. People can either call or send WhatsApp message on this number between 10 am to 4 pm. After that interested people can contact the Detection Branch at the premises of their local police station.