Deccan Gymkhana wins PYC-Goldfieldd MANDKE TROPHY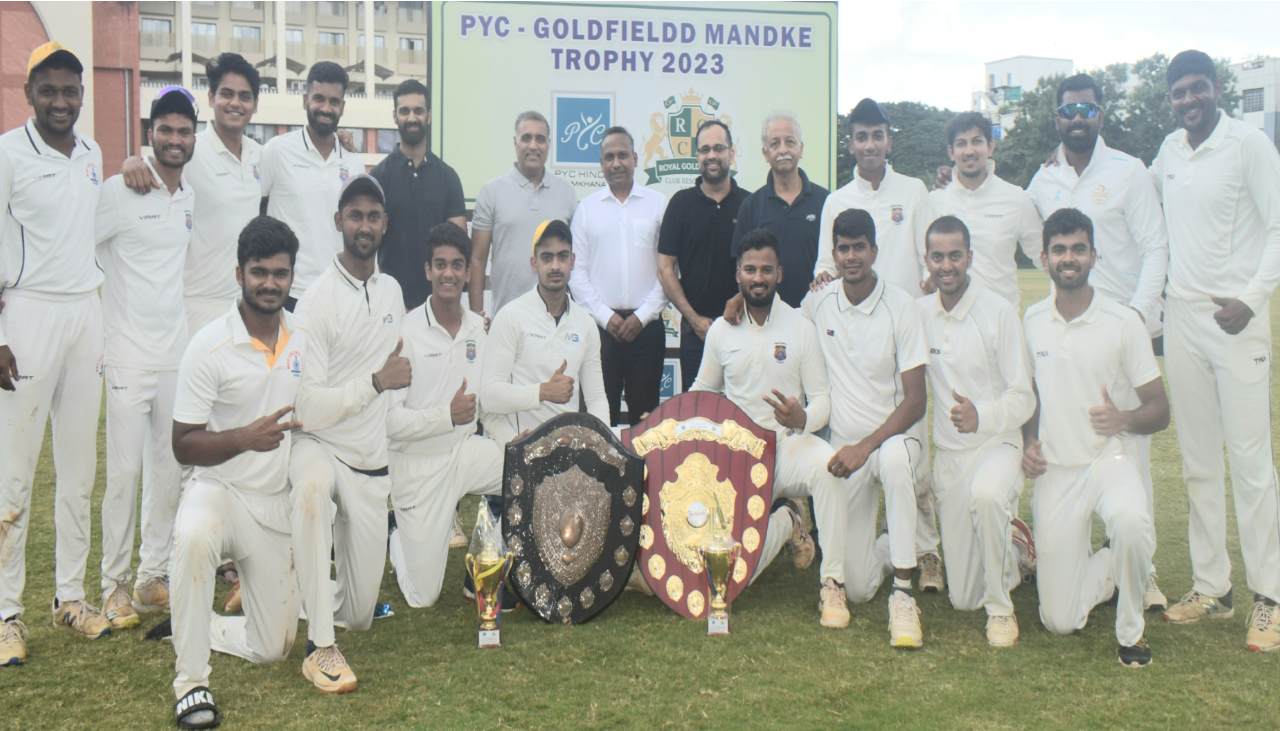 Pune, September 21, 2023: Deccan Gymkhana outplayed Poona Cub by an innings and 112 runs to win the PYC-Goldfieldd MANDKE TROPHY sponsored by Goldfieldd Properties and organised by PYC Hindu Gymkhana and played on their grounds
Carrying on from over night score of 214 runs for 3wickets Deccan Gymkhana put on 313 runs ( 278 runs net) for loss of 7wickets their 40 Overs with Suraj Shinde scoring a magnificient 106 runs (114,8×4,2×6) , Shinde's 63 runs in 101 balls 4th wicket partnership with Ajay Borude helped Deccan Gymkhana take a 166 run lead.
In the second Innings Deccan Gymkhana bowlers Ashay Palkar , Piyush Salvi , Ajay Borude claimed 3 wickets apiece to bowl out Poona Club for 104 (net 54 runs) in just 10.7 Overs and take their team to a title winning by an innings and 112 runs.
The winner Deccan Gymkhana received Goldfieldd Mandke Shield. The prizes were given away at the hands of Mr.Kumar Tamhane, President of PYC Hindu Gymkhana, Mr.Sarang Lagu, Hon Secretary of PYC Hindu Gymkhana, Mr.Anil Chajjed and Mr.Rohan Chajjed Director Goldfieldd Properties, MCA Apex Committee Member Mr.Kamlesh Pisal, Mr.Vinayak Dravid, Cricket Secretary of PYC and MCA Apex Committee Member and Mr.Niranjan Godbole were present on the occasion.
Following are the results: final Round:
PYC Ground:
First Innings: Poona Club: 112 for all out in 27Overs(162-50runs) vs Deccan Gymkhana: 278 for 7wickets in 40Overs(313-35runs)(Atharva Wanave 78(65, 6×4,4×6), Suraj Shinde 106(114,8×4,2×6), Ajay Borude 26(41,3×4), Harshal Mishra 4-47, Akhilesh Gawale 1-45, Shubham Kothari 1-51); Deecan Gymkhana took lead by 166 runs;
Second Inning: Poona Club: 104 for all out in 10.7Overs(Sagar Birdawade 49(35,6×4,2×6), Dhanraj Pardeshi 20, Ashay Palkar 3-20, Piyush Salvi 3-42, Ajay borude 3-25) vs Deccan Gymkhana: . Deccan Gymkhana won by an innings and 112runs
Other Prizes
Best Batsman: Yash Nahar
Best Bowler: Ajay Borude
Man of the series: Tushar Shrivastav.